Starting this April, Emmet's English class system changed: usually he works a calendar month, but now if there is a fifth-class day, that is a day off!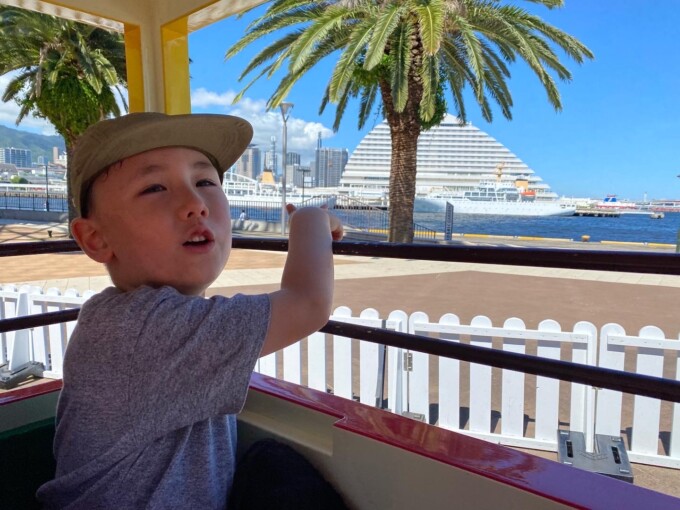 April and May had GW, so the 29th and 30th of June were the first days of the new system!!!
And these Wednesdays and Thursdays just happened to be days when there were no kindergarten classes either, so they were completely no English classes!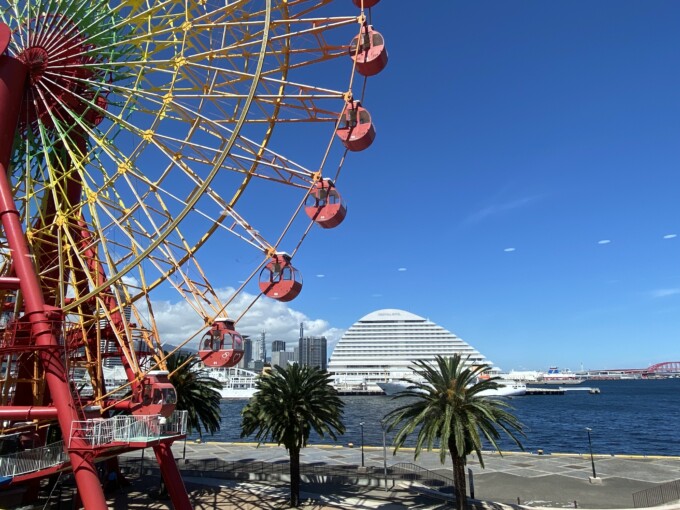 So we decided about a month ago that we go on a small trip.
And if the weekly weather forecast looked sunny, we'd go to Universal Studios Japan (USJ). We kept this as a secret from Fionn so he would be surprised!
And lo and behold, the rainy season ended a few days ago, so we were in for a surprisingly hot and sunny day!
So we left our house at 7:00 a.m. on Wednesday morning and went to Kobe first.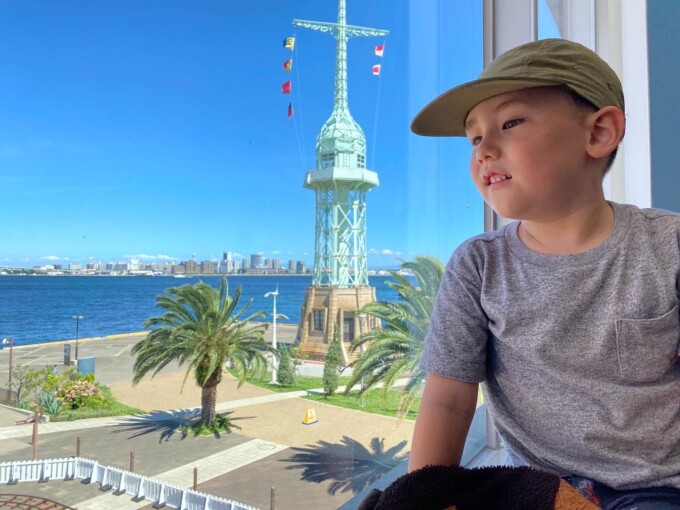 We didn't know much about Sannomiya city or the rest of the city, so we went straight to Harborland, which was easy!
We went to umie and mosaic and had a lot of fun!
And Fionn was having more fun than we expected! Because he immediately found the official Ultraman store!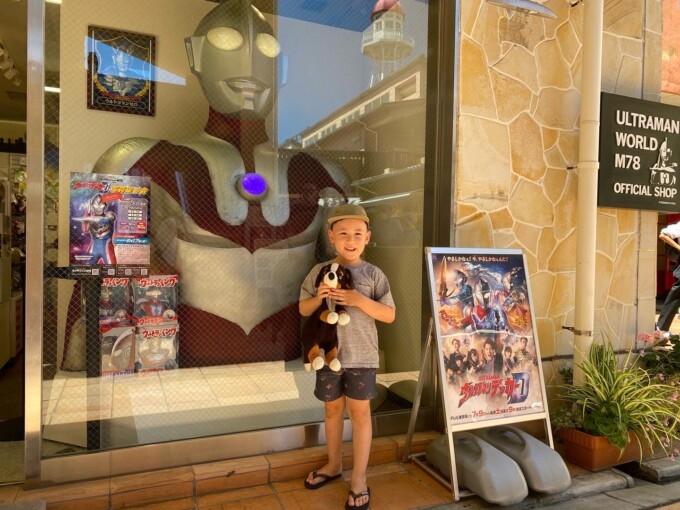 He's collecting Ultraman toys right now, and the clerk told him about the official store's limited editions.
He was so happy that there was no way I could say no to him, so I bought him a bunch of stuff.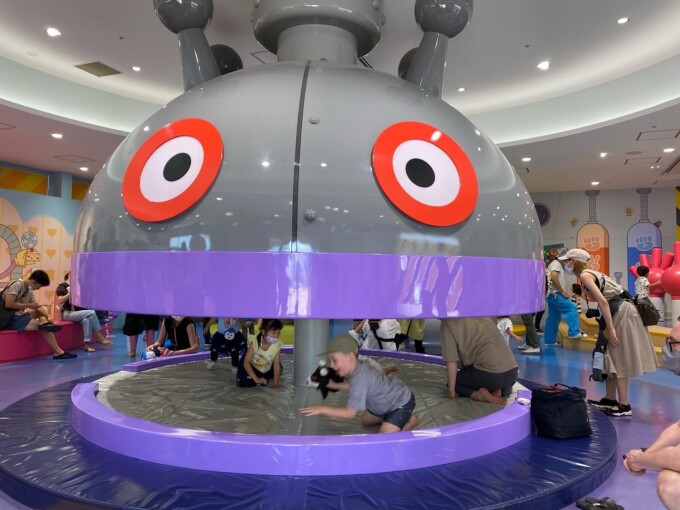 I also thought he might not be interested in the Anpanman Museum anymore, but I asked him about it.
He is 5 years old, after all. He was overjoyed.
In fact, he seemed to be having a lot of fun at the museum. Even though he`s a big kid and looks like an elementary school student, rather than still being in Kindergarten.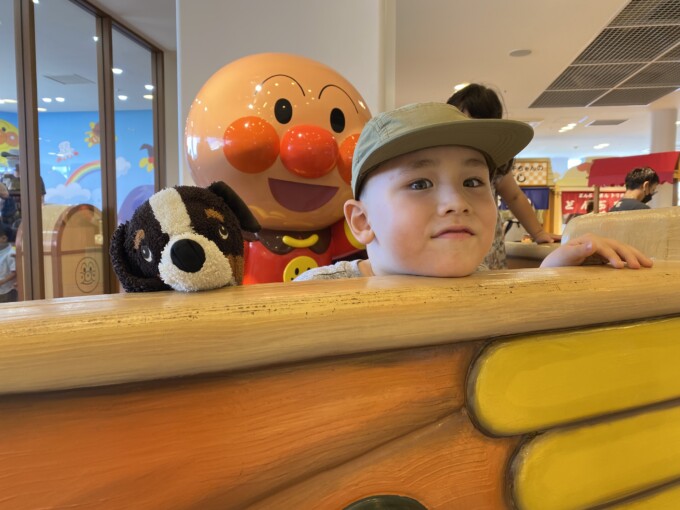 However! I bought tickets without checking the price and was surprised to see it was 6,000 yen for the whole family. !!!!
The kids were the same price, 2,000 yen per person! But the quality of the museum in Kochi was much better.
But in Kochi, it's 300 yen for children and 800 yen for adults. I wonder if the location makes such a big difference.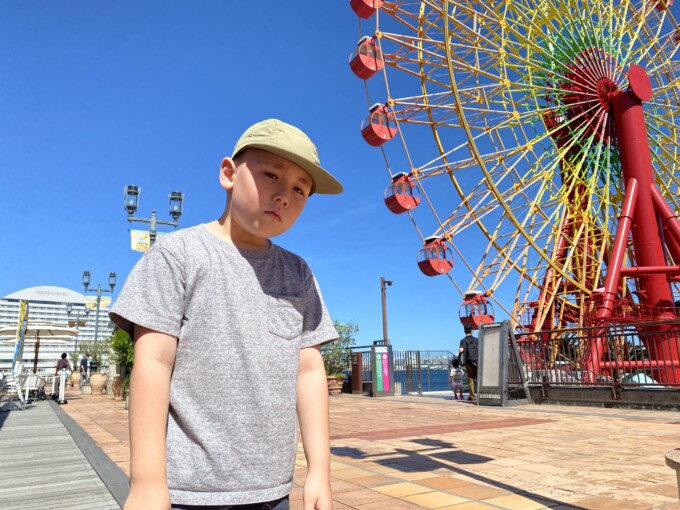 There were many more things he wanted to do, the Ferris wheel was one of them.
But we had to give it up because it was cash only. I don't usually carry cash with me.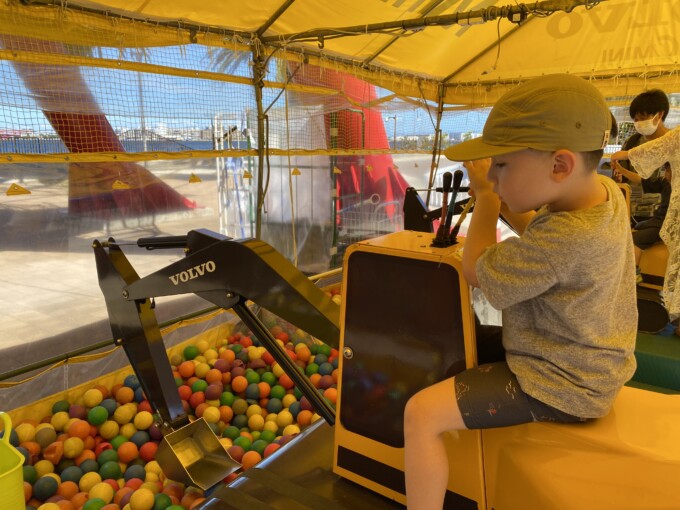 But he was able to play with an excavator for 500 yen that happened to be in Emmet's pocket.
After his playtime was over, it was time to go shopping.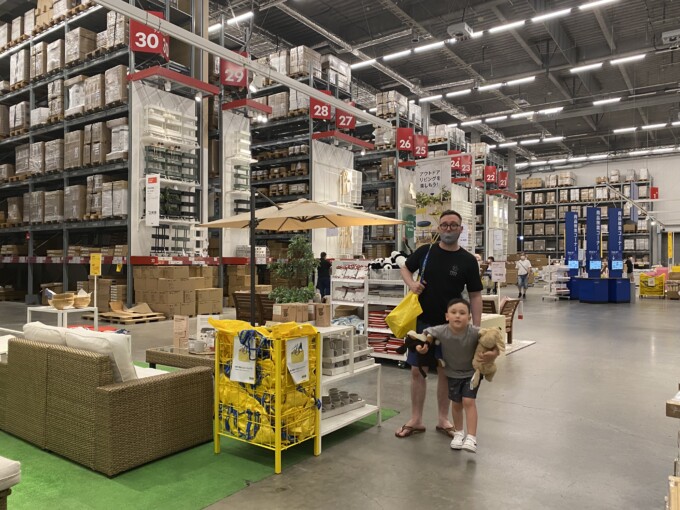 We did a lot of shopping at umie, and I was happy to find what I was looking for at IKEA, too!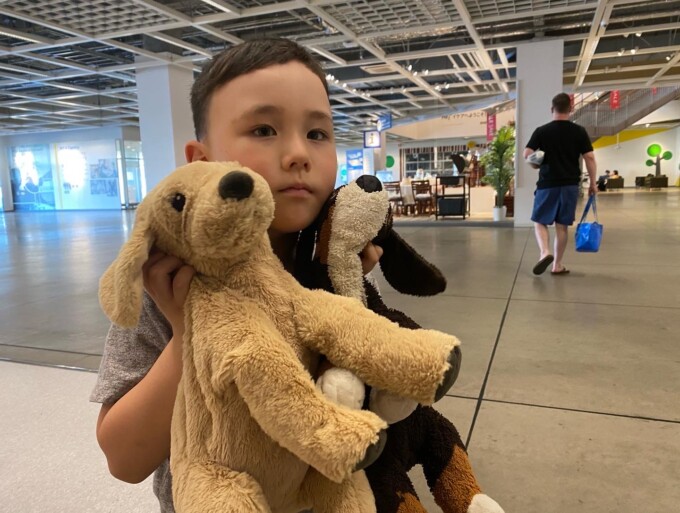 Fionn realized for the first time that IKEA was the place where he and Taro met.
In fact, he met many Taro at IKEA in Perth, but he didn't remember.
And now we have a new family member! His name is Goldy.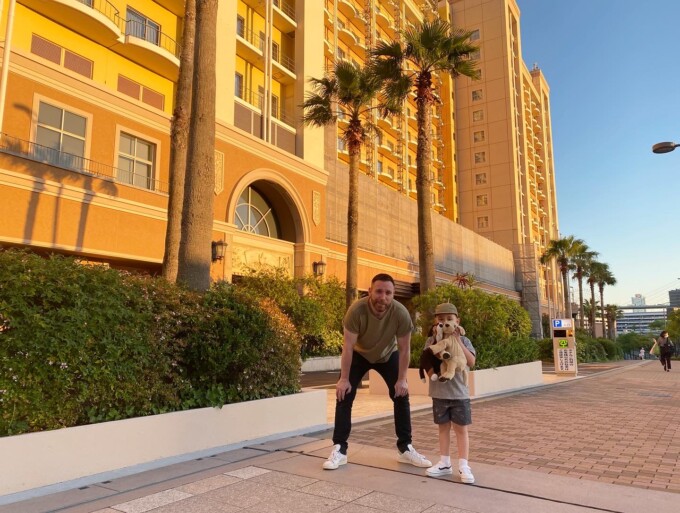 Finally, we arrived at one of the official hotels right in front of our main destination, USJ. It was a very nice hotel!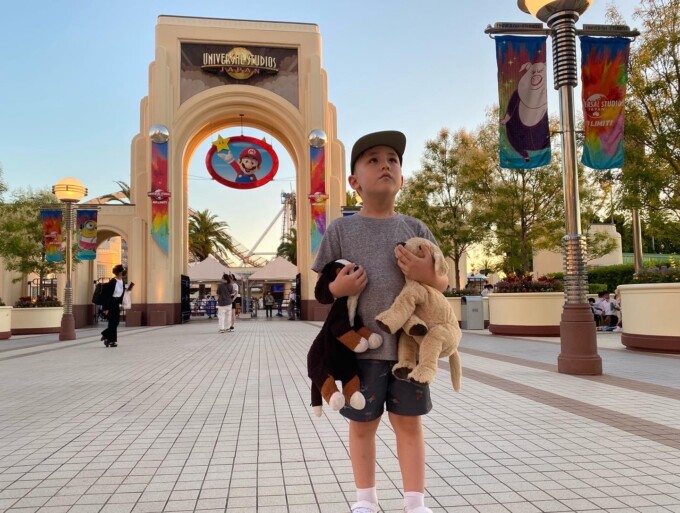 The nearest place to have dinner was at the City Walk right in front of USJ, so we went there and Fionn was so excited to see USJ in real life!
He wanted to be go in straight away, he couldn't stop being excited to get in there somehow already!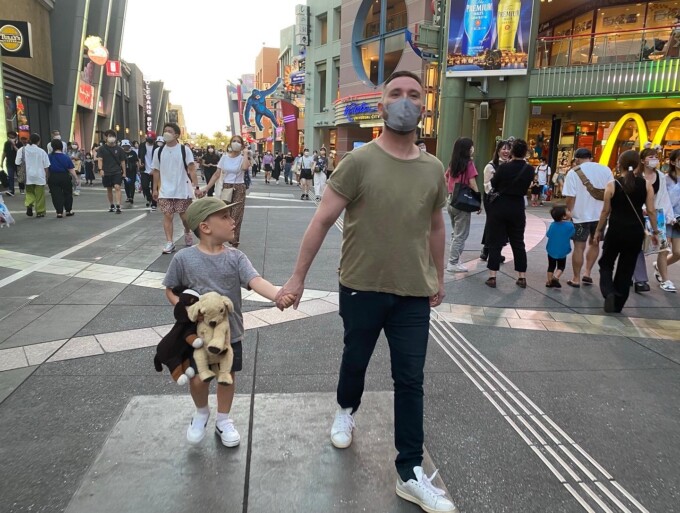 He found his favorite character Luigi T-shirts and hats at the official USJ store down the street and bought them instantly!
He looked so happy and his eyes were sparkling, so we had to spoil him LOL!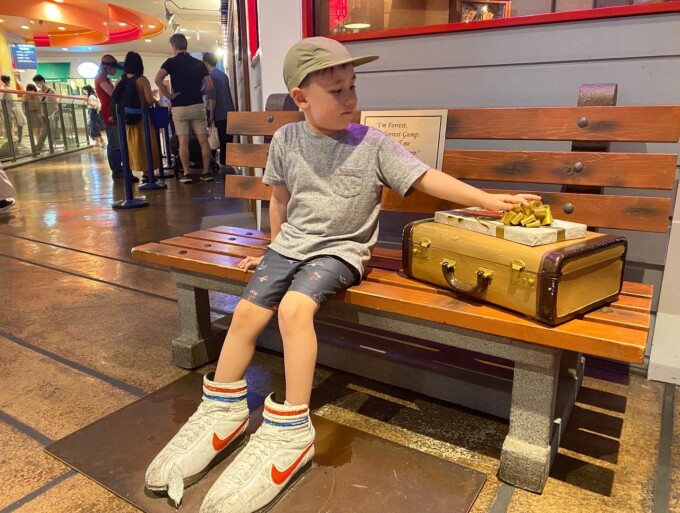 Emmet was thrilled to see all of these movie world items scattered throughout the store.
He usually doesn't take pictures, but he even took a picture of a small plate as a souvenir.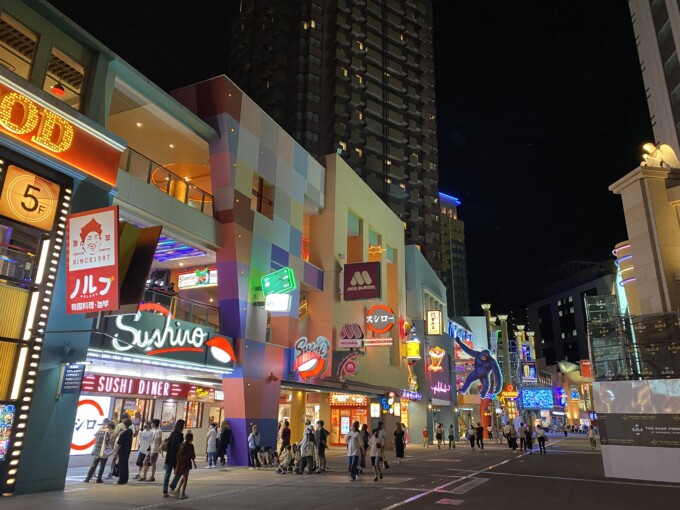 In the end, we woke up early and stayed up all night to fully enjoy the first day.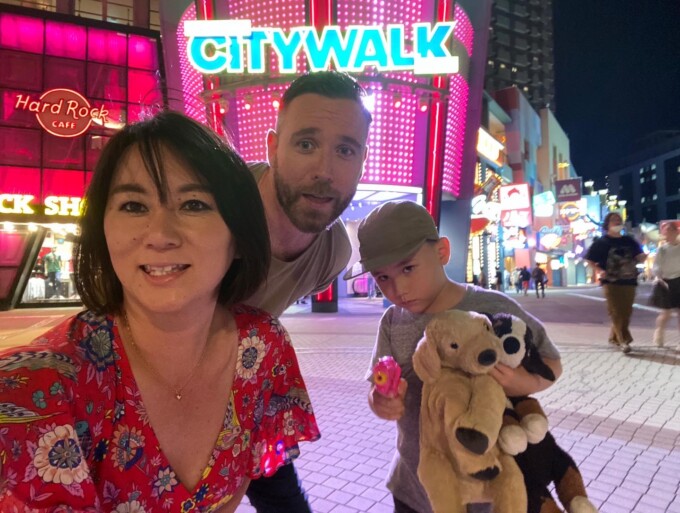 The next day, the park opens at 10:00 a.m., so we could take it easy in the morning!
But there were already a lot of people moving around as usual.
I'm glad to see that things are getting back to normal.
Well, I'll continue tomorrow! I'm so tired today, so I'm going to bed!