On Sunday, we went to the beach, where we had acquaintances and a beach house. It was so comfortable that we thought, "Let's come again during the summer vacation!" However, when we checked the weather forecast, we found out that the only sunny day left in August was the next day. So, we decided to go again the next day! Who's the real MVP? It's me, managing everything on my own!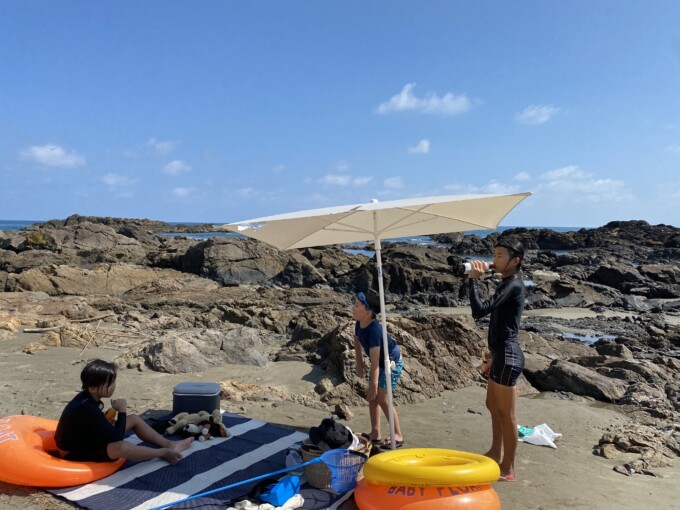 When I checked the weather forecast today, it seems like it's going to be sunny again from next week. So, we might be able to go out on the last three days of the summer vacation – Monday, Tuesday, and Wednesday! Since we have the opportunity, let's take Fionn to the river or the sea again.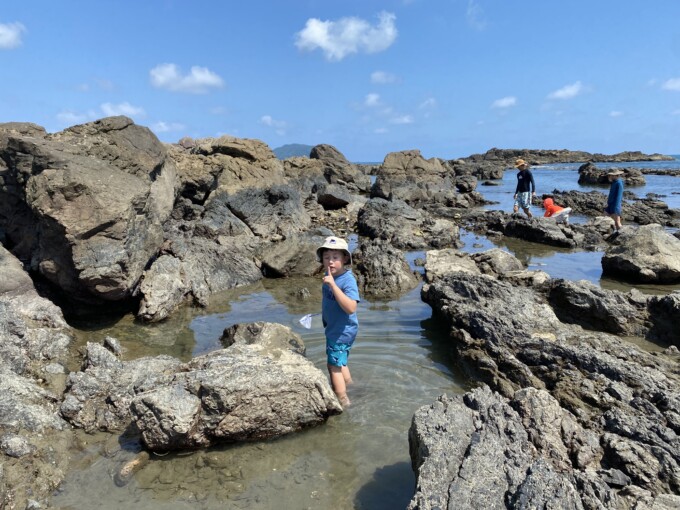 And so, the second day was Beach Day. We decided to switch things up a bit and headed to the rocky shore first! On this day, we had friends (two of them were classmates!) who were beach monitors. They suggested a spot for us to play here, saying it's great!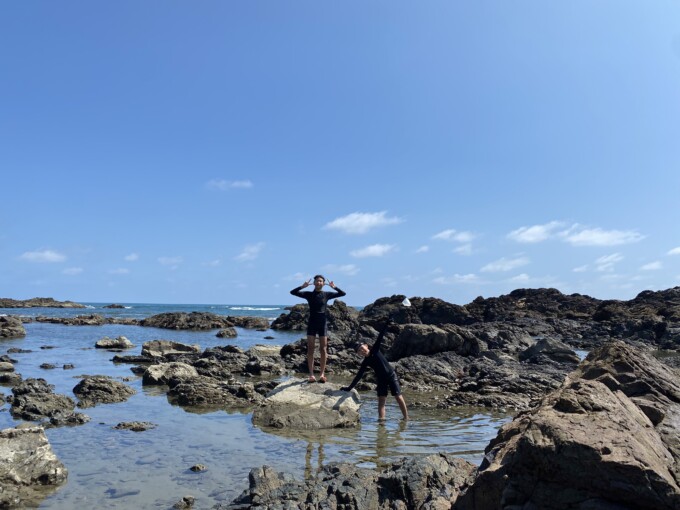 Do you see my nephew on the right, Mitokun, wearing gloves? Since we mentioned that we might go to the rocky shore today, he brought rubber gloves that can be used in the sea. They were a big hit! This animal-loving little scientist really knows how to prepare, huh?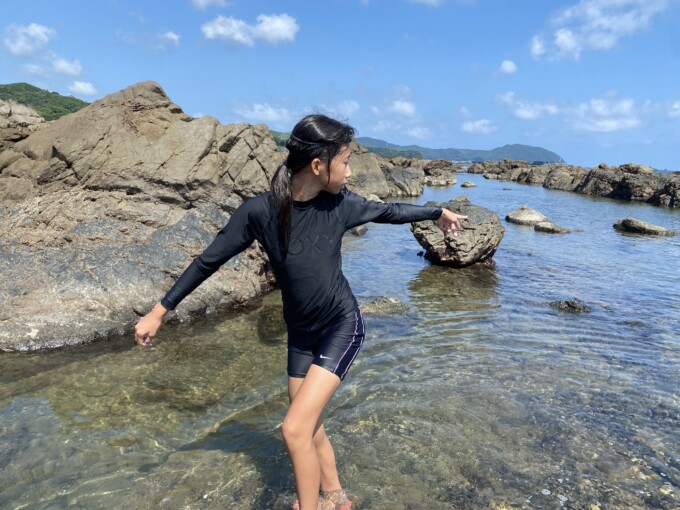 Because he was wearing gloves, he fearlessly touched slimy-looking sea creatures and ones that seemed a bit spiky. He was all hyped up, saying, "This is amazing!" It was the perfect time during low tide, and the depth of the rocky shore was just right. We caught a lot of creatures and had fun.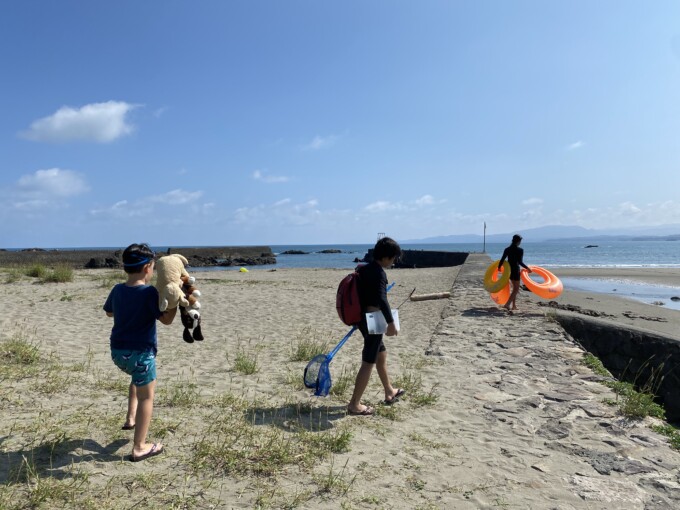 But!!! The problem was the heat!!! When you're playing on the rocky shore, you're mostly in the water, only your feet exposed to the blazing sun. So, even though it had only been about an hour, we reached our limit and moved to the neighboring beach.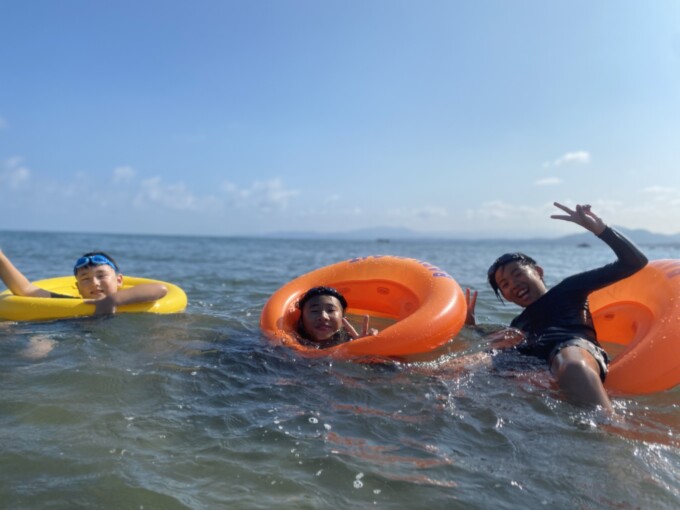 We had been to this beach the day before. It's positioned with the parking lot on the right and the sandy beach on the left, and the rocky shore. So, you can enjoy both sides. There were beach monitors and beach houses, and there were free showers and clean restrooms and changing rooms, albeit a bit old. Can't complain about anything.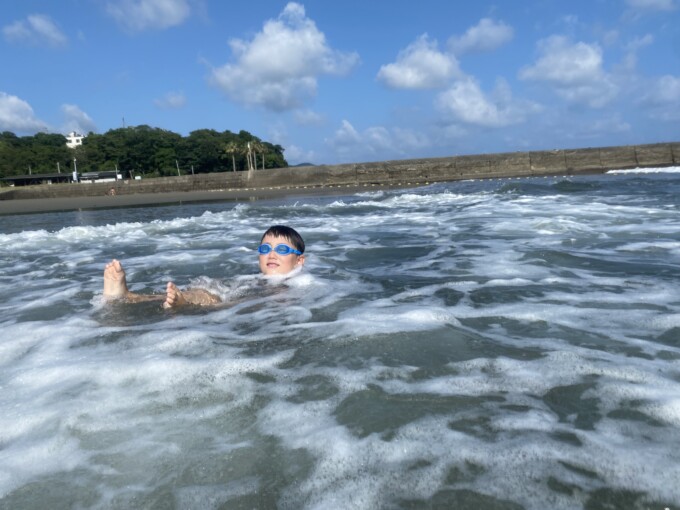 We were already used to playing on this beach. First, everyone goes into the water with a float, and when it gets deep, everyone hands their floats to me, and I become the designated float holder.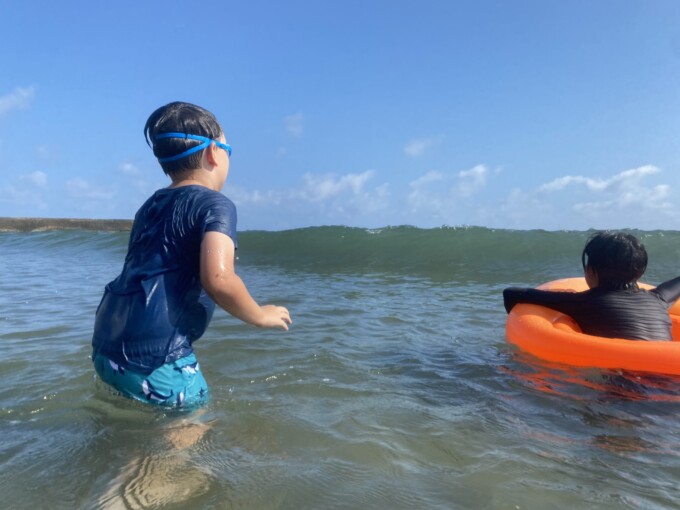 Facing the waves, diving under them, avoiding them, getting pushed towards the shore by their force – we played skillfully with the waves. Although you can't see it in the photos, there's a designated area outlined by ropes, and our friends were there monitoring, making it much safer than playing in an ordinary sea. Still, I was watching the three of them closely, just in case. That's why I have a seriously sunburned shoulder!!!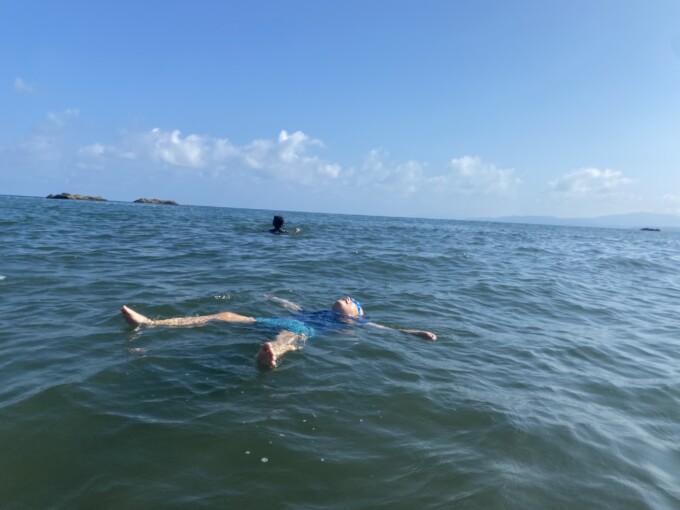 Fionn had his piano lesson at 5 o'clock that day, and when we mentioned it to our friends, they informed us through a loudspeaker at 4 o'clock that they were about to wrap things up and go home. It's something you can only experience in the countryside, right? Haha, we were the only ones playing on the beach at that time.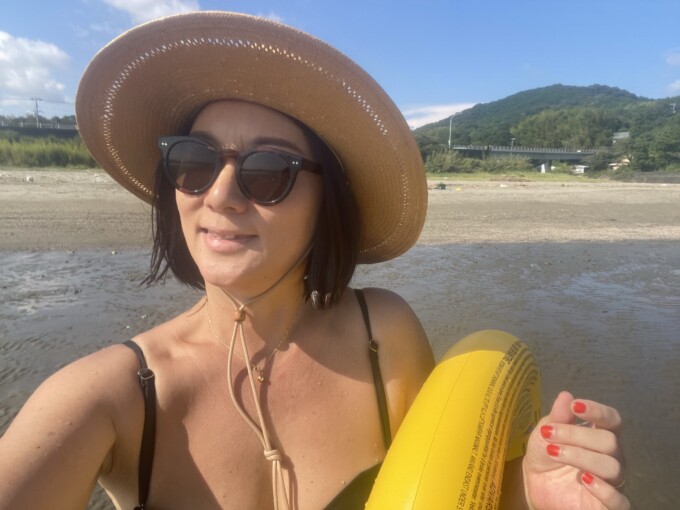 I wanted to visit Kashiwa Island again this year if possible, but I heard there are jellyfish there now, so we might not be able to go this year. About one more week left in the summer vacation – let's keep going strong, parents!