In my previous blog, I wrote about Fionn's overnight stay, which gave my husband and me some much-needed alone time! Yay! Even though he's an easy-going kid, when he's not around, there's always a lot to think about, so having some "me time" feels completely different! Haha.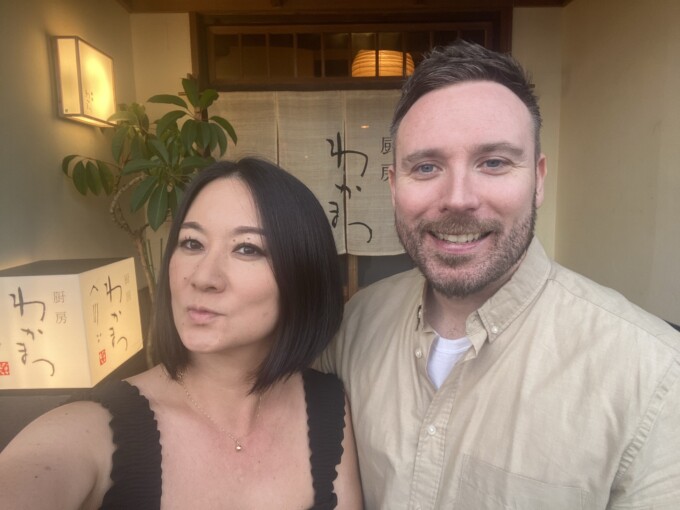 Last Friday, we had something we were eagerly looking forward to – friends from Tokyo came to visit Shimanto!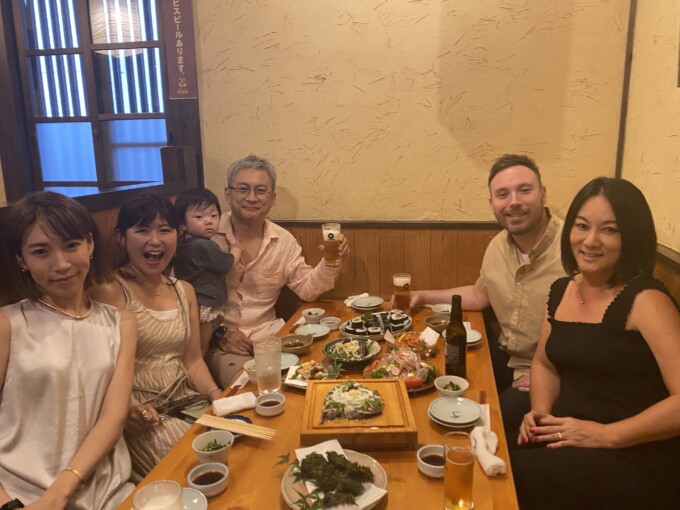 It's an interesting connection – the one in the middle on the left is Emi-chan, who has actually visited Shimanto over 10 years ago. Through Emi-chan, we got to know Yuri-chan, and we've been in the same LINE group for a diet challenge and chatting for over two years, but this was our first time meeting in person! And the Emichan's boyfriend at the back is also someone we met for the first time!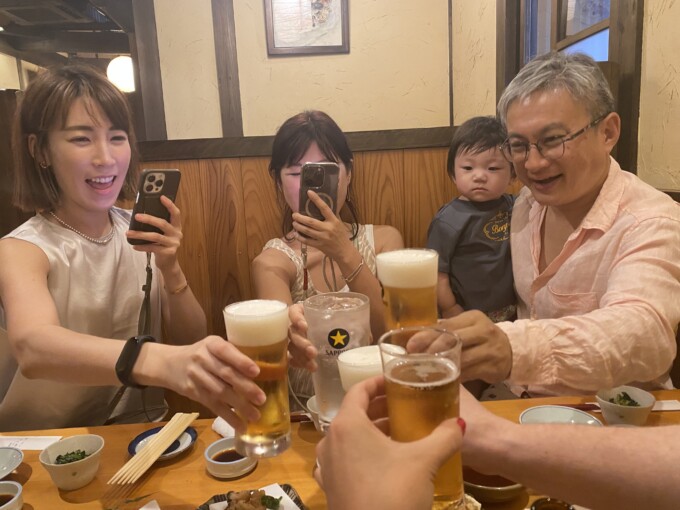 But since we've been connected on social media for so long, it doesn't feel like a "first meeting" at all. We all just cheerfully said, "Cheers!" It's really the kind of connection we have these days! Haha.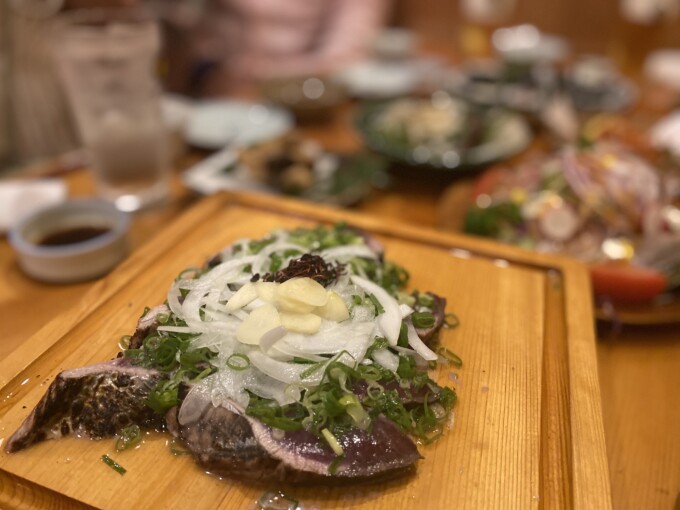 One thing we all have in common is our love for delicious food and drinks! So, we went to our favorite restaurant in Shimanto, "Wakamatsu," because they wanted to eat there! You can find plenty of delicious local dishes from Shimanto there! They were especially impressed by the thickness and the warm sweetness of the bonito sashimi! They were pleasantly surprised by how tasty it was.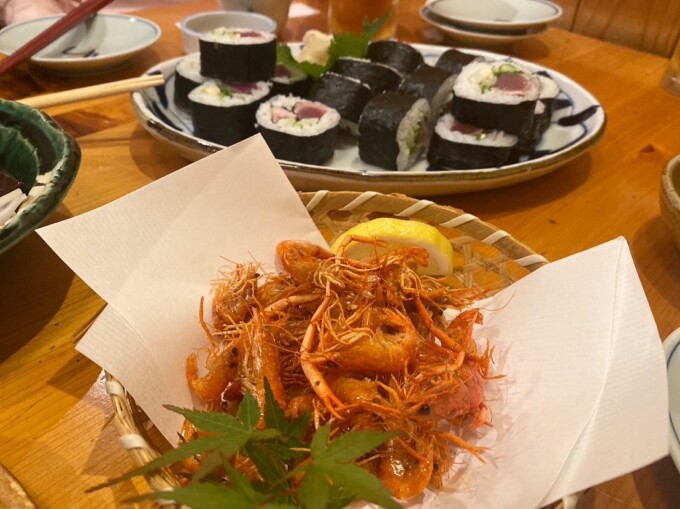 We also had plenty of other dishes like "chanbara" (shellfish), tachiuo (hairtail) sashimi, aosa seaweed tempura, Tosa rolls, uchibo's fried chicken, bushukan tartare, and more! We ordered a lot and ate a lot!!
Oh, another common thing among us is that we all love cooking. So, we talked about cooking techniques and ingredients, and they really liked the local ingredients from Kochi, which made me really happy to hear!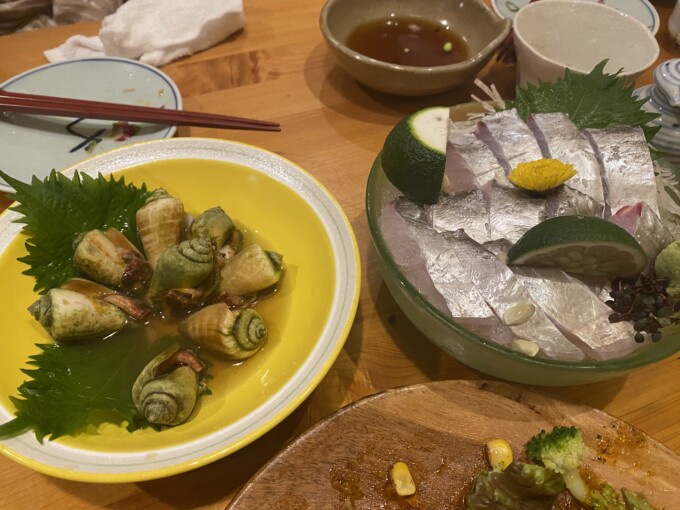 Also, no matter where we went on this trip, one thing I was reminded of was how warm and welcoming the people of Kochi are! Moni-chan, who is adorable and friendly to everyone, is one reason, but everyone we met was so friendly and kind. Seeing how happy they were with that made me really happy too.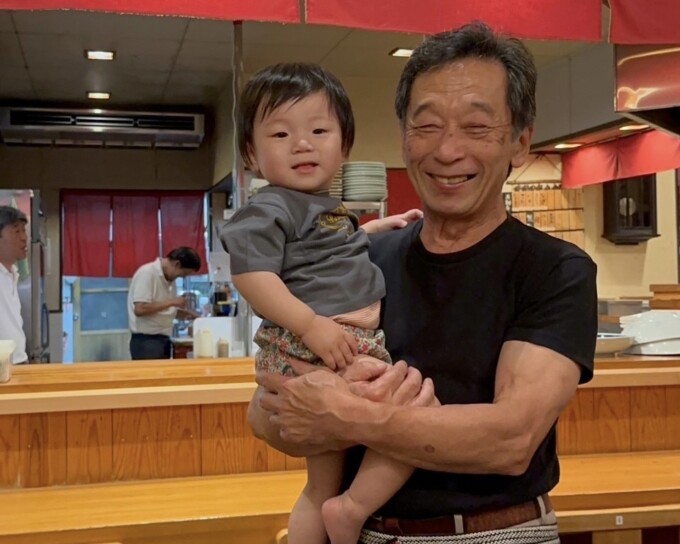 After eating and drinking, we split into two groups – the designated drivers, which included me and Emmet, and the others who didn't drink.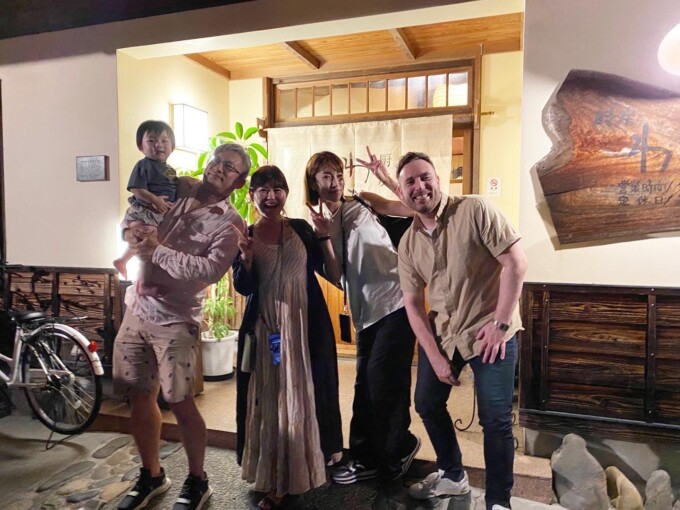 We moved to the second venue, "Kajimori Inn" run by Kent. We were going to stay here for the night, so I was excited to drink here!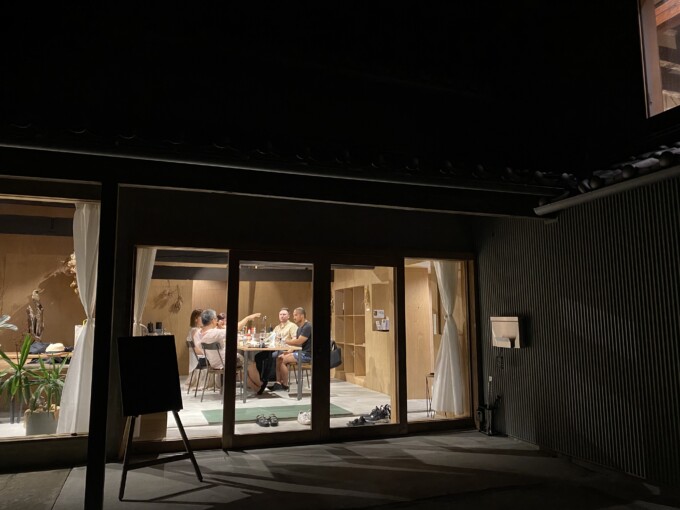 Yasuki, who was part of the designated drivers group, prepared a dish of shellfish and tataki carpaccio-like thing with the ingredients we bought!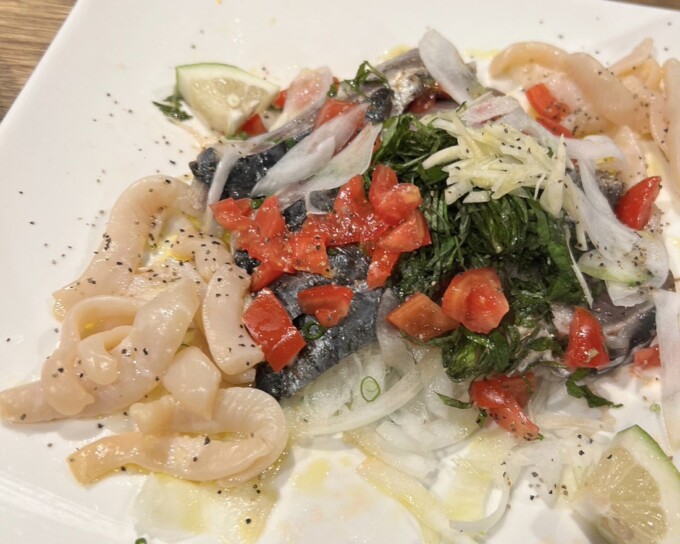 Also, I prepared my usual seasonal fruit and mozzarella with lemon and olive oil, and a platter with a mix of cut fruits, prosciutto, and blue cheese. Having dishes like this makes it perfect for drinking wine or sake and chatting endlessly.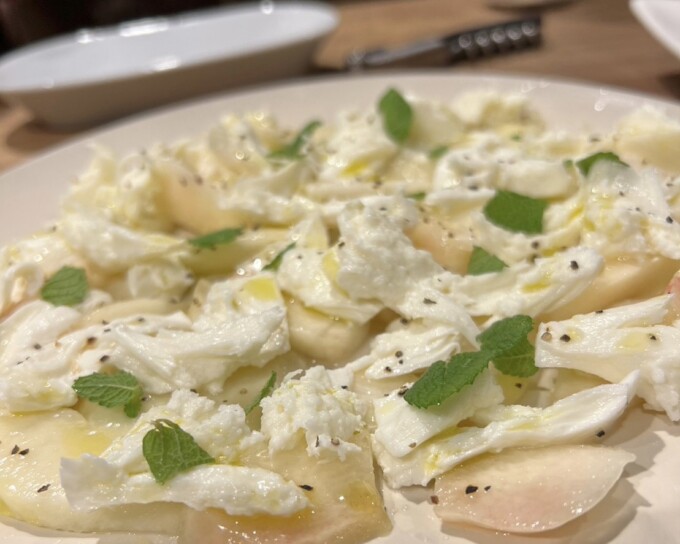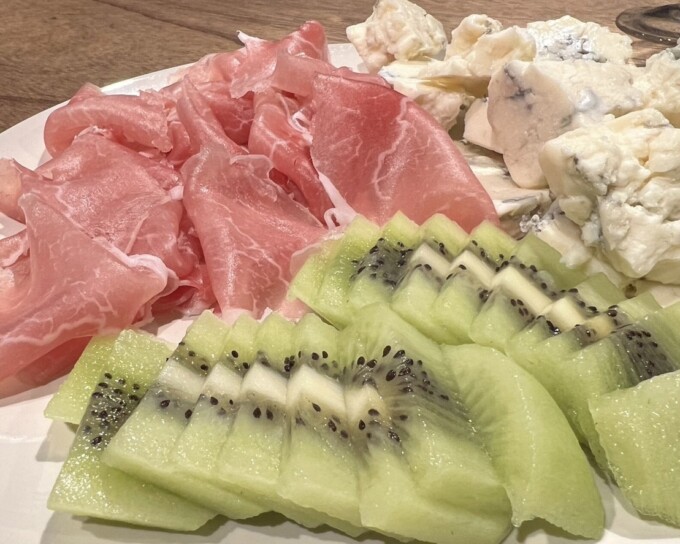 Kent, the inn owner, also joined us for a drink and a lot of talking. The starry sky here is absolutely stunning! At one point, everyone went outside to take photos of the breathtaking star-filled sky. It gave us goosebumps.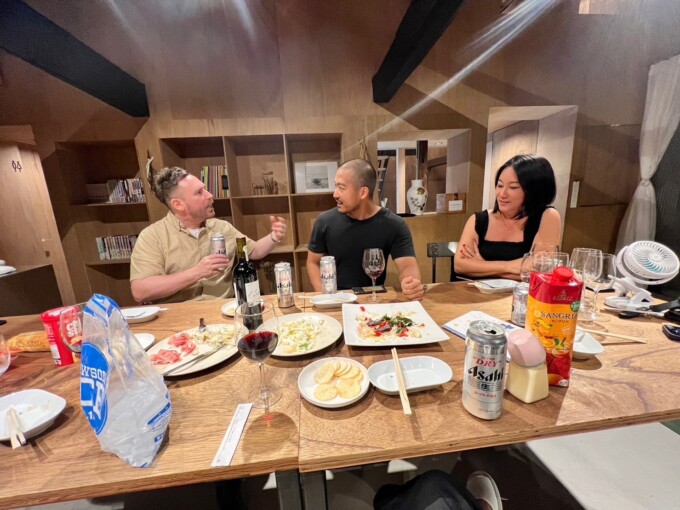 Kent's hospitality was also fantastic, and everyone loved the inn so much that they said they'd come back for a longer stay! That made me really happy.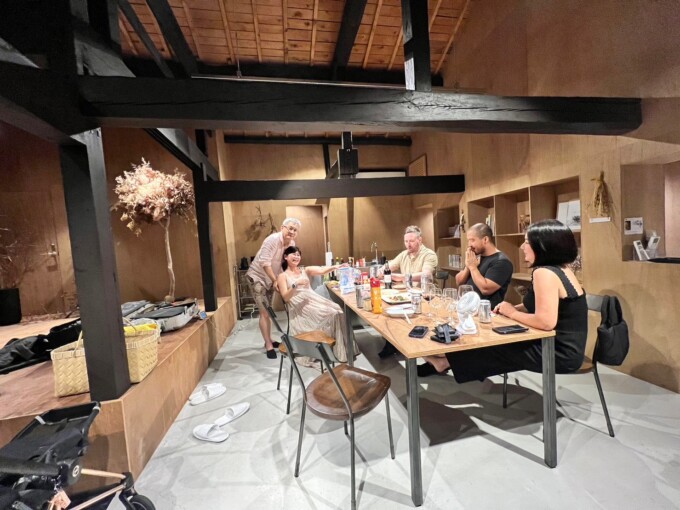 We stayed up until almost 3 in the morning, but since we had to pick up Fionn in the morning, we got up at 7:30, got ready, and left Kajimori.
Look at this serene landscape. The night sky is incredible here!!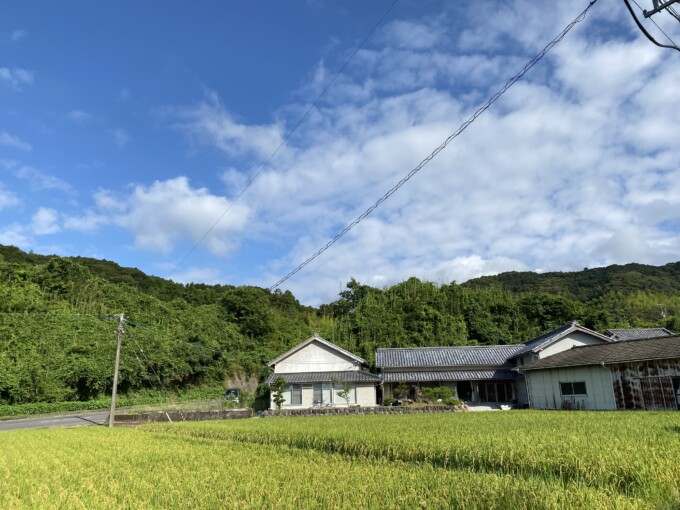 This marks the end of my records from the first day to the morning of the second day. I'll continue with the rest in the next post! I couldn't really work during these three days, so now I'm feeling overwhelmed – time to get back to work!