Emmet asked me, "I know it's our first weekend back home and you want to relax, but I really want to have friends over to talk and have fun, so can we have drinks at our house on Friday night?"
Of course, it's okay!
If it would help Emmet feel a little less homesick, I'd be happy to help!
So we invited his two good friends Matt and Alvin over and we had a yakiniku night!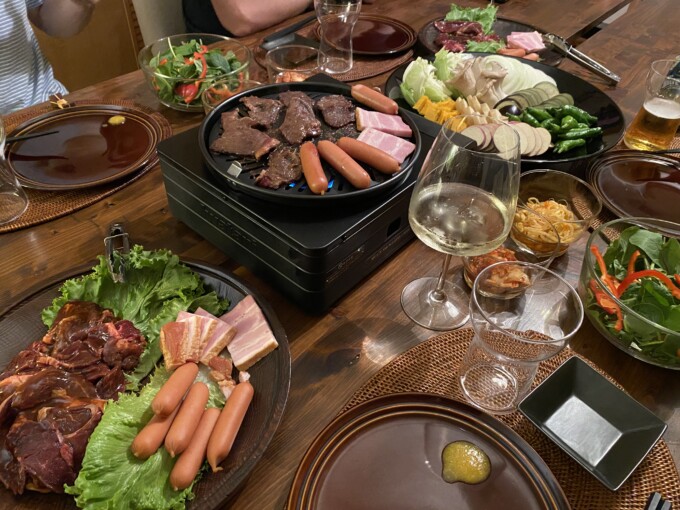 We had just received some meat that we had ordered from Furusto Nouzei , so we gave it a try!
Actually, it was really bad! It looked so bad, too!
It had a good reputation when I ordered it, but it seems they can no longer produce the same thing due to the recent depreciation of the yen and inflation.
The delivery date was delayed by about 6 months, and when it arrived, it was supposed to be Halami, but it came with meat that was definitely not Halami….
When I looked at the evaluation on-line, I found that there were many reviews saying that the meat was bad! It was my first failure of Furusto Nouzei.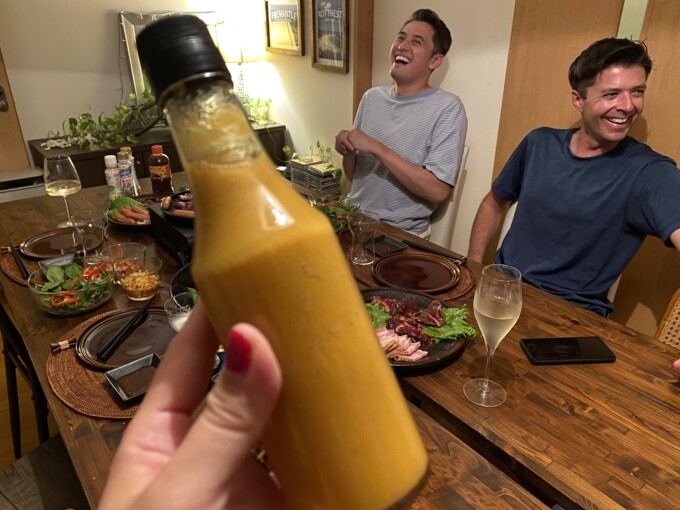 But the boys ate it fine. I'm so sorry to everyone!
Yesterday, Matt came over to make his homemade mango spice sauce (very spicy)!
Of course, he grew the chili vegetables by himself. It's spicy, but has a very nice, addictive taste!
It was a bit deceiving to eat it with this, and I enjoyed the tropical flavor!
Thanks Matt! I'll be having it again soon at a Mexican dinner.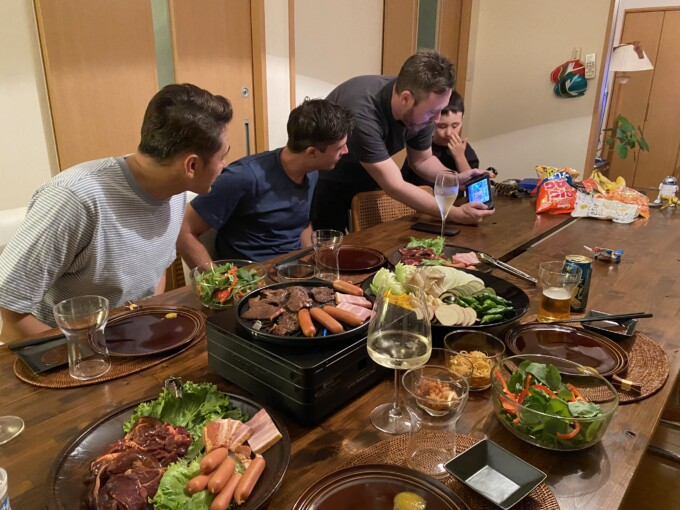 But that's not what I want to talk about, I talked about the differences in education, economy, real estate, and the good and bad aspects of the different countries I felt over there.
We talked and drank until about 2am on various topics!
Emmet went to bed once with Fionn to put him to sleep, and he came back around 1am! It was a lot of fun too!
We talked about a lot of serious things, and we talked about a lot of fun things, and we laughed a lot, and Emmet is all better now! It's really important to have friends and time like this.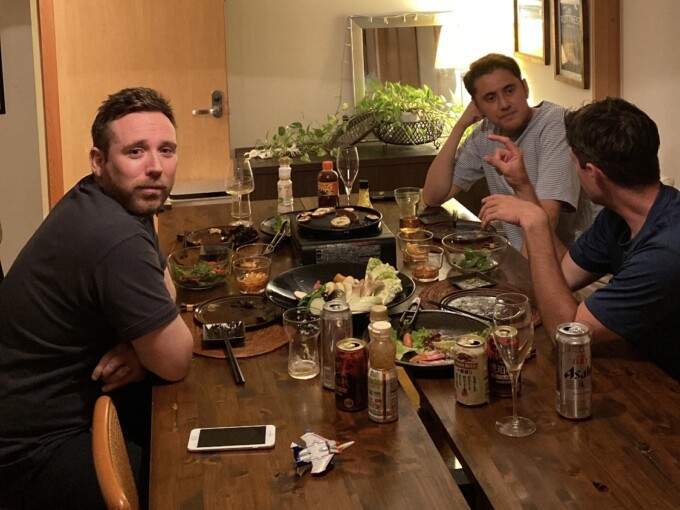 Before Corona, we were planning to move to Australia, but because of Corona, real estate prices in Australia had gone up so much that it was too expensive to buy with the money we earned in Japan, so we thought we would build a house in Japan and use this as our base. But now we have a new goal to have a house in both countries.
So I plan to build a smaller house in Japan and invest more in Australia! It will be more valuable as an asset.
Emmet and I have to work harder than ever from now on!!