I had planned to stay here with my sister and her family around the beginning of this year, but we decided on short notice to go to Ashizuri Thermae, which had been left unreachable because of the additional corona cases, and we went there Sunday-Monday!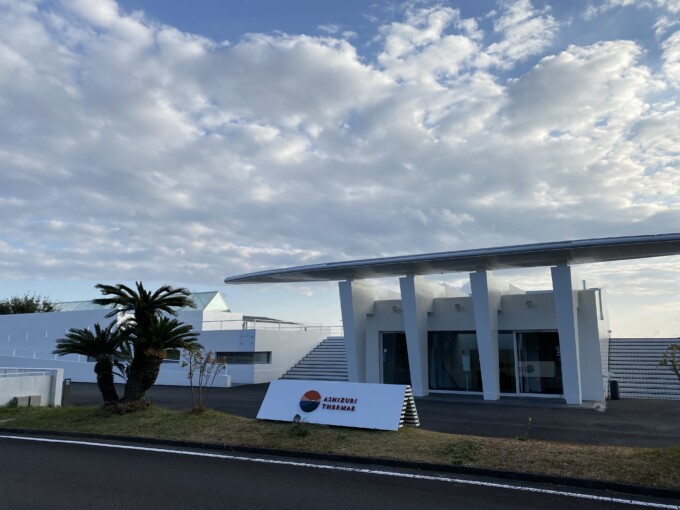 Norio, a student of Emmet's who is an expert traveler, told us that he and his friend stayed at the hotel a few weeks ago and that the food was delicious and the hospitality was great, so I decided to go while there was still travel support available (travel vouchers)!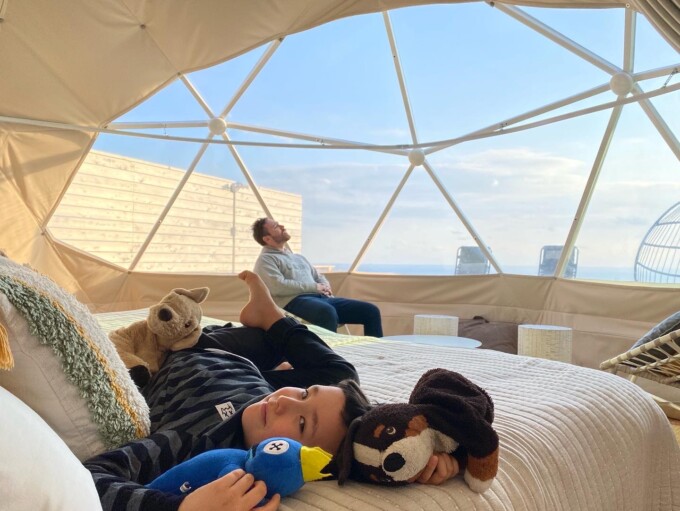 Norio and his friends stayed in a hotel room, but we stayed in the glamping area, which we had been curious about for a while!
I hadn't told Fionn about the details, so he was so happy when he saw it! This space is great for kids, isn't it?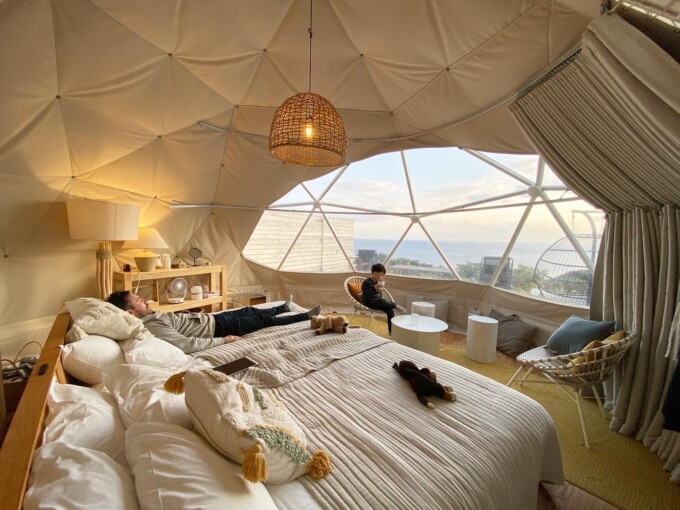 No, no, not just for kids, for adults too!
There are 4 dome tents in total, but only one has a panoramic ocean view, and from the dome you can see the ocean as far as the eye can see! That tent was already booked, so we got the ocean view tent.
So there is a little wall on the left side, so the ocean view is not all the way around. But that didn't bother me at all!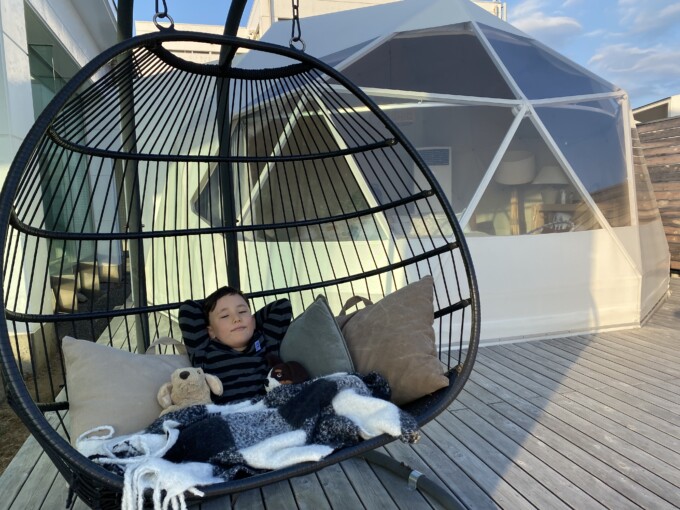 Fionn immediately relaxed on the swinging swing chair looking out at the ocean. He is a 5 year old who can relax anywhere.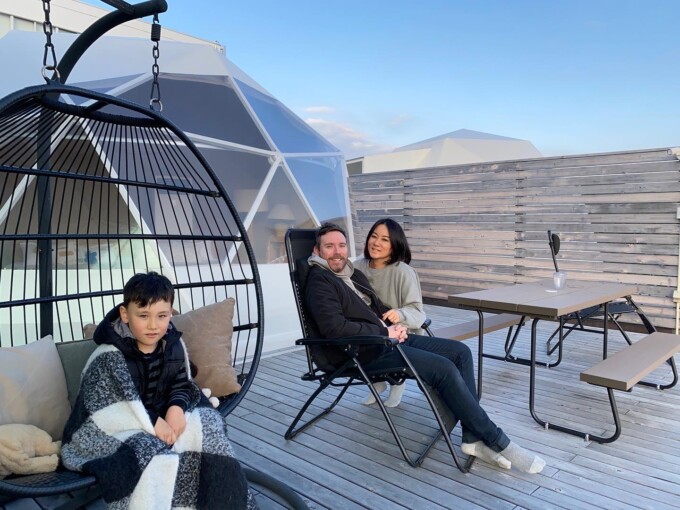 I sometimes think that since Fionn has been traveling a lot and staying in hotels since he was 0 years old, he is used to this kind of thing, so it doesn't seem so special for him to stay overnight.
In mine and Emmet's childhood, traveling was a very, very special thing, and we were very excited just to stay in a hotel, but times are different now, and parents have different styles.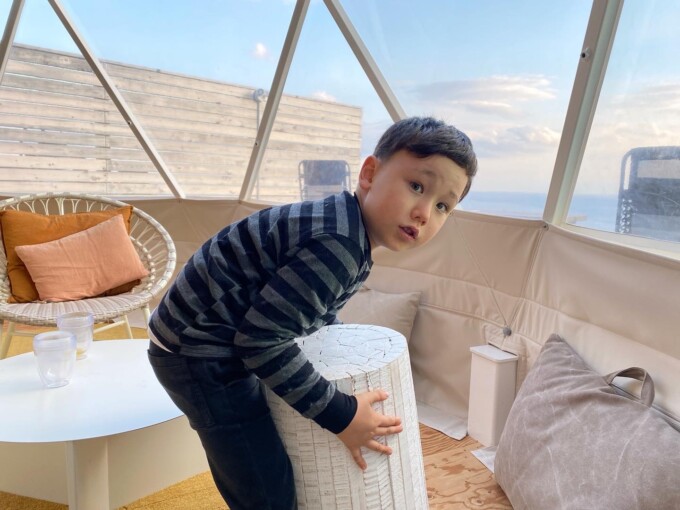 He's used to traveling, used to the rides, being able to communicate with the hotel staff, seeing different things, meeting different people, and having different experiences, we've decided that we're going to take him on more and more trips because it's going to be an asset to his life!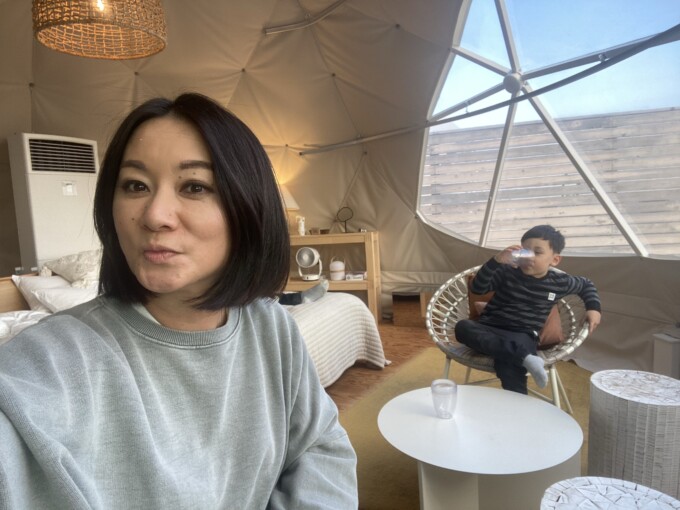 We arrived just in time for the 3:00 check-in, so we had a little tea outside, took in the scenery, and then it got chilly, so we went inside and had plenty of time to lie down, look at the sky, and relax.
I got a message on the line I had registered for at check-in that hot drinks would be served on the terrace from 4:30. (This app was very handy too!)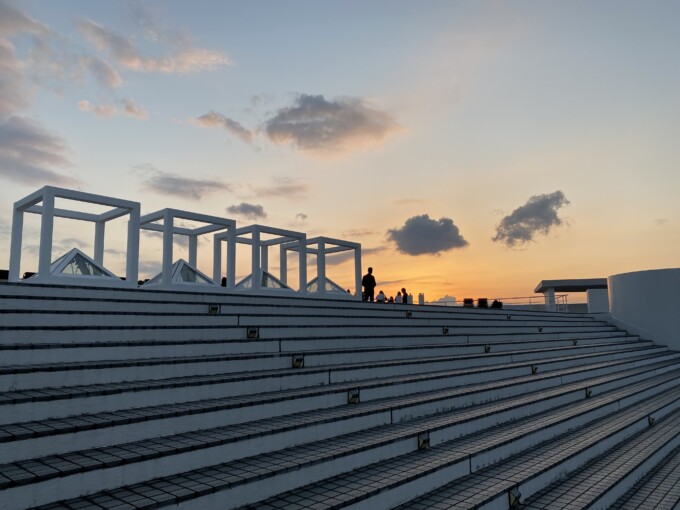 We went there and it was hot drink time with a beautiful sunset view.
It's nice to just enjoy the vast nature like this, isn't it?
I think Shimanto City can do more if it makes good use of its unique nature and location.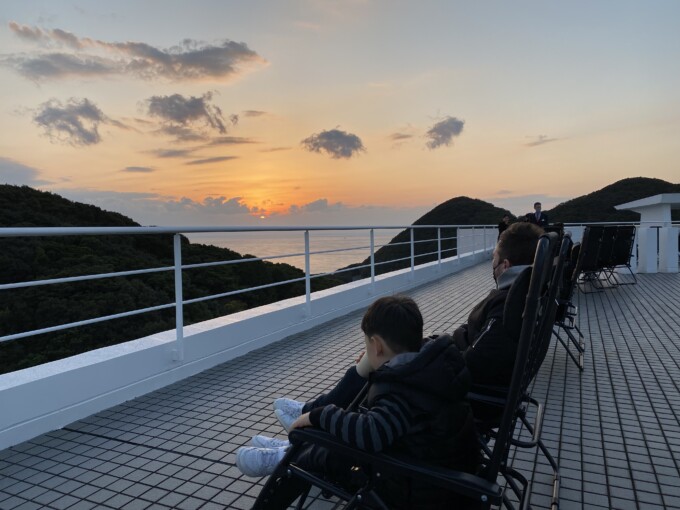 The hot yuzu juice we were served was also very tasty. It's really a great location!
It was only for about 15 minutes, but it was very relaxing.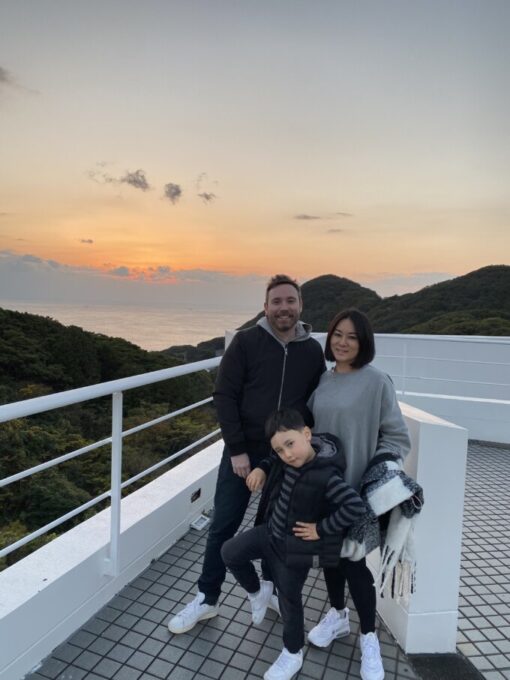 Since we had chosen a course meal for dinner this time (there is also a BBQ option if you are glamping! ), we went to the restaurant.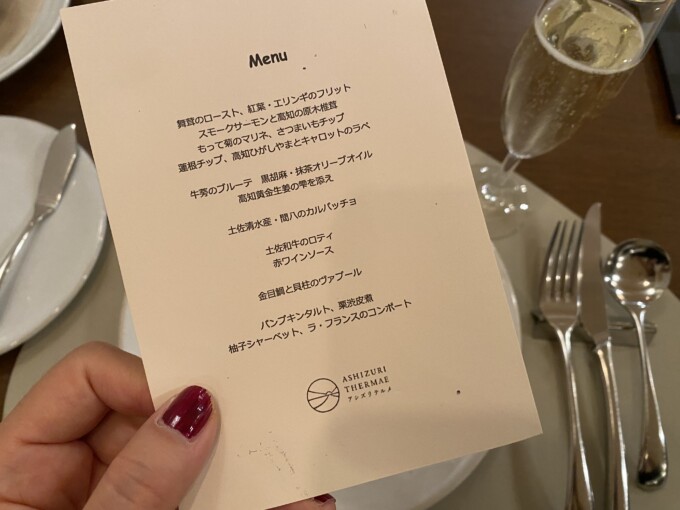 Asisuri Therme reopened during the Corona pandemic, I had an image of having dinner in a new style of room with safety curtains, but Corona has settled down, so it was just a regular restaurant.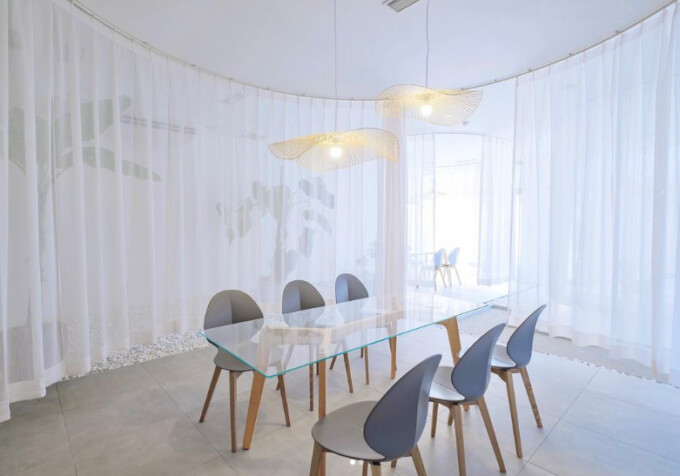 This, this, this! I searched for it on the Internet and found it right away!
When the restaurant was renovated, influencers were uploading pictures of this place all the time.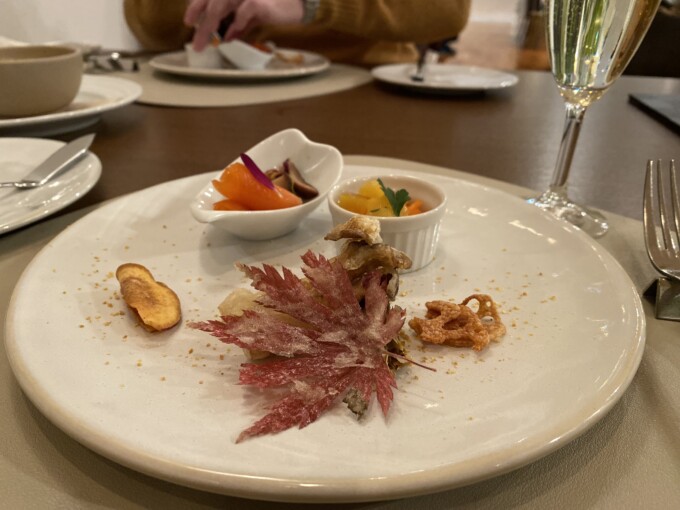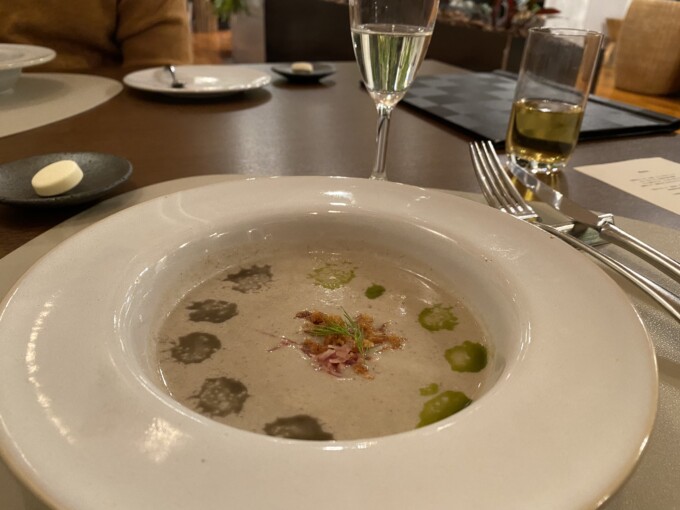 I forgot to take pictures of some of the menu items, but here's what we had for dinner.
Seasonal platter, carpaccio, meat, fish, dessert, and lots of refills of delicious bread.
Even though the bread is usually enough to fill me up for the second half of the course, I always end up getting "a little more" when asked.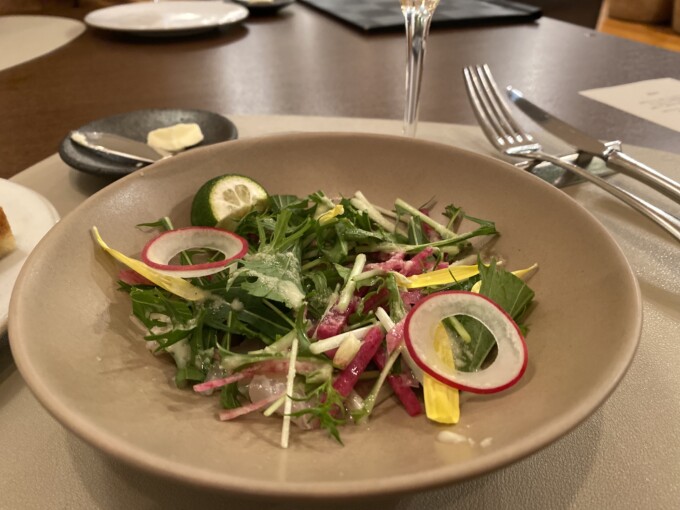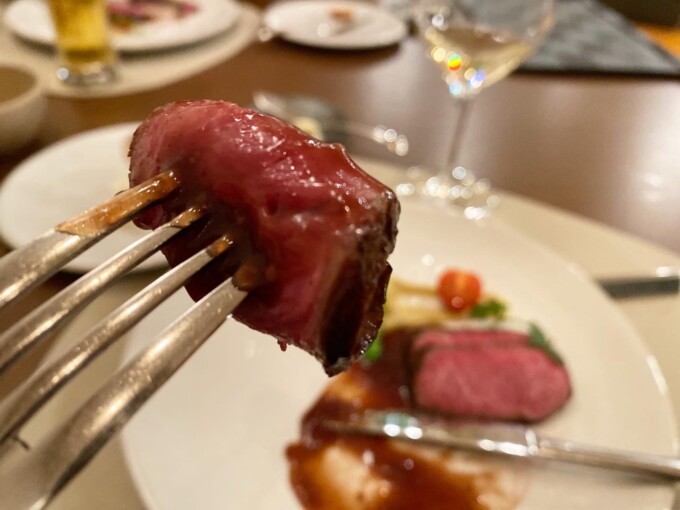 The kids' plate normally includes fried shrimp, but Fionn asked for two hamburgers when they e-mailed me to confirm in advance.
Soup and dessert are also included in the menu, which normal kids would love.
My son, who is very picky when he tastes something he is not used to, so he didn't eat the fries with nori on them….
I hope he will be able to eat anything soon.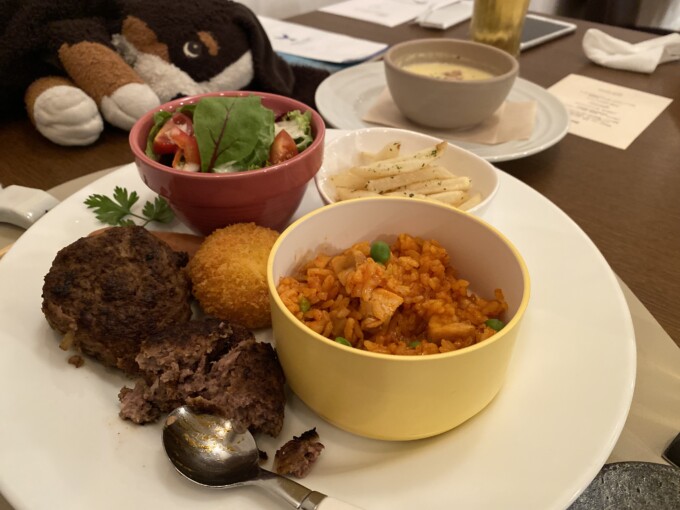 Of course, since we had a very reasonable travel support plan, we each received a 3000 yen gift certificate, which we decided to use for drinks at the restaurant, so we drank a lot of champagne and wine!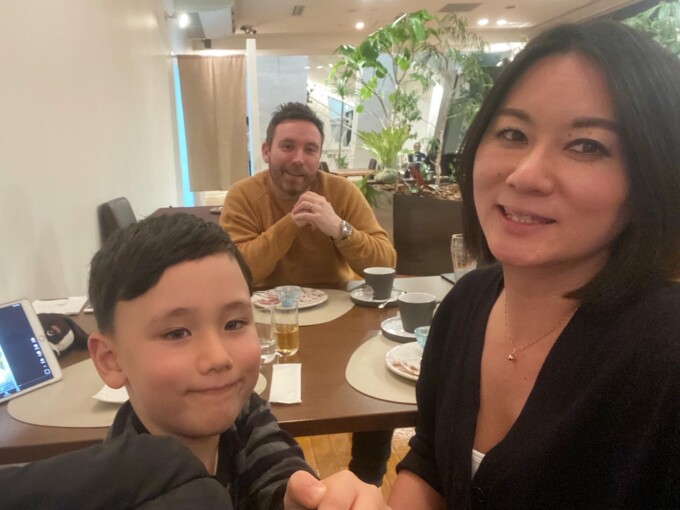 By the time we got back to our room, it was dark outside and we could see a beautiful starry sky.
I couldn't take pictures with my cell phone, but to the naked eye, it was really really beautiful!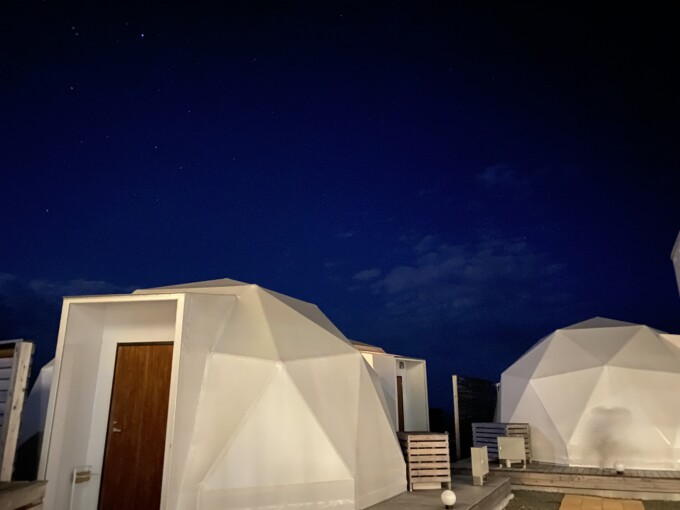 After dinner, we took a nice hot spring, Ashizuri is all about hot springs! I happened to be the only one in the women's bath, so I had the whole place to myself!
Fionn and Emmet seemed to be having a great time and were very happy to have the bath almost to themselves.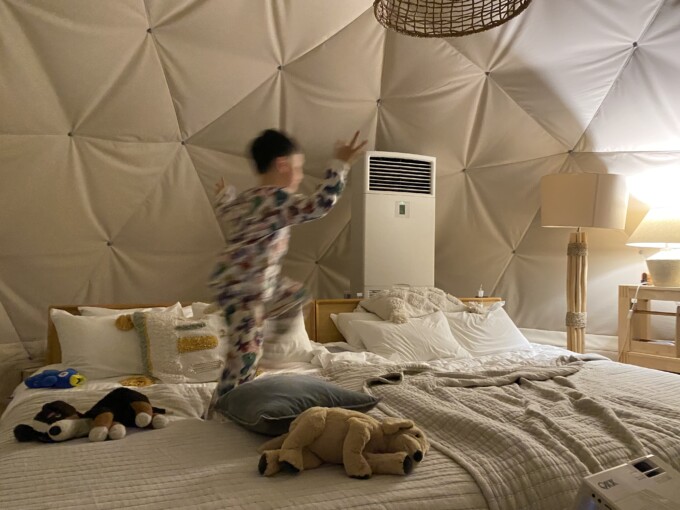 While the happy boy was enjoying jumping on his bed, Eme-chan set up the movie.
We knew we didn't have a TV, so we planned to bring a projector! That was a great idea!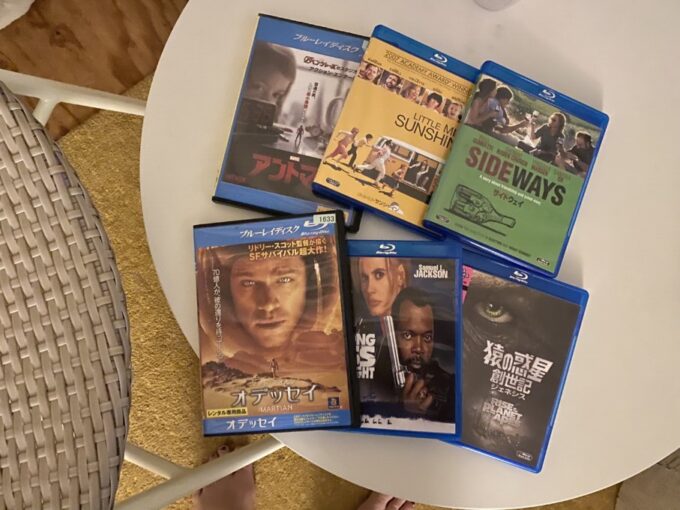 We were able to project straight into the dome tent and it turned out to be a great space!
If you are planning to go here and have a projector, I highly recommend it!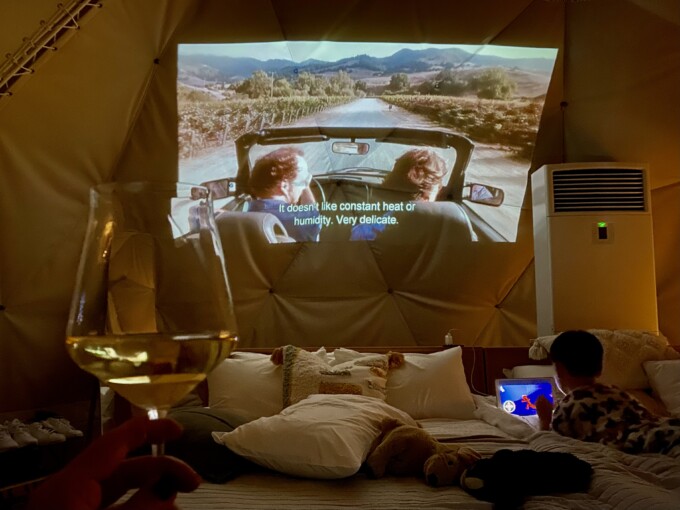 I had brought cheese, crackers, fruit, peanuts, drinks, and glasses, so I quickly prepared them and it was wine and movie time.
It was very relaxing, the movie was our favorite, and it was a great time.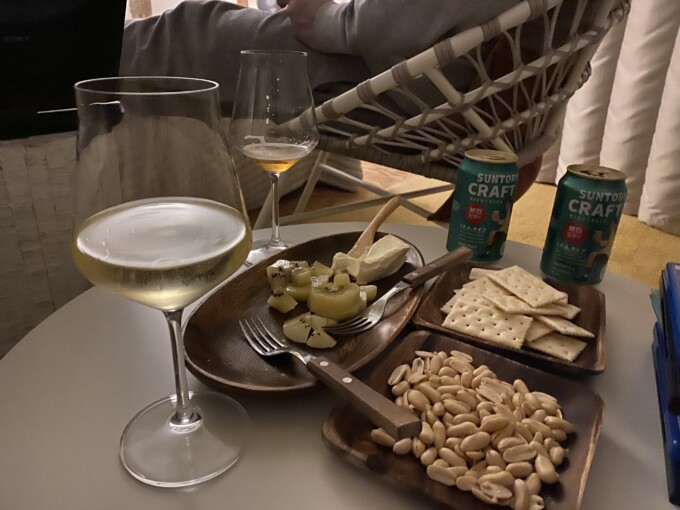 When it was time to go to bed, we left the curtains open again and went to bed looking at the starry sky.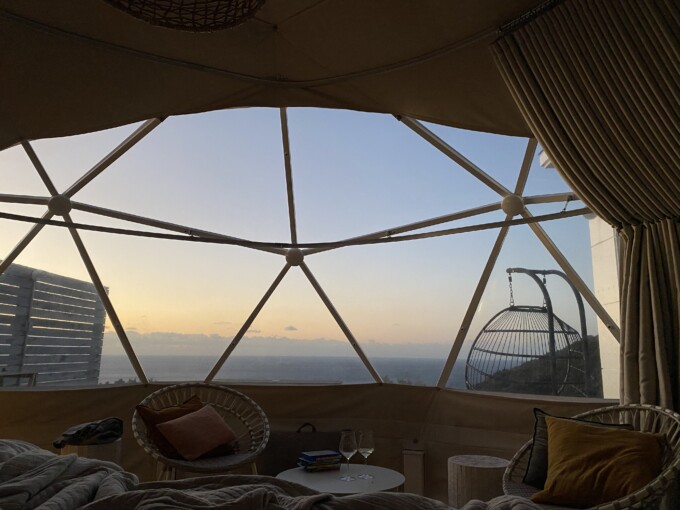 When we woke up, it was a beautiful morning with the sky gradually changing colors.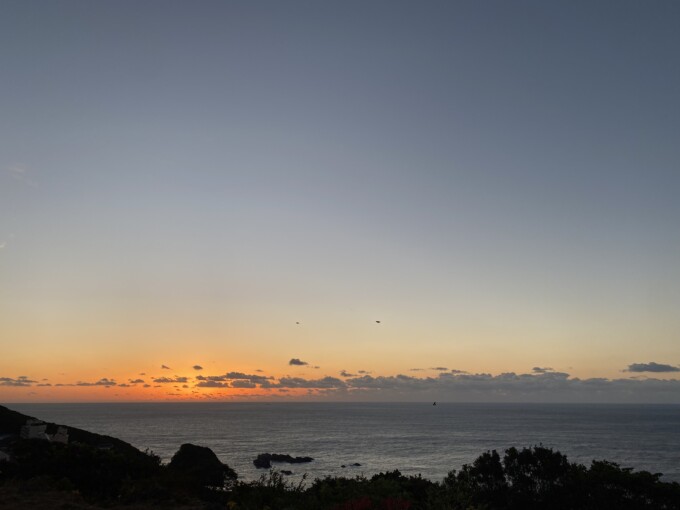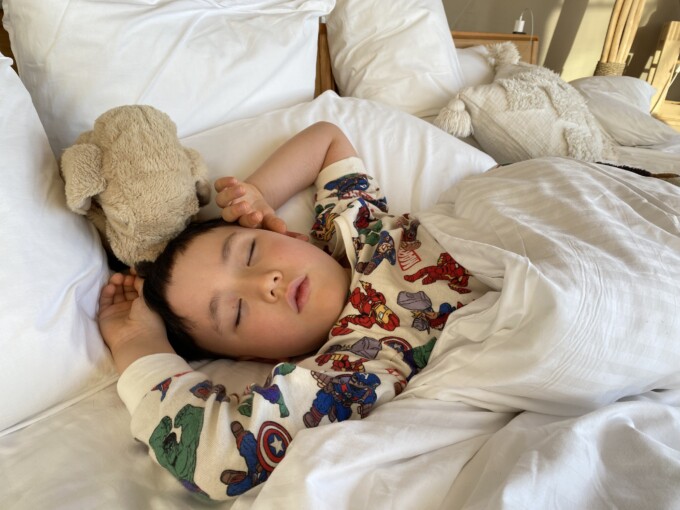 I thought I could eat breakfast on a small plate with a variety of dishes, but I couldn't finish it.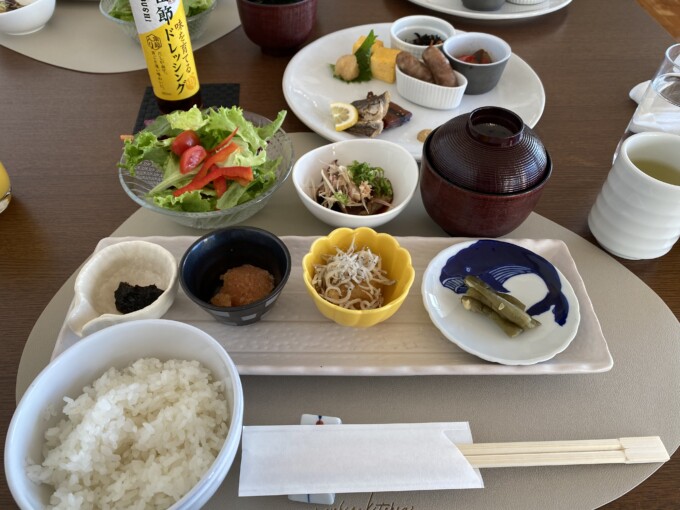 Fionn wanted to relax outside again in his pajamas in the morning, so he sat on a chair and soaked up the sun.
I was so inspired by the location that I even meditated next to Fionn!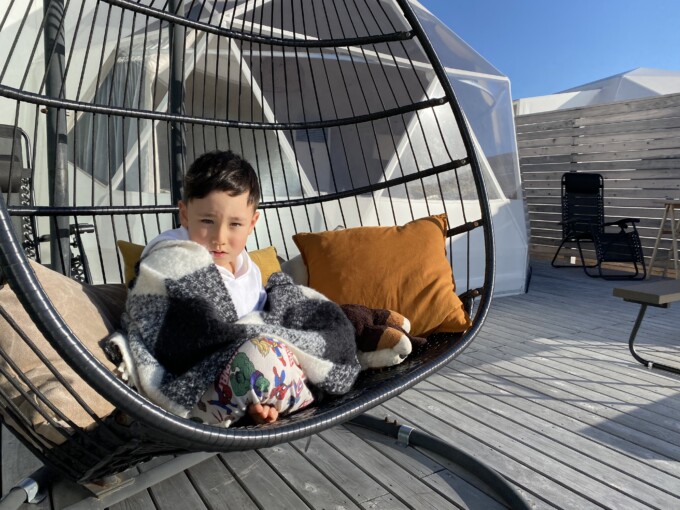 After that, Emmet and I had time to doze off in bed, and when we woke up, Fionn had moved a log-like object to each bedside and prepared drinks, snacks, and different Blu-ray movies for me and Emmet, like this.
He is so cute.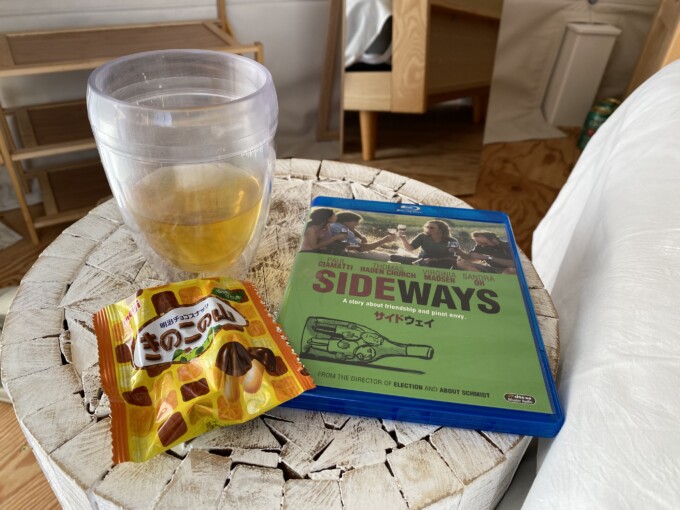 The weather was perfect, the view was beautiful, the staff was very hospitable, and the attention to detail made for a very relaxing stay!
I've often written about Tosashimizu in my blog, but it really has a lot of potential.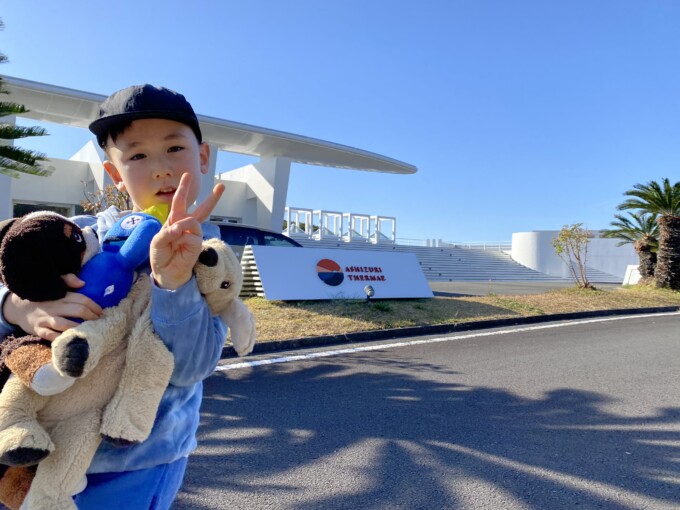 I'm sure it would be a completely different experience in a different season, so I hope to come back when it's a little warmer.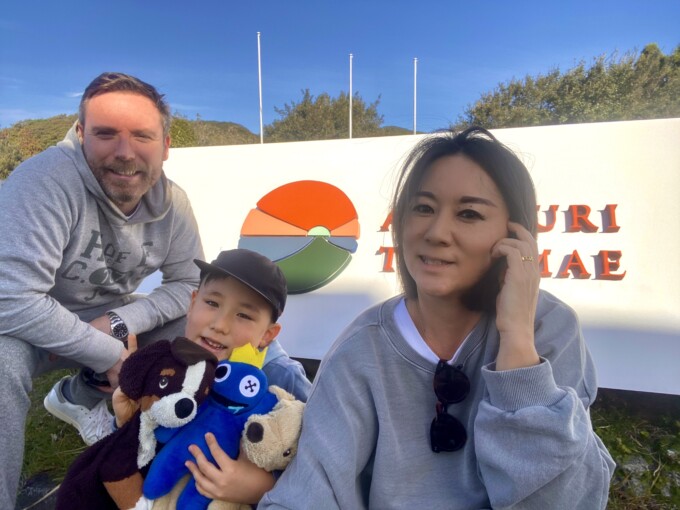 Installation of Asizuri Terme
Insta of glamping area
〒787-0315
1433-3, Higashihata, Ashizuri-misaki, Tosashimizu-shi, Kochi
お問合わせ:booking@ashizurithermae.com
Phone number: 0880-88-0301