Yesterday, we had dinner with Maki and Shinji, aka "Youvege".
We had been seeing each other frequently for business meetings, but it had been a long time since we had dinner together.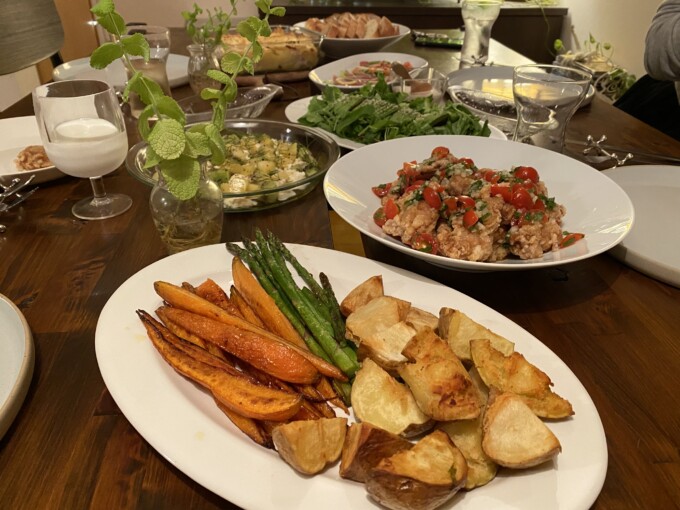 We were going to have many dinner parties at our house this month, so we decided to go out for dinner with them.
But right before we changed the plan, because Fionn can play freely and do whatever he wants, so it's easier to have dinner at home.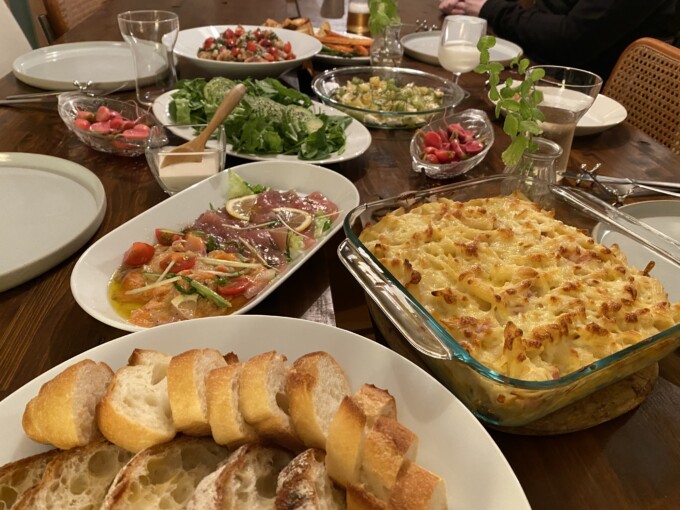 But I asked them if it would be okay to have a weekend Butler meal instead. That would be super easy to prepare! When we have guests over, we always try something a little different and new, but sometimes it doesn't go smoothly, and it takes a little longer than usual because I have to look at the new recipe.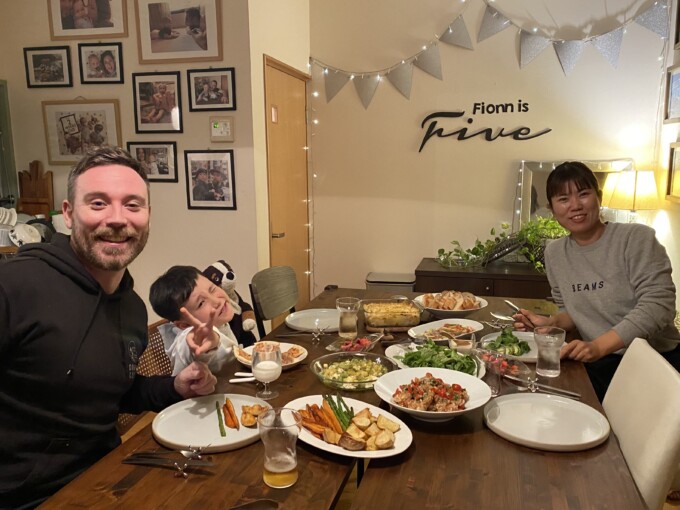 Yesterday, I made fried chicken with salsa sauce that I didn't cook the day before, gratin with potatoes I got from a friend, and used cheese I had left over from a previous dinner.
I used the dill that I got at the meeting with Youvege last week and added it to the cheese, kiwi and mozzarella. I also used it for the cheese plate I made later. We also had a lot of radishes that we got together and pickled, which we all ate yesterday!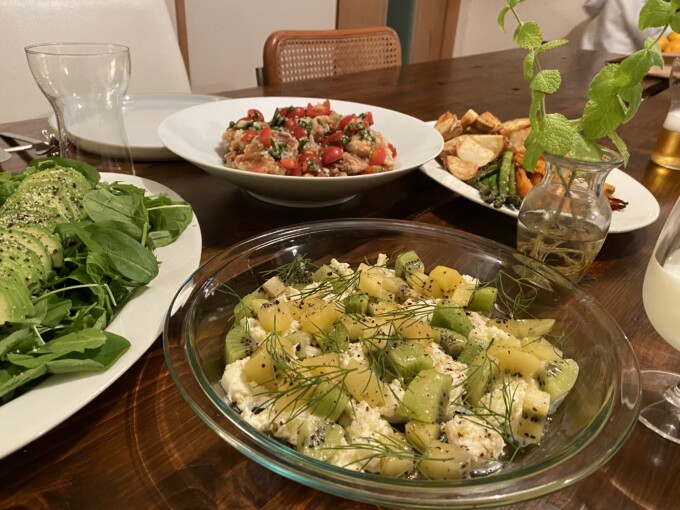 Maki brought some carpaccio, and we had enough for four adults to eat!
And as always, it's great to eat while drinking and talking with everyone!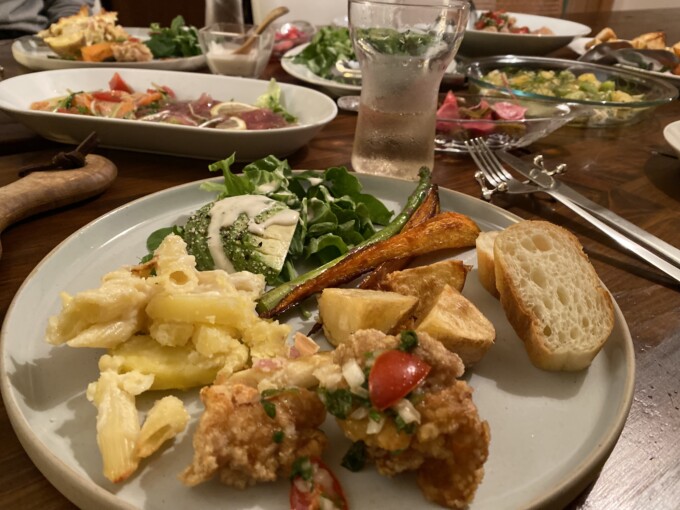 Shinji, who was running late because of a firefighting competition, he joined us midway through the meal, and the topic of conversation turned to "Silent," a drama that many of the girls in this world are into. Of course, the two boys had never seen the show and had no idea what the story was about, so I explained it to them briefly, which led to a story about my own sweet and sour love when we were students, and then we got really excited talking about Eme-chan's sweet and sour love on the bus!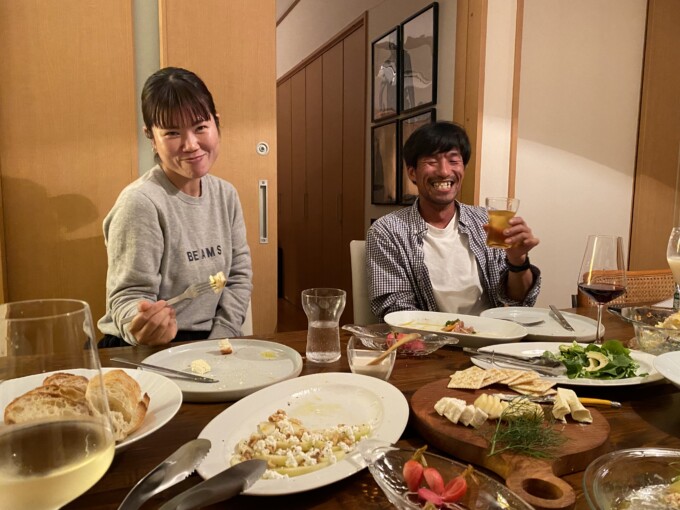 I was drunk and cackling as I recalled my unfulfilled love story, how I felt when I saw a senior I liked at school, and the irresistible feeling I had after making a long phone call to someone I liked. I remember those feelings that I will never be able to experience again when I watch those dramas.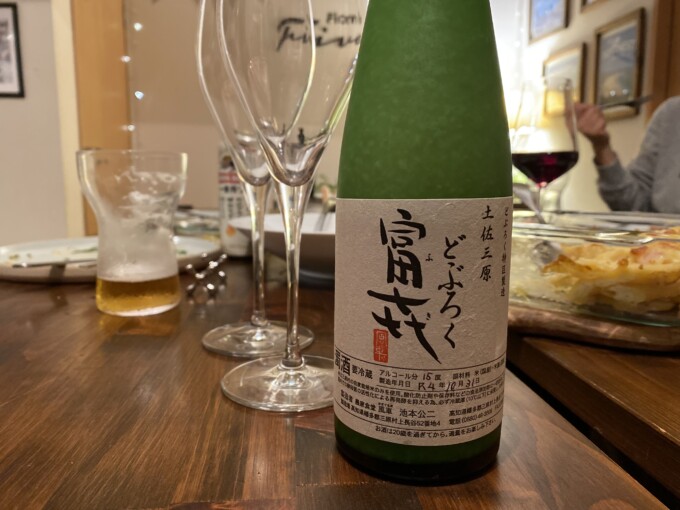 As usual, we ate a lot, drank a lot, talked a lot, and of course had time to vent our grievances and frustrations, but all in all, it was a very enjoyable evening!
Shinji and Maki are a little bit younger than us, but I don't have to worry about them, so it's really easy to be comfortable with them.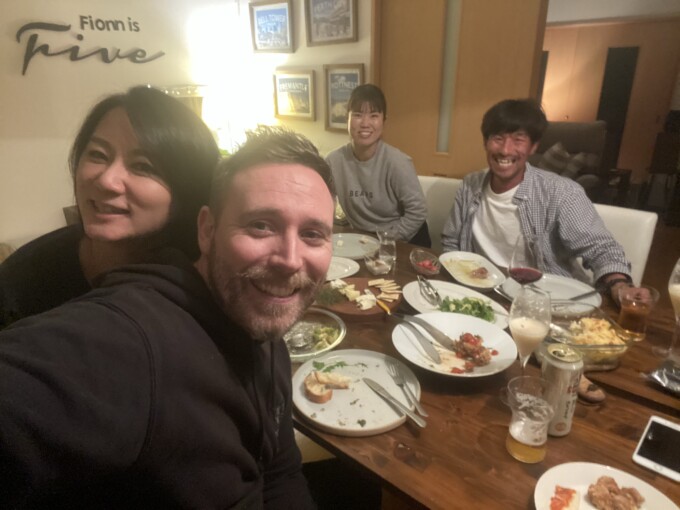 As for Shinji, he always falls asleep in the living room in the middle of the night.
He used to sleep side by side with Fionn who was baby! I really appreciate that kind of relationship.