Yesterday, I knew the weather forecast was going to be about 24-25 degrees, so I decided to go for a picnic at Kings park in the City, which I had been planning for a while!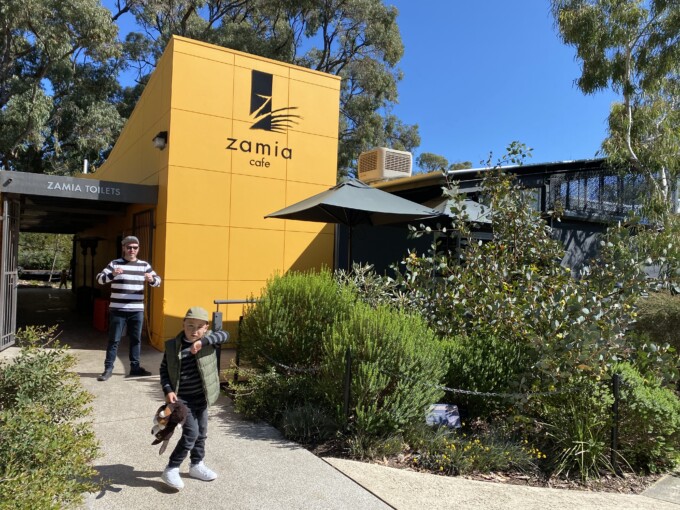 First, we went to a cafe recommended by Nana to get coffee and cookies.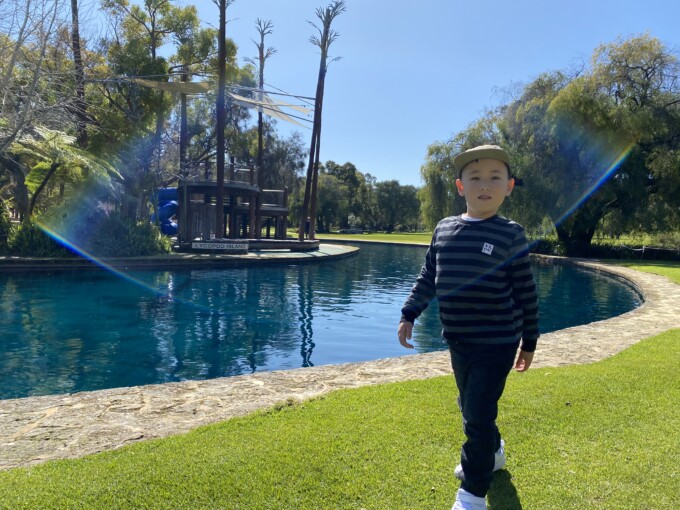 There is a pond, a playground, a botanical garden, a large grass area, etc. Anyway, this park is huge!
It is bigger than New York's Central Park. It would take quite a while to drive around the park.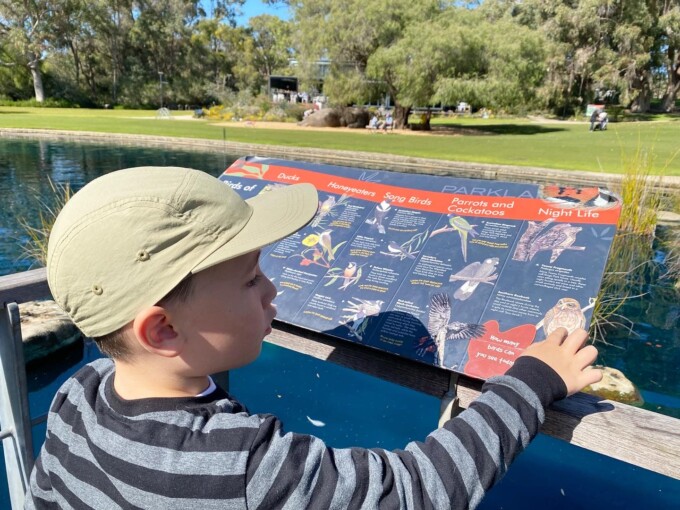 There are many wild birds, and there are signs that say, "Which bird did you see today?"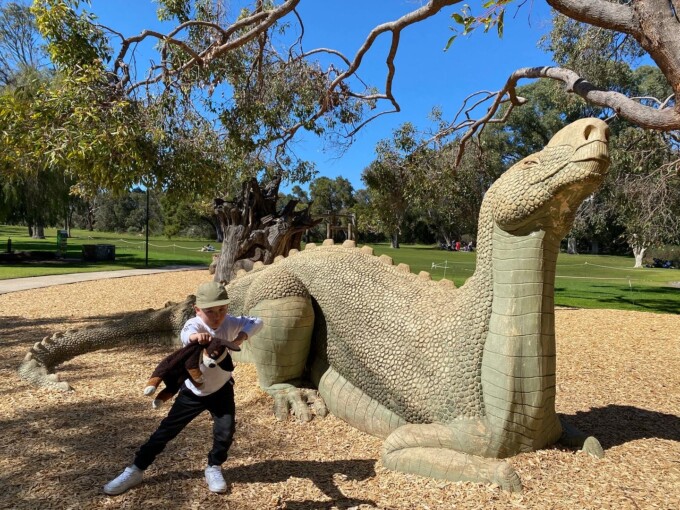 There are also dinosaur monuments, athletic facilities, and lots of fun things for kids.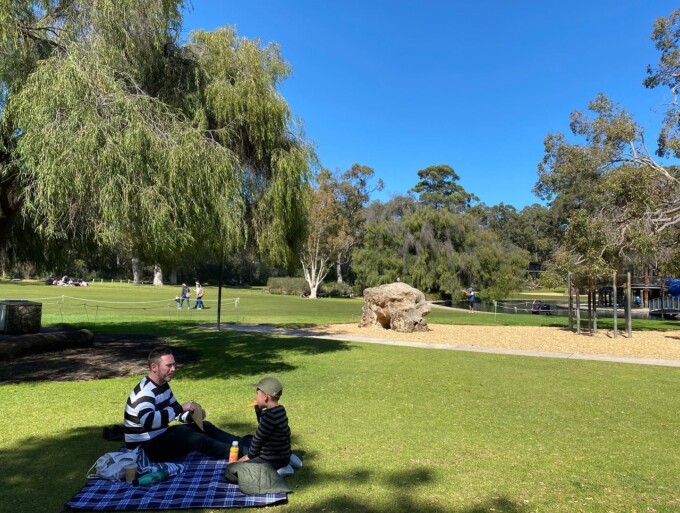 We first had a picnic here with coffee and juice from the cafe and snacks we brought with us.
It was only 10:00 a.m. when we arrived, so the wind was a bit chilly, but it soon warmed up.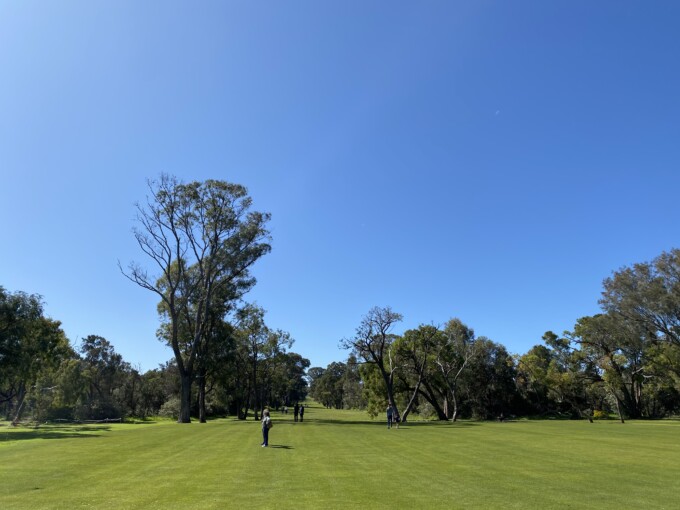 Look at this endless lawn area! I don't know how far it goes, but it's a huge park.
It's so well maintained, the grass is so clean, and there's no trash at all!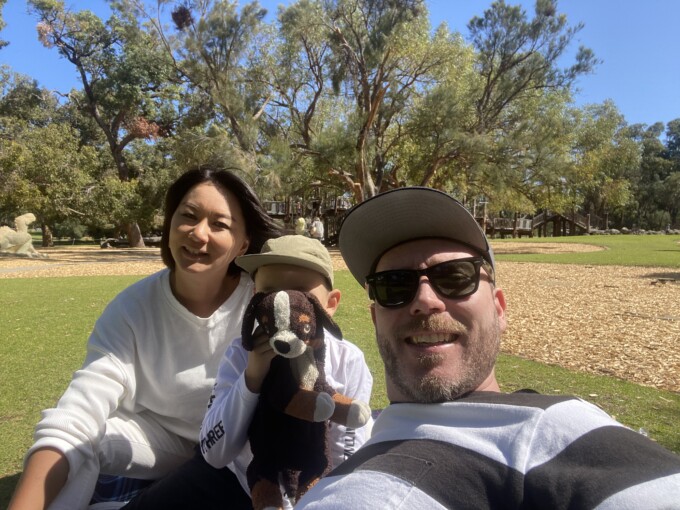 Fionn Emmet and I played hide-and-seek forever here.
The 3 of us can't take breaks, so Emmet and I take turns, but I don't know why the kids never get bored…
Well, I am just getting used to the Australian meals, so it's great exercise for me! lol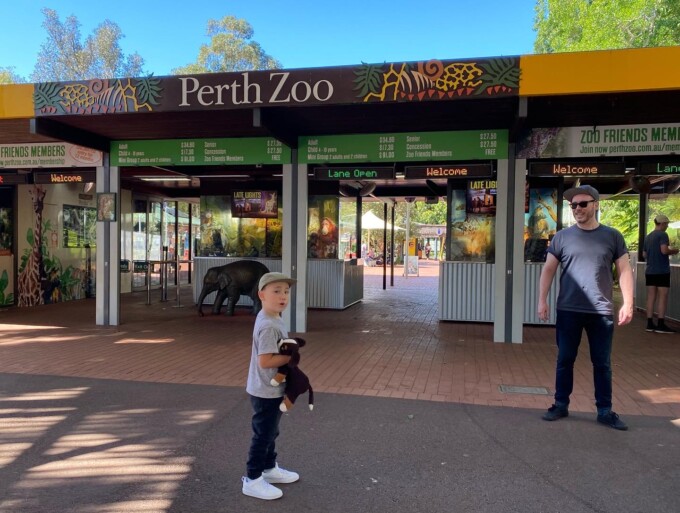 After that, we drove a bit further to Perth Zoo!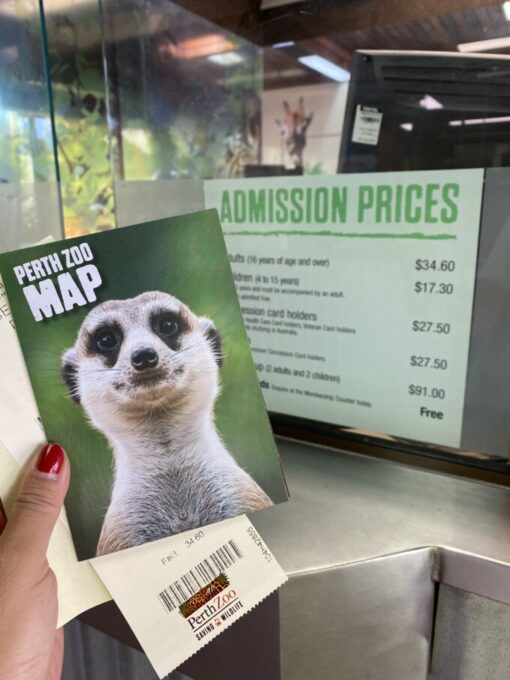 The crazy thing is the price!!!! It cost about $90 for the whole family!!!!
We also went to the aquarium a while ago, but the prices of these facilities and restaurants are about twice as expensive as in Japan.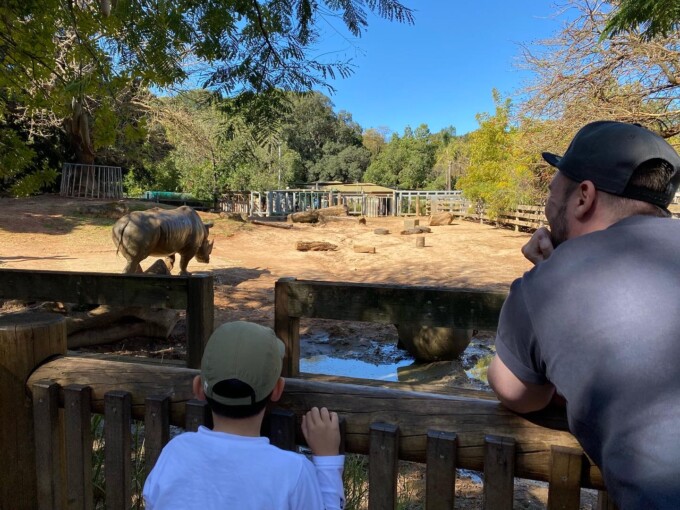 But the zoo itself is very nice and looks like it is in a forest, even though it is in the city.
The animals were free to roam in a large enough area, which was great!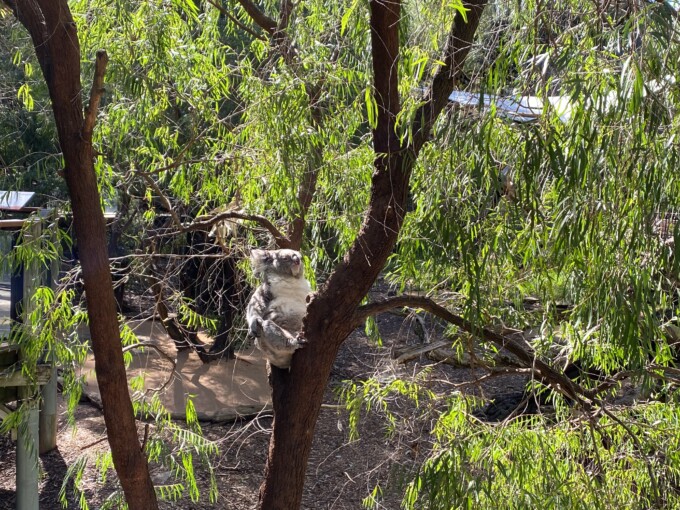 Some animals were so far away from our viewing spot or hidden somewhere that we couldn't see them at all!
In Japan, I would have complained that they charge money for such a situation! But I guess they don't do that here.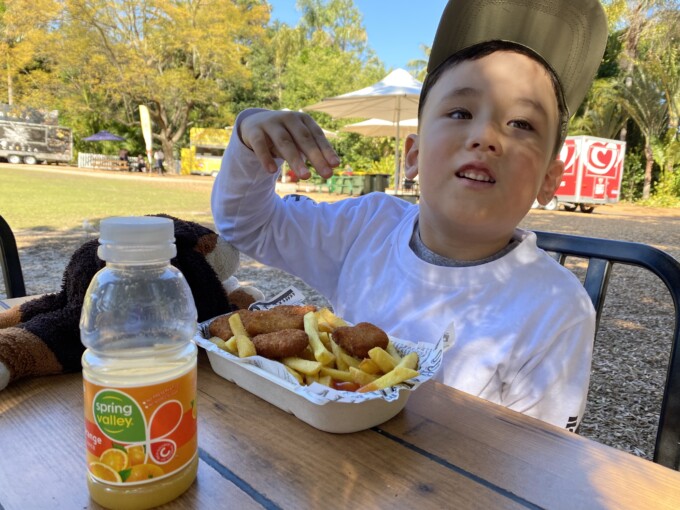 We had a late lunch from a food truck inside the zoo!
The hot dog I had was surprisingly expensive, and it cost me $14 for just a hot dog without fries!
The whole family paid almost $50 for this kind of food…. Too expensive.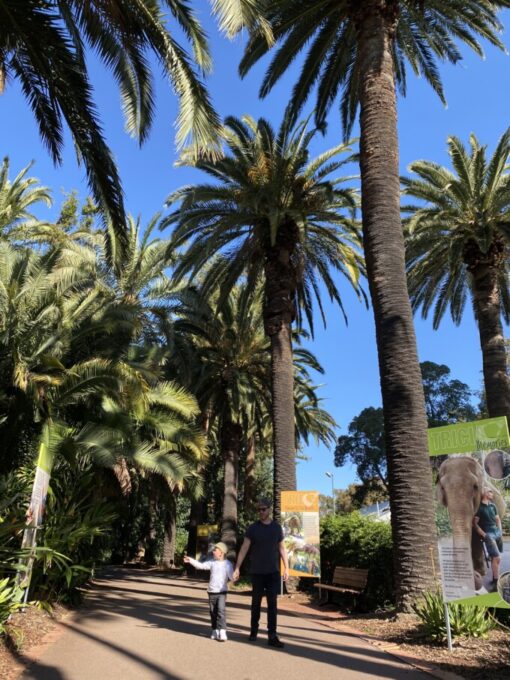 Well, it's like that in Japan too, where food and other things are ridiculously expensive in special places like this.
I ended up spending about $140 just for the zoo entrance fee and lunch, which is not so good.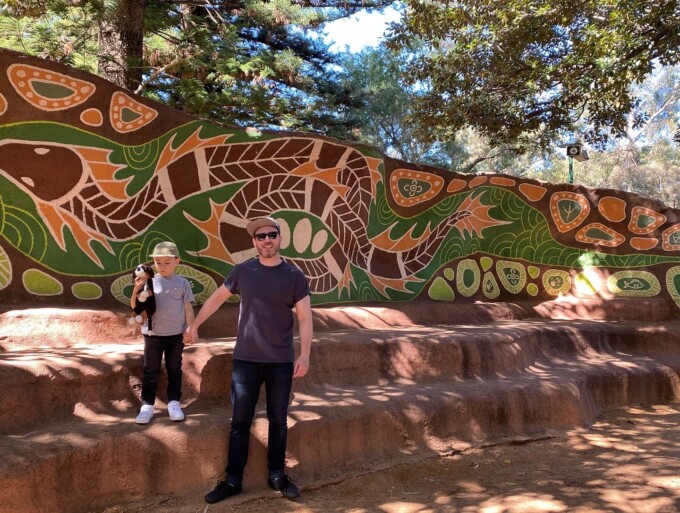 Well, it is not limited to Australia, but you can go to Hawaii, California, Canada, or anywhere.
It is very difficult to shop in Japanese yen because of the rising cost of living everywhere you go.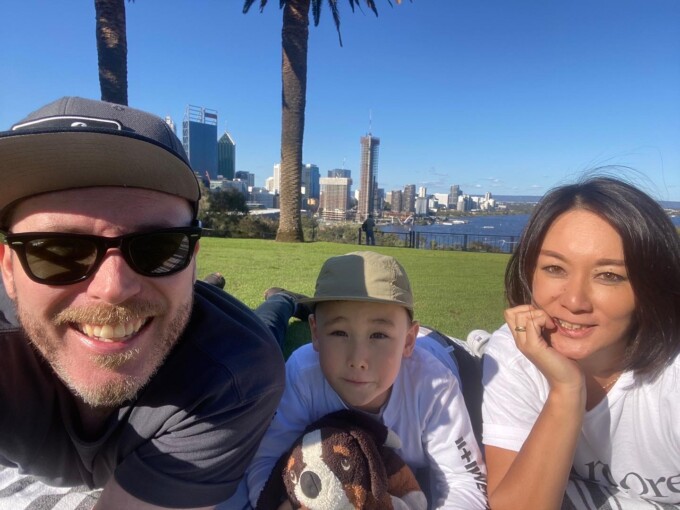 After enjoying the zoo, we went to a spot with a very nice view in the park!
This is where I had my first picnic in Perth.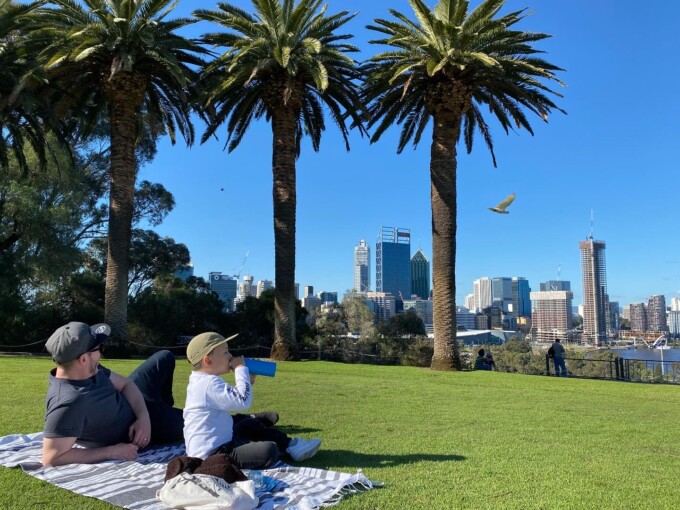 I have a picture of it in my living room!
I wasn't even married at the time, but since then we have become a family, and Fionn was born and is now 5 years old!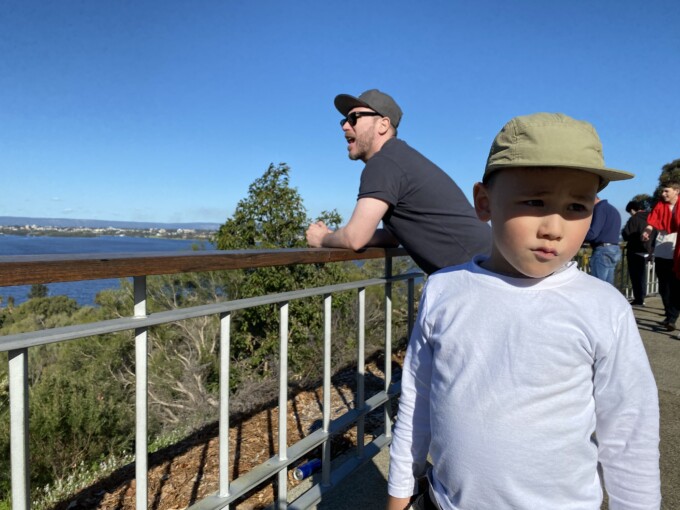 The last time Fionn came, he was only 1 year and 11 months old and couldn't play like this.
But in the past three and a half years, he's grown up so much that he can do more and he can enjoy and understand, so it's a very meaningful time.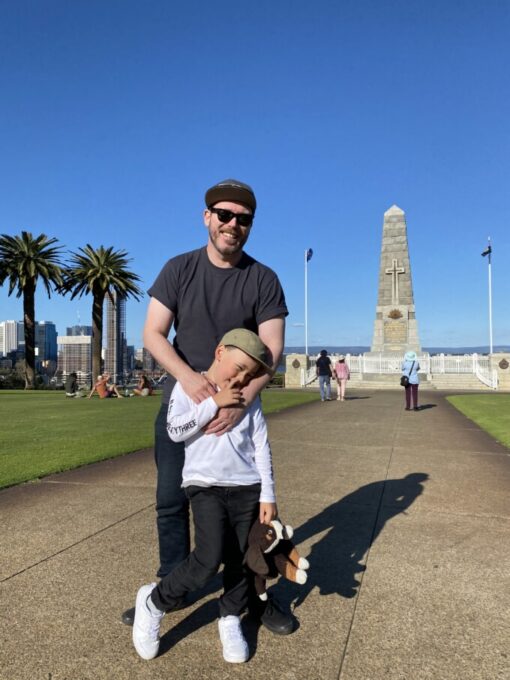 And he has become so cheeky!
By the way, Perth is really a nice place.
Every time I come here in summer, I couldn't spend so much time outside (it's too hot and the sun is too strong).
This time it's winter, but it's more like spring, so it's warmer and easier to spend time.