This is one of the parts I mentioned in yesterday's blog.
The reason why Emmet was interested in coming to the aquarium with us for the first time in a long time! The "Suckers! Shark Exhibit."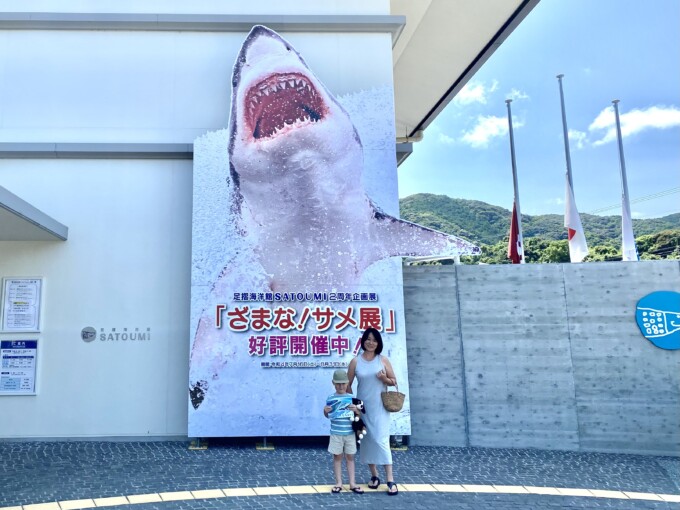 By the way, "Zamana! in the name of exhibit is a Hata dialect word meaning "very" or "crazy".
TheMana Village is a renovated hotel in Cape Ashizuri, also in Tosashimizu City, where I have had lunch many times.
The name of TheMana Village is also derived from "Zamana"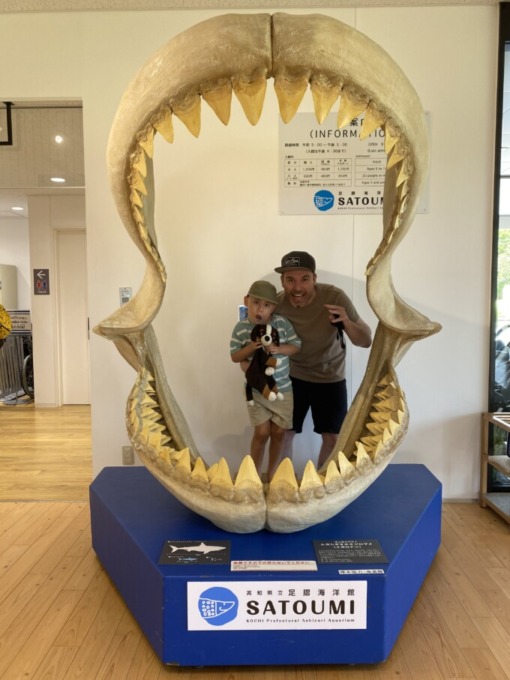 At the entrance of the aquarium, there was a tooth-shaped specimen of the largest shark in history, the "Megalodon".
Is it bad that this is life size!! ????
How many meters do you think a shark with a mouth this big would have to be? About 18 meters long!
If you were swallowed by such a thing all at once, you'd be like Pinocchio!
(Is this expression funny?)
From the entrance to the last event space, it's the same aquarium as usual.
Just with the shark exhibition corner at the end.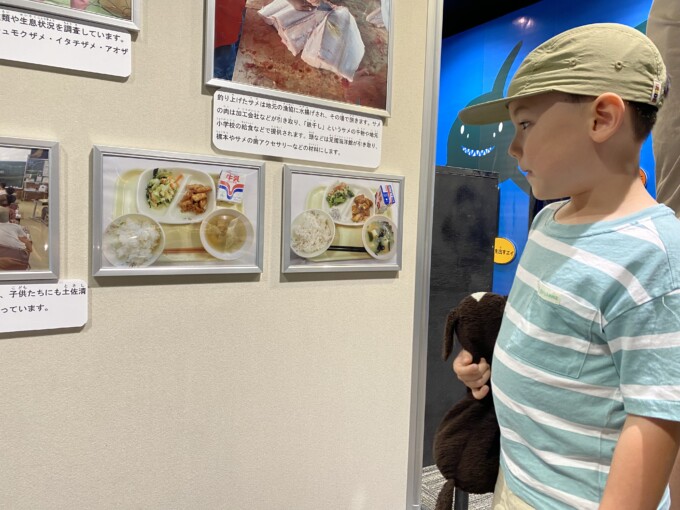 We and Fionn were surprised to learn that sharks are served as school lunch in Tosashimizu schools!
They say that because of the rise in sea water temperature, the number of sharks that eat mackerel and other fish has been increasing, affecting the fishing industry.
So, under proper rules, sharks are caught, processed and eaten as dried fish before further increases in the number of sharks.
The heads and teeth of sharks are used as specimens and accessories by aquariums.
I like how they don't just kill the sharks, they don't waste their lives!
It's a far cry from some fisherman who killed dozens of sea turtles because they were a nuisance to the fishery! Even if there was a reason.
(When I saw that picture, I was in pain, and I still get sad when I remember it!)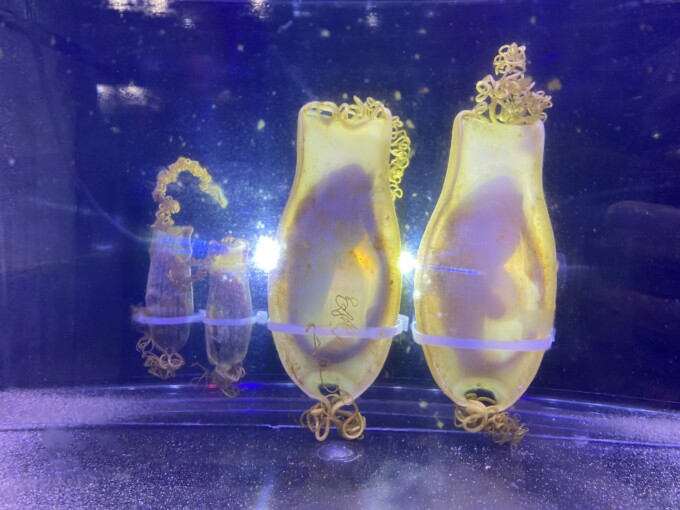 Also, I don't know how it works, but you can see the baby of the shark before it's born.
I wonder if they are actually inside the body? Is it an egg shaped like this? I don't know, but it was amazing!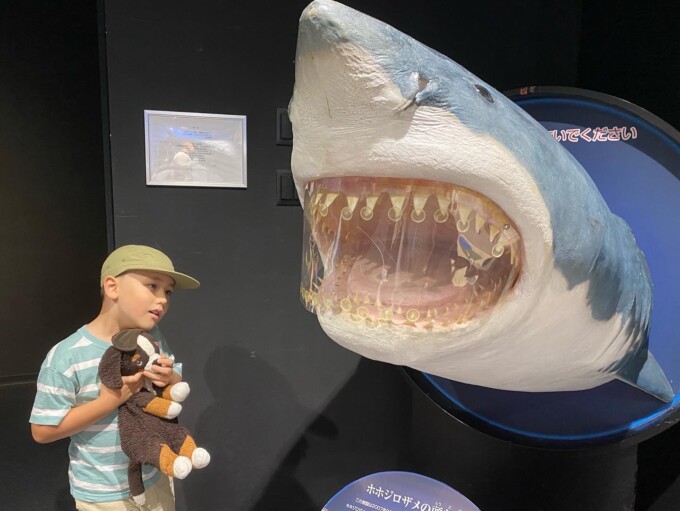 Yes, this is a model of a 5-meter-plus great white shark that was caught during a fishing trip in Tosashimizu in 2007. !!!!
Even the fishermen were amazed! I was surprised to see such a shark so close by.
If you were surfing, you would be eaten!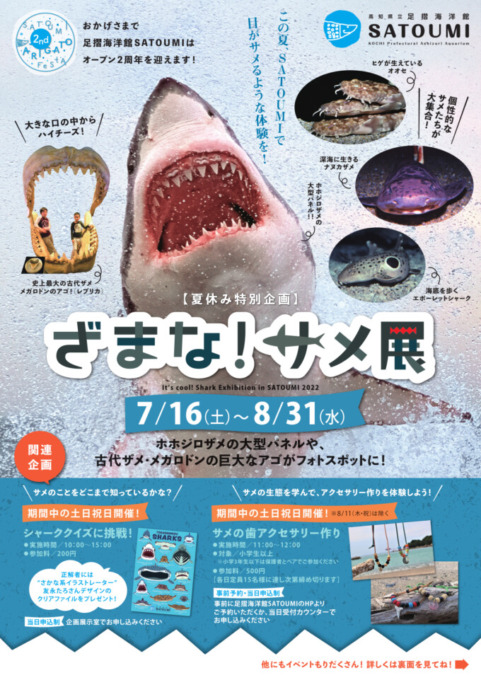 This event is open until the end of August, when the summer vacation is over, so be sure to go!
I didn't know this, but there are many other shark-related activities going on as well.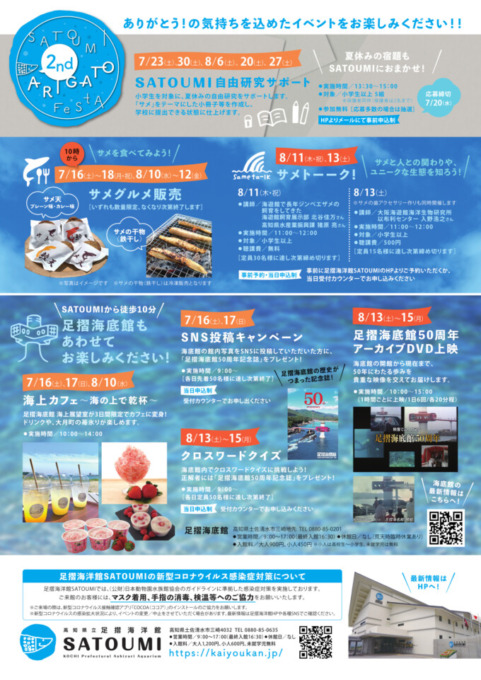 Admission for adults is 1,200 yen and 600 yen for children (elementary school age and older).
But the annual ticket is 1800 yen for adults and 850 yen for children, so if you go more than twice a year, definitely get the annual pass!