Yesterday was the summer festival in Shimanto City, and it culminated in a fireworks display. I realized I didn't go last year, and then I remembered that I couldn't attend because I was back in Perth, where it's mid-winter, for the first time in three and a half years!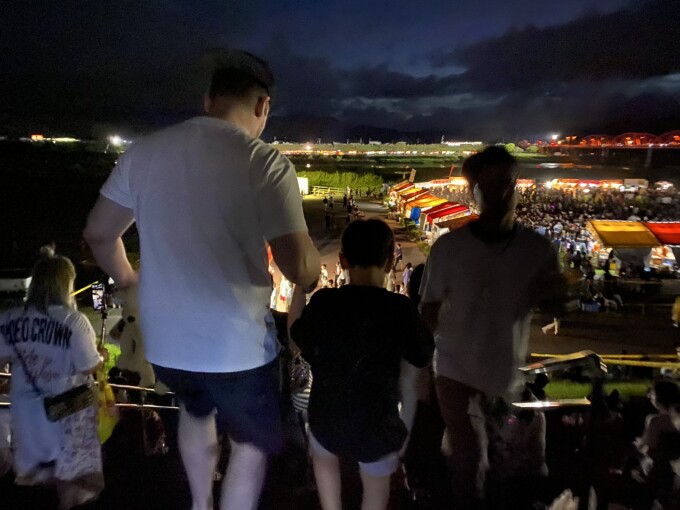 But then again, last year I could make it to the Beach Fireworks in Kuroshio-cho. If we go further back, two years ago, during the winter of the height of the pandemic, there were entry restrictions for the Shimanto fireworks.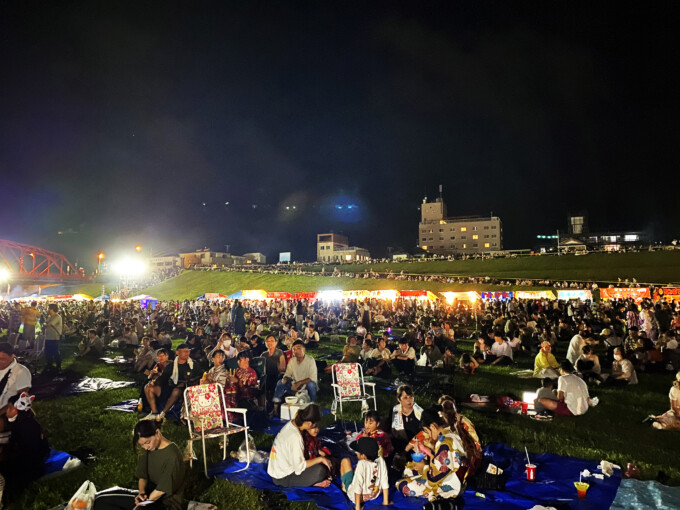 This year, there were no restrictions, so there were plenty of people! However, unlike urban fireworks displays where you have to secure a spot in advance, there was no need here. Even though we arrived just 30 minutes before the start, we found a spot on the lawn and laid out our picnic blanket comfortably. The countryside is wonderful.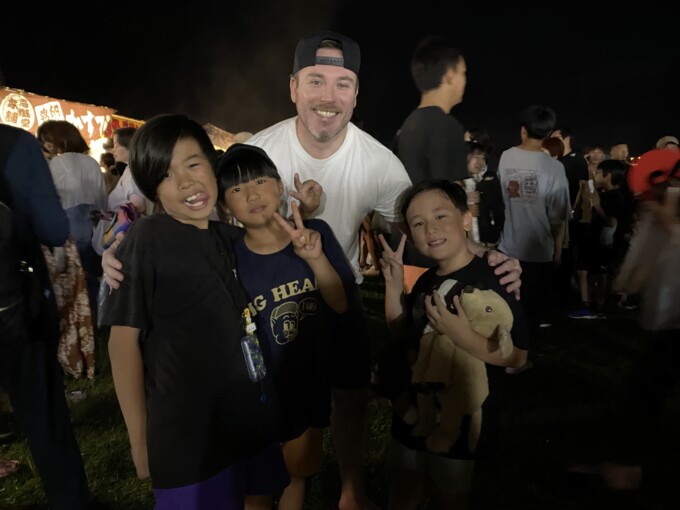 I had thought that if I bumped into Niko and Mito at the festival, I'd give them some pocket money! But with this huge crowd, I thought it would be impossible. However, as soon as we descended the stairs, there was Mito! And while we were looking for a place, there was Niko! I met both of them within 5 minutes of arriving. How amazing!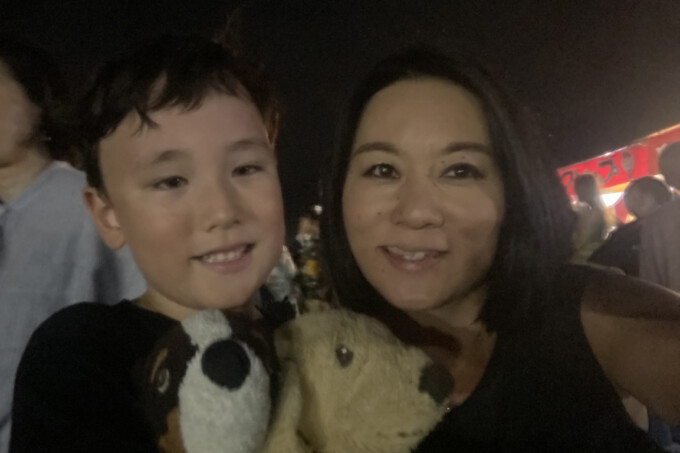 We thought the evening had cooled down a bit, but as we walked to the event venue, we were still sweating in the humidity. So, Fionn and I bought ice creams. The food stalls had quite long lines, but we got our ice creams in about 5 minutes.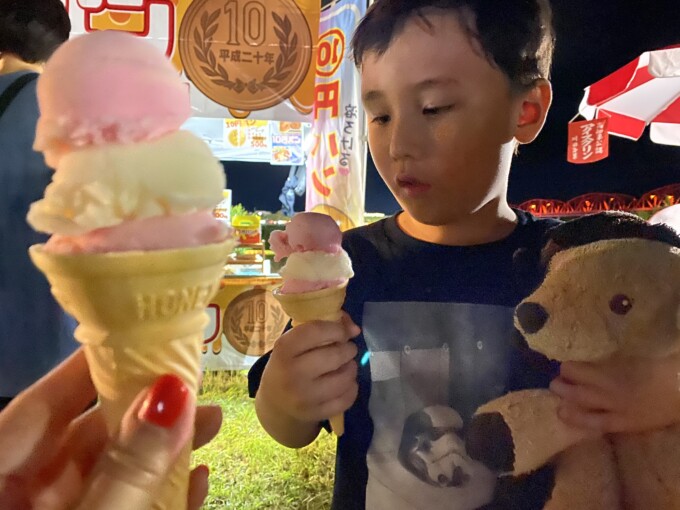 The guy selling ice creams said, "Thank you as always!" It felt really nice. He's indeed always there, and I wonder if he remembers us?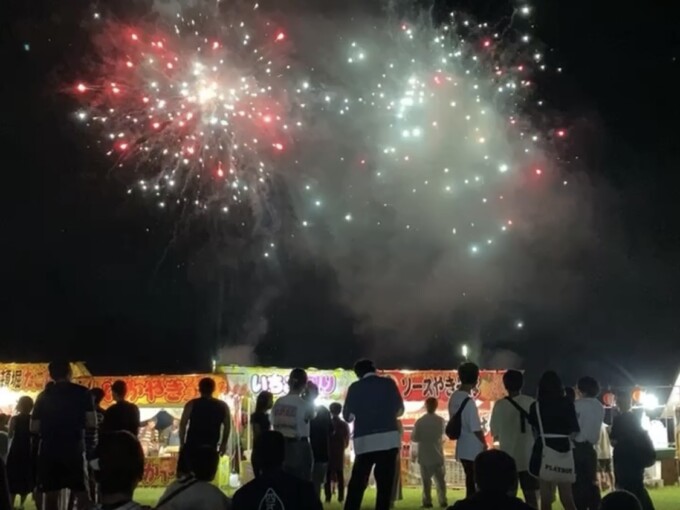 After a while, the fireworks began. I took many photos, but none of them captured the beauty of the fireworks.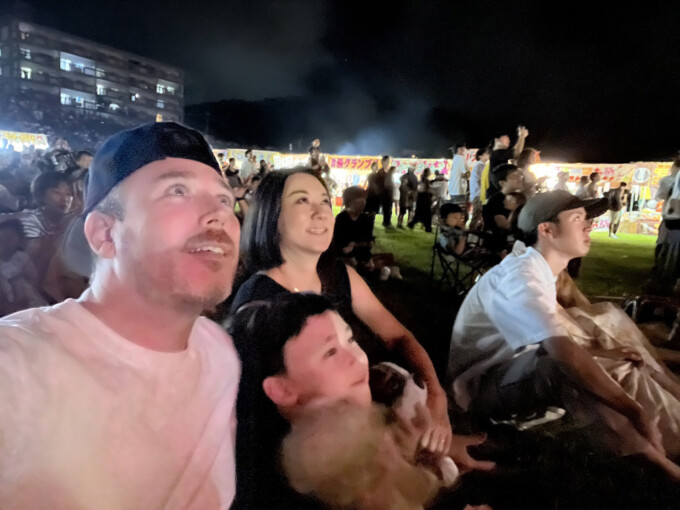 However, for 30 minutes, we were treated to a fantastic display of fireworks up close. It was truly impressive. Fionn kept saying, "It's beautiful," and he's grown so much that he could enjoy watching them for such a long time.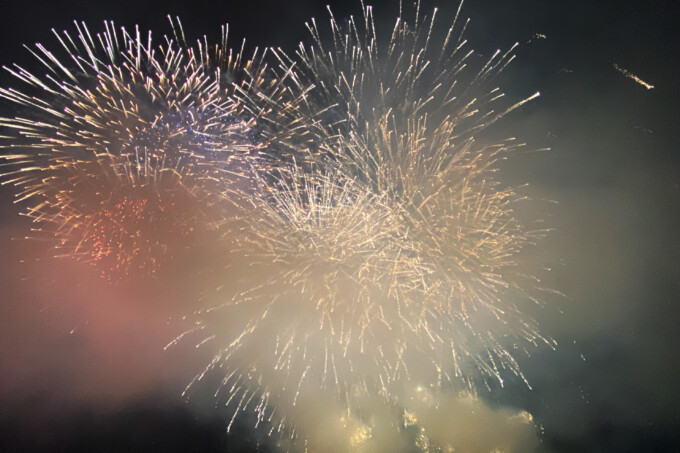 The climax was a barrage of fireworks that filled my entire field of vision, to the point where I couldn't fit them all into the frame. Unfortunately, there was no wind that night, so the smoke remained in the same place, obstructing the view of many fireworks. Still, the sound and the power of it all made everyone involuntarily exclaim, "Wow!" and we ended with a spontaneous round of applause.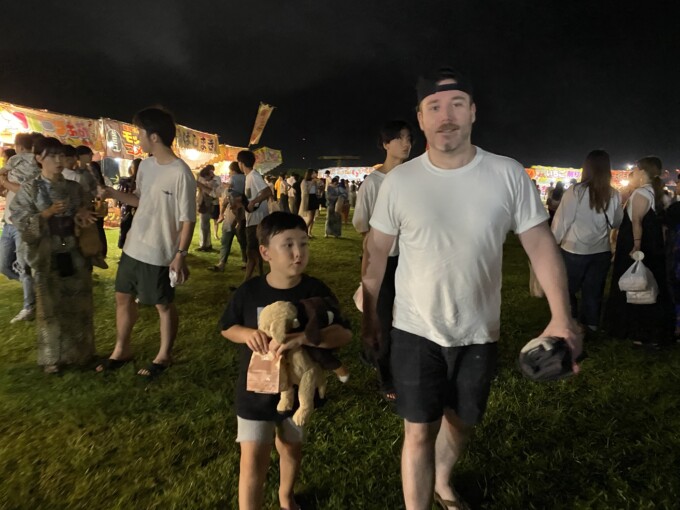 After it ended, I fulfilled Fionn's request to have potatoes, and we walked back to Yukichan's house. Since my parents' house is about a 3-minute walk from the venue, it's really convenient! Not having to worry about parking every year is a relief.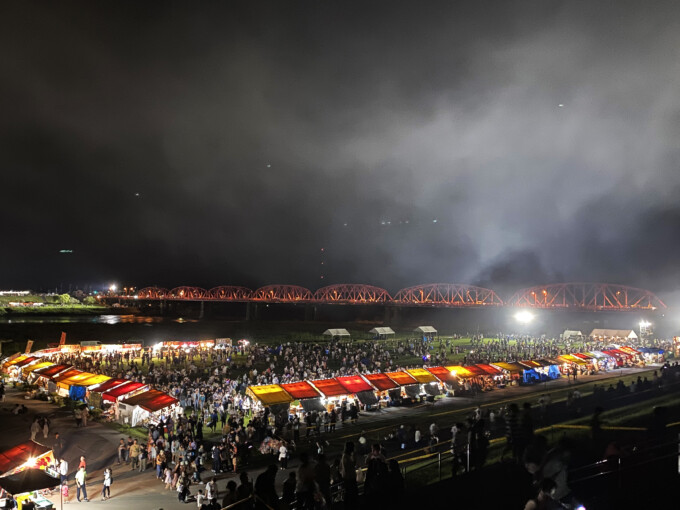 It seemed like the outdoor event had fewer people wearing masks. The crowd was big, just like before the pandemic, and things seemed to have returned to a somewhat older normal. It's great! It's really great!!!
Events like festivals are truly wonderful!!! They lift your spirits.