It's been about a year since we had a family sleepover at the Christmas party here last year!
This time we're having a catch-up party with Kento, the owner, and his best friend Akane, who works there!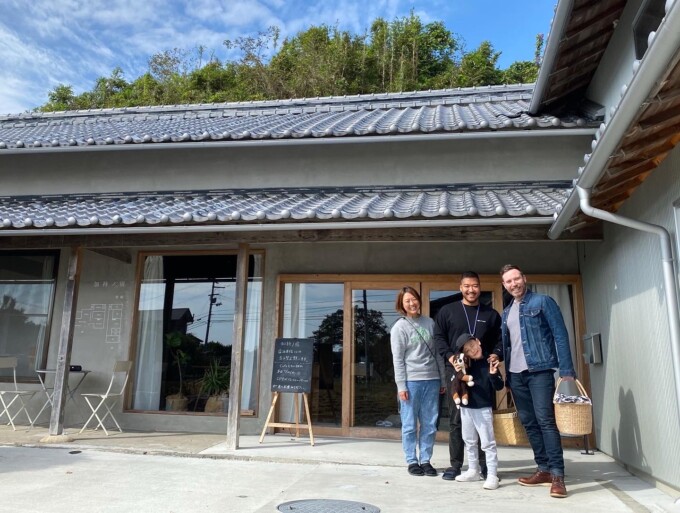 We hadn't seen each other for a while when we came to the cafe last time, so we decided to get together at night.
Last time we had dinner at the Butler's, so this time we decided to have dinner at Kamochi! We decided to stay over and have a year-end party at Kamochi. It was a very easy and a fun party.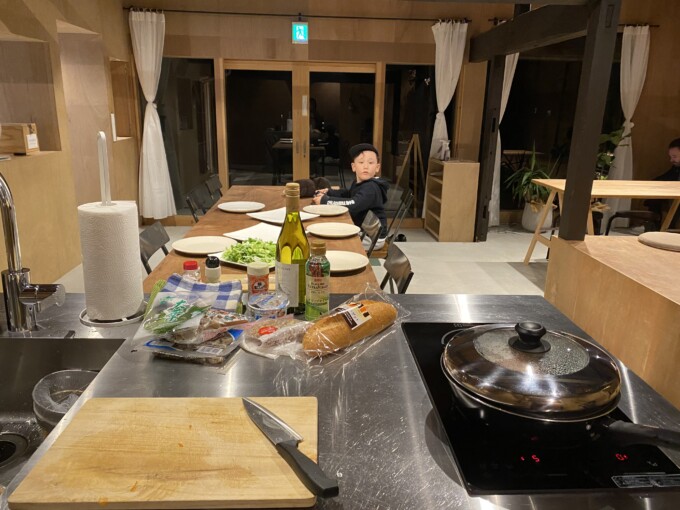 I really wish I could have gone a little earlier and made dinner for everyone, but I had Fionn's piano lesson on Monday evening at 5:00 p.m. and his recital is next week, so I couldn't even take the day off. I had to wait for Emmet's 6:20pm English conversation class to finish, so it was about 7pm when we got there.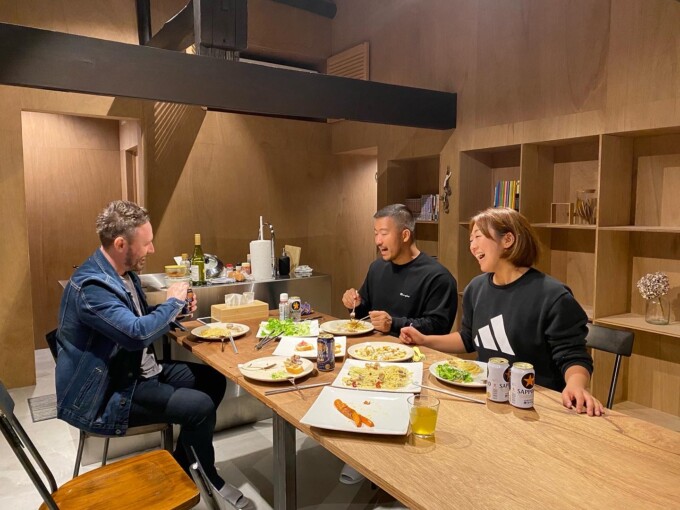 Everyone said it could be super simple food, so I made my favorite dishes lately: roasted carrots, salad, pear walnut with cottage cheese, two kinds of bruschetta, and bongolevianco while we talked and drank! That's why the table doesn't look so great!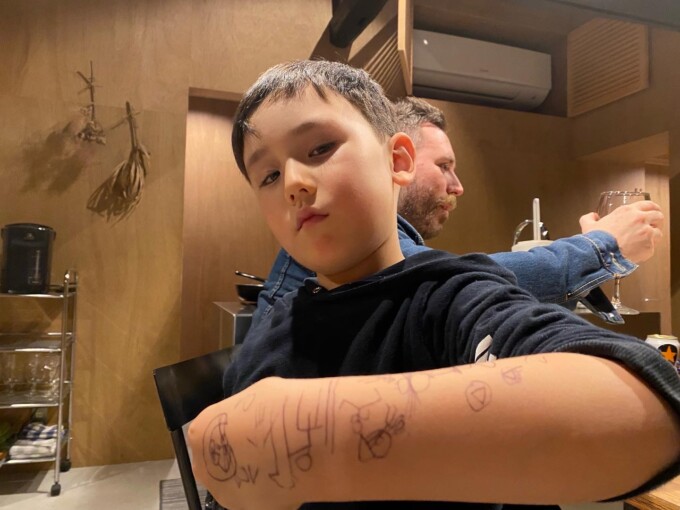 Fionn joined us at the table for dinner, but he wanted to play in the various rooms, so he went to the TV room and drew in the exhibition space.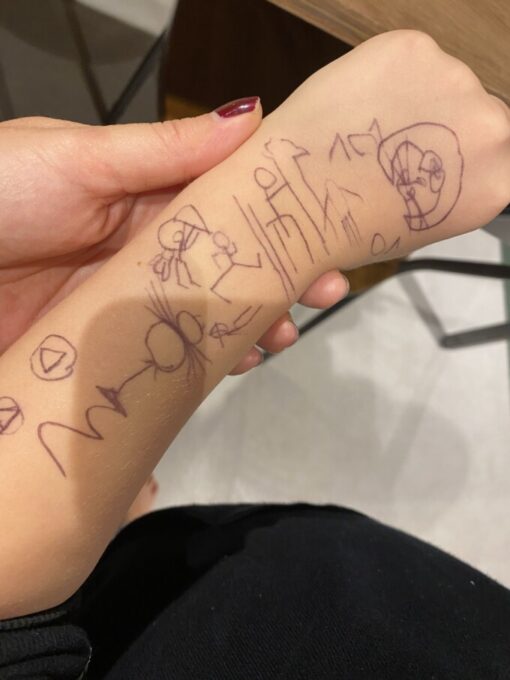 Here's a new tattoo he showed us on the way out!
I remember when he was in preschool, every morning during the summer, he would come in with an oil-based pen to draw a tattoo on his arm!
I told Fionn about it, but he didn't remember it. I told Fionn about it, but she didn't remember it at all.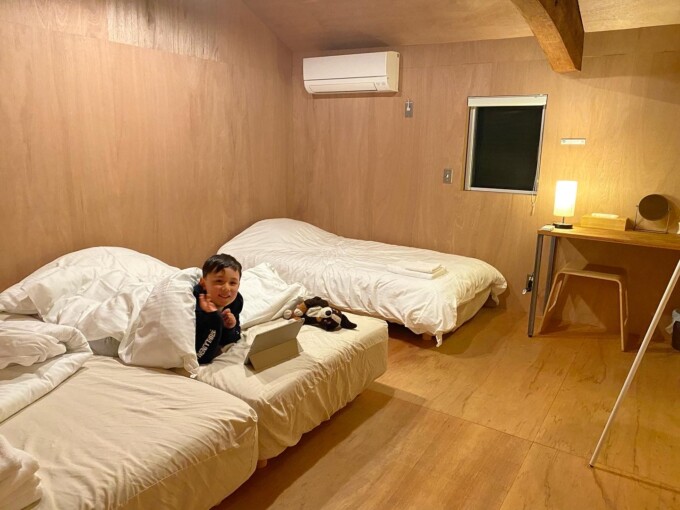 After that, he went to the room where we stayed this time and had YouTube time, which he loves. He said he had a great time in total.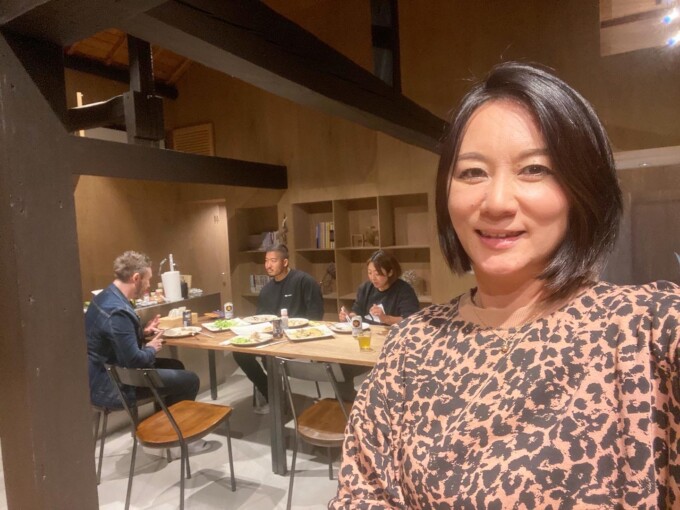 We started drinking at 7:00 pm, but it was 3:00 am when we realized it!
Kento and Akane are travel masters who love to travel and have been to many countries, so we talked about how the corona situation is getting better and that it's time to start traveling again. We also talked about meeting up for a trip to Singapore or Malaysia for a week or so. This is something I really want to make happen! If possible, I really want to do a trip to meet up somewhere in Asia in 2023.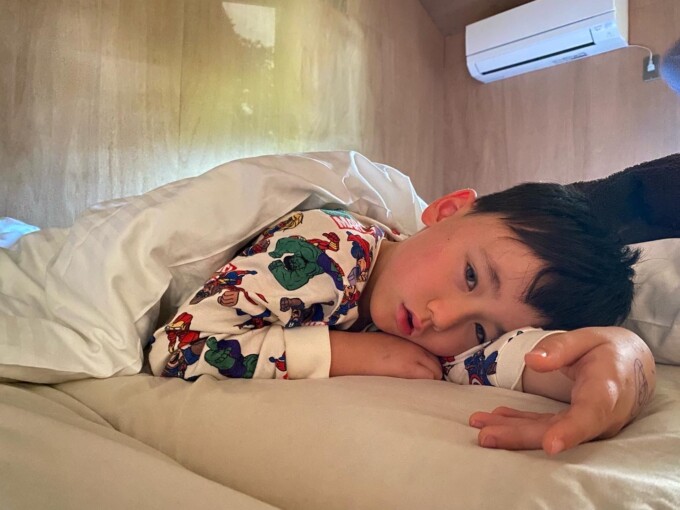 Kento kindly allowed us to rent the whole house, even though there were only three of us staying, so we were able to relax in the morning.
Fionn was up late and slept until about 10am! LOL!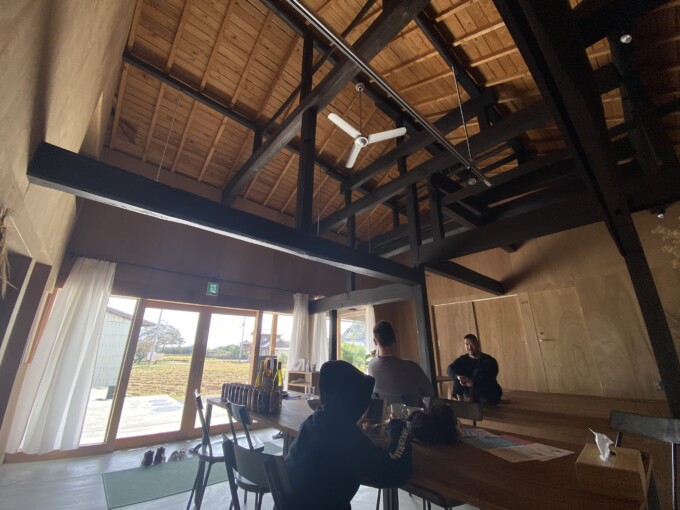 In the morning, we had coffee and relaxed again.
It's a pretty big space, but we didn't even use the heater yet, so it wasn't cold at all! Eme-chan said at the cafe that he has been wanting to live in a house like this, a renovated old house.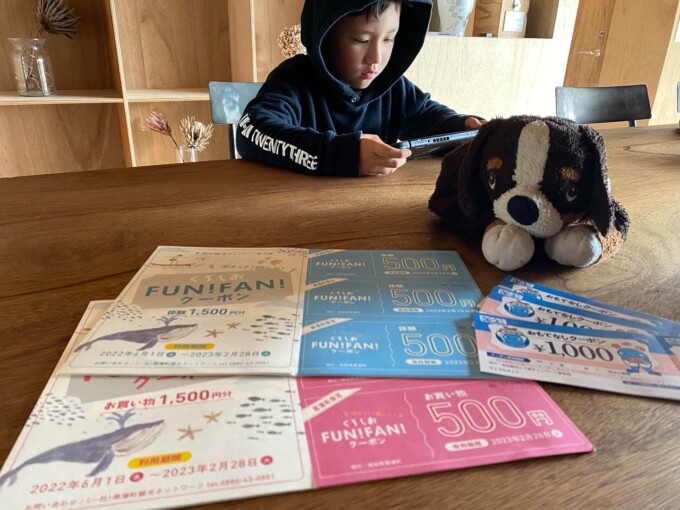 By the way, since three of us rented the house this time, we got a coupon for a weekday trip for the three of us, and that alone was 9,000 yen!
In addition, we also got a FUN! FAN! coupon from Kuroshio-cho for 4,500 yen for the experience and 4,500 yen each for shopping, for a total of 18,000 yen.
That's much more than I paid for our stay!
You should definitely take advantage of this bargain.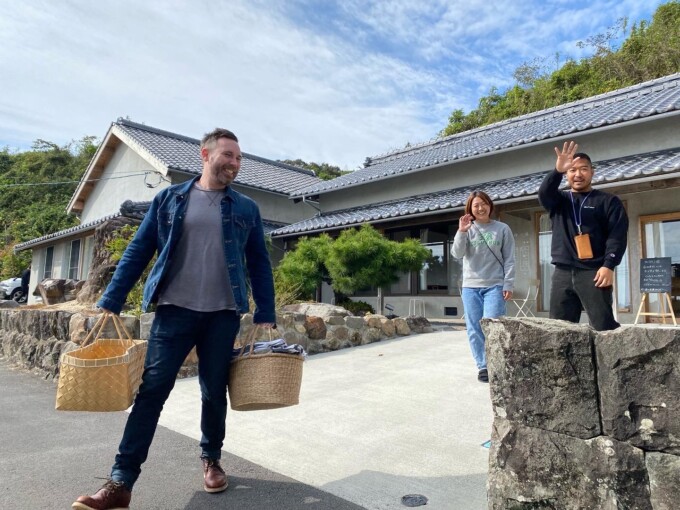 At the end of the stay, the two of them saw us off and our fun weekday sleepover was over.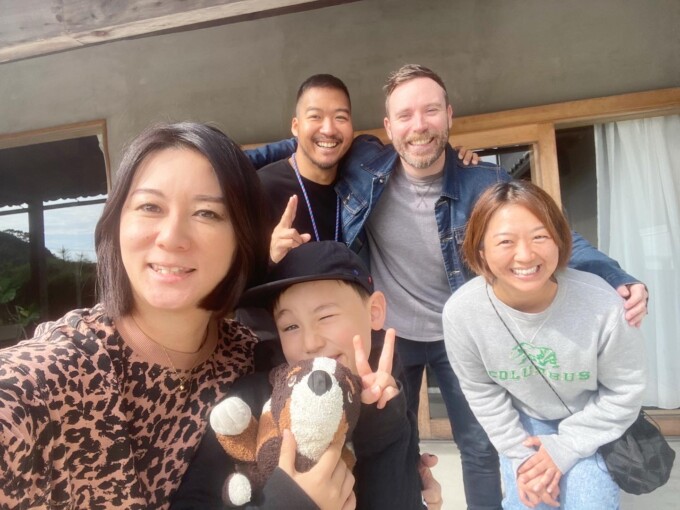 You can rent the whole house for 6 or more people, so please try it for a sleepover year-end party or Christmas with your friends and family.
The next door is the café-bar I mentioned earlier, so you can have a drink there at night or use the café!
We would love to stay there again with our friends and family. When shall we do it?
A simple lodging house renovated from a 130-year-old private house
Old and new", an inn that pursues minimalism and a sense of space.
Available for single room use or for a party of 6 or more people.
Cafe and bar @cafe_and_bar_hanare is also located in Tonari.
789-1921, Kochi, Japan
2672 Kamochi, Kuroshio-cho, Hata-gun, Kochi
tel 090-8829-8860