This was Tuesday afternoon.
As usual, after Fionn went to bed and morning time I concentrated desperately on my work so I could spend time with Fionn in the afternoon.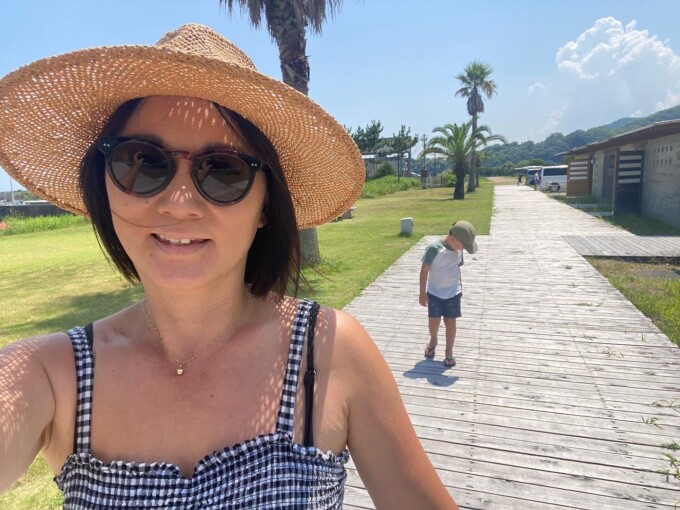 At this point, it's DAY 5 of the long, long 50-day summer vacation that started last Friday.
We went to Nashishi Beach (Shimanto City) on Friday and Sakurahama Beach (Tosashimizu City) on Sunday.
We went to Irino Beach (Kuroshio-cho) on this day.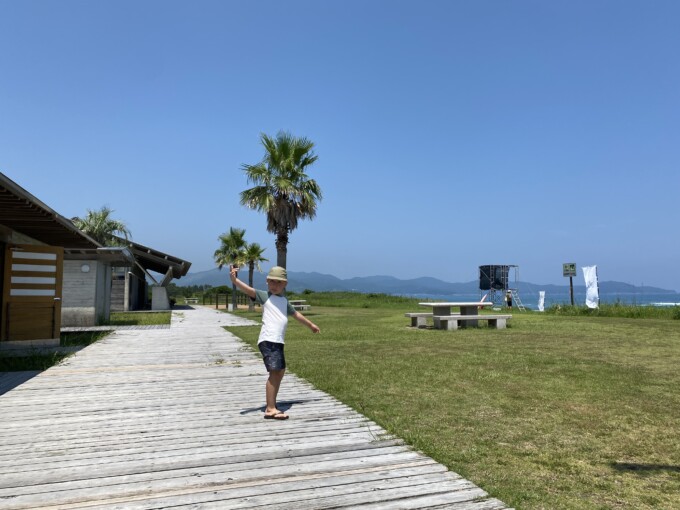 But if you compare them by distance, this beach is the closest of the three beaches, even though it is in a neighboring town!
It only takes about 10 minutes from our house.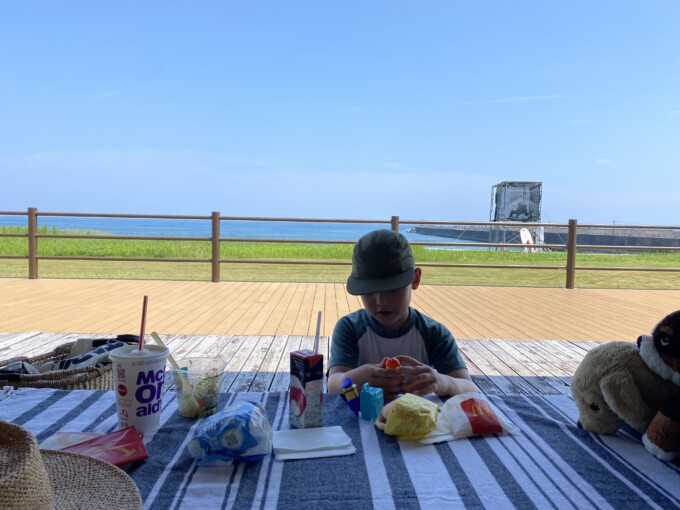 On this day, at Fionn's request, we had lunch at McDonald's, he ordered a "Happy Set". This lunch was a secret from Daddy!
But he said, "It's a secret, so don`t say anything!" but eventually he told him anyway.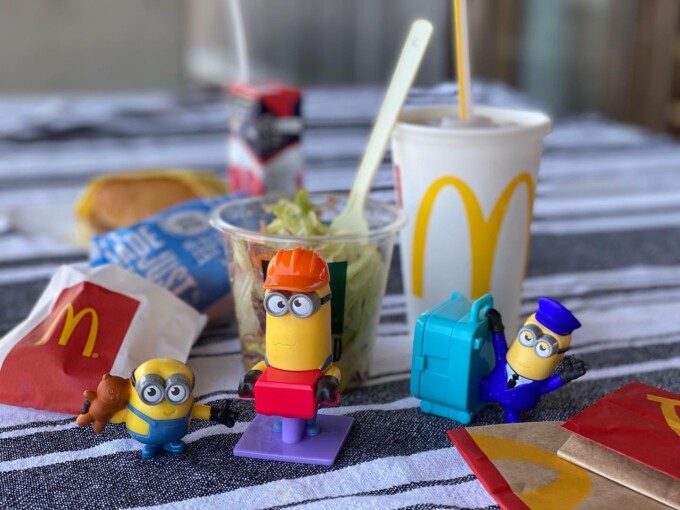 The goal was to get a Minion! This is the toy that comes with the Happy Set right now.
He loves Minions, so of course he wants them when he found out they were in the Happy Sets!
I'm guilty of that, because even I sometimes want to get all the Happy Sets from McDonald's.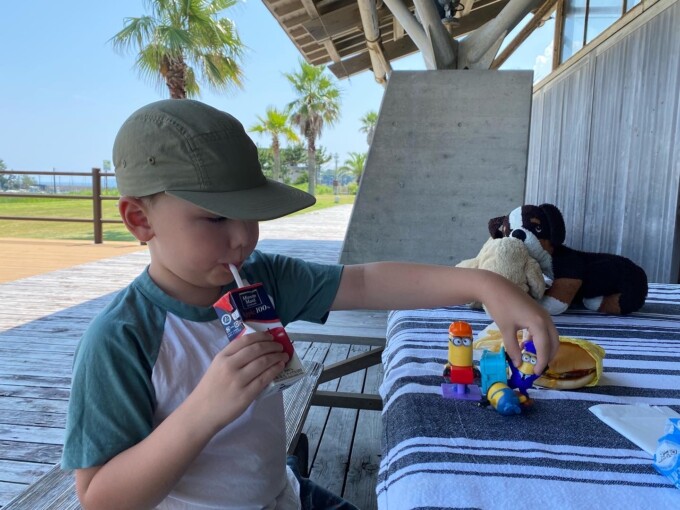 At the very end of this wide Irino Beach, there is Irino swimming beach, and right in front of it
there is a building called "Umi no Bazaar," which is open to everyone.
It is shaded, and I recommend having lunch or relax at one of the tables outside for a cooler, more scenic experience!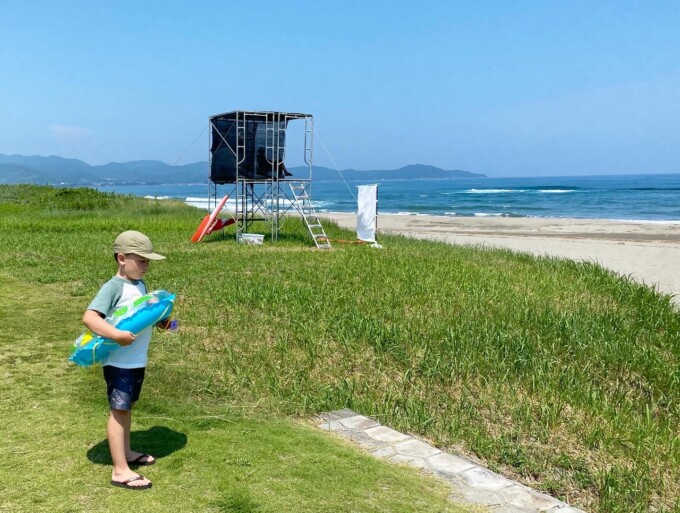 After lunch, we moved to the ocean right in front of the bazaar, because Fionn asked me to.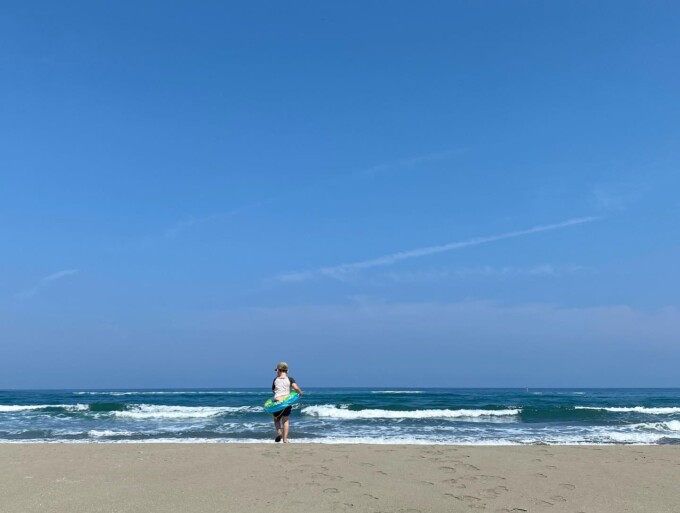 There are guards on the beach, but even though it was summer vacation, it was just me and Fionn! It was so extravagant!
Of course, I was in a swimsuit too! LOL!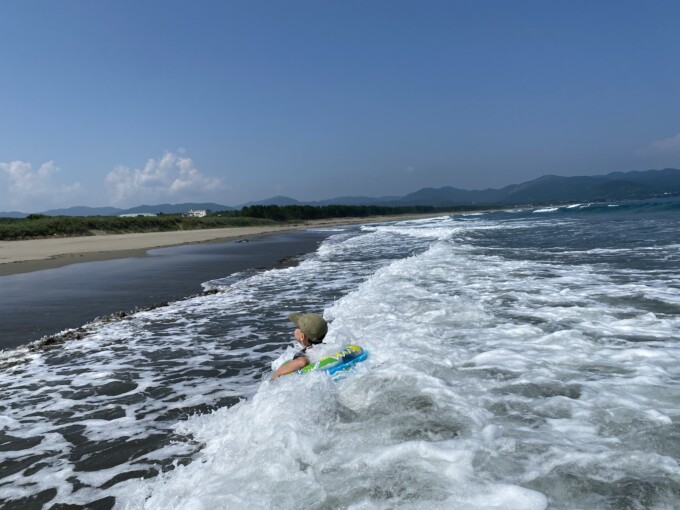 The waves were the biggest of any beach I've been to this year, and they were consistent.
At first, I was just observing to see how he would play in these waves. But he didn't hesitate at all!
It's amazing how much he's grown since last year, when he used to freak out when he got water on his face.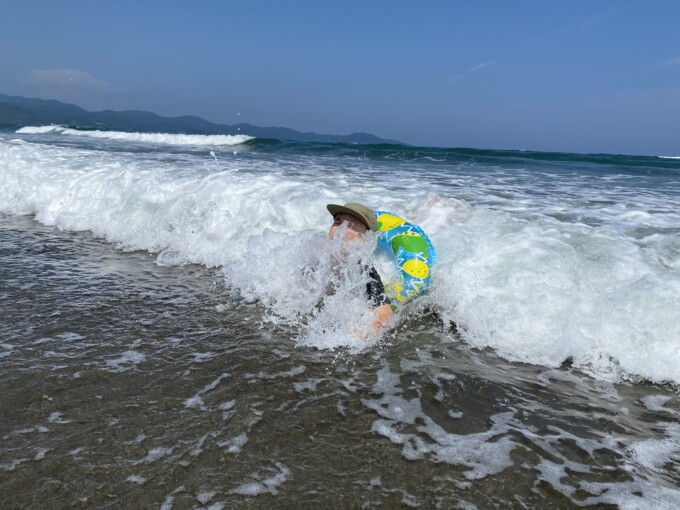 And since it's salt water, it must hurt a little if it gets in his eyes, but he has gotten stronger!
He was playing endlessly with his floaty, riding the waves.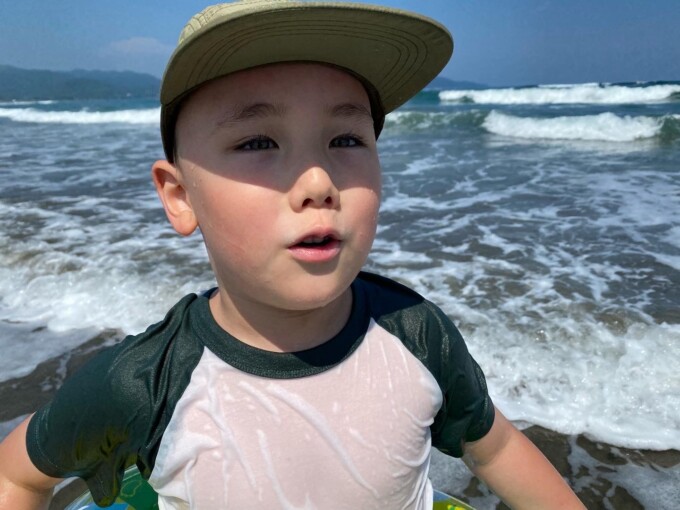 Seeing him like this makes me glad he started going to swimming school!
(Both to gain a little confidence in the water and to be able to swim in case something happens to him.)
Of course, I'm keeping a close eye on him all of the time.
I'm not sure what will happen if he panics, no matter how shallow the water is when he does so.
I've seen a report that says "children can drown in 10cm of water," so it's really scary.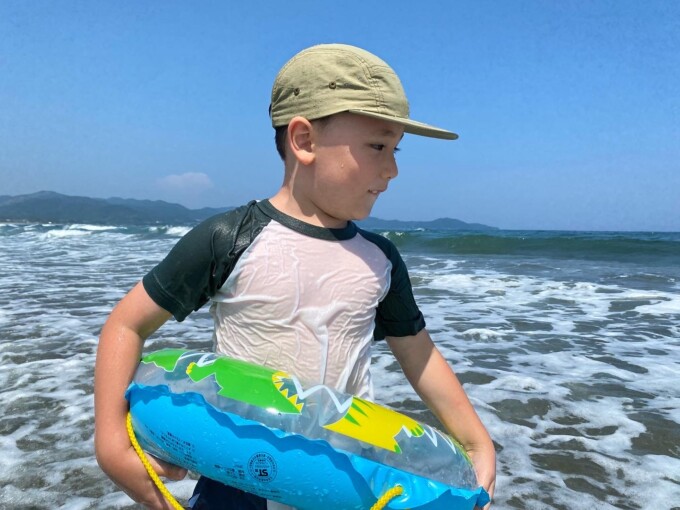 But I am so glad that he is old enough to play with the waves in the ocean, which I love so much!
I wonder how long it will be that he can always come to the beach with me and play, still elementary school age?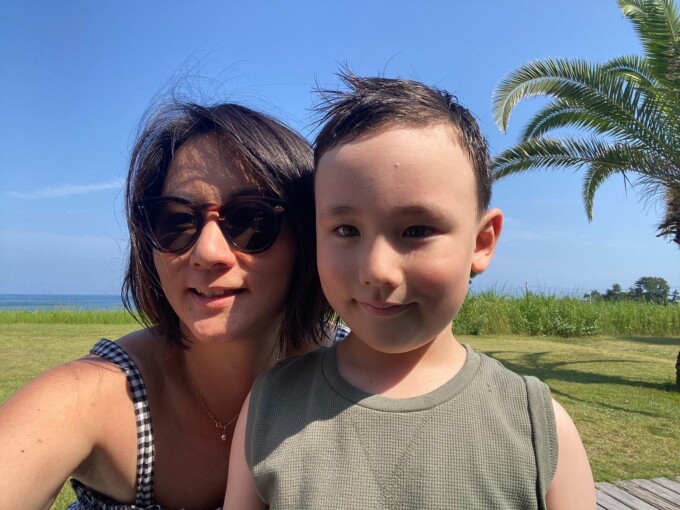 We had plans for the rest of the day, so we only spent about two hours at the beach (but it was still enough!).
I convinced Fionn that it was time to stop playing, and we went home.
I keep getting sunburnt, so today, I was told by the bank teller and the supermarket cashier.
"Well, you got a tan!"
I don't mind tanning except my face!