I've spent so much time on the plane that I'm kind of losing track of time and days, but…
I made it to Perth safe and sound at midnight last night (or, day-wise, just after 1am today, Tuesday)!
But before that, we had a 13 hour transit in Malaysia due to a flight change, which I had already blogged about.
So we made the most of those 13 hours and had some fun in Kuala Lumpur!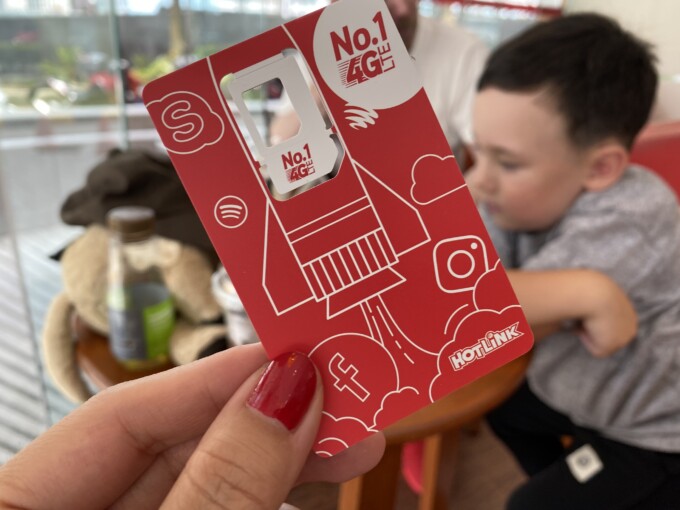 The first thing we did was to buy a SIM card as soon as we got out of immigration at the airport!
I could use my cell phone without wifi by replacing the SIM card to my iphone.
By the way, one SIM card is valid for one month and 8GB is 25RM, which is about 750 Japanese yen, so it's cheap!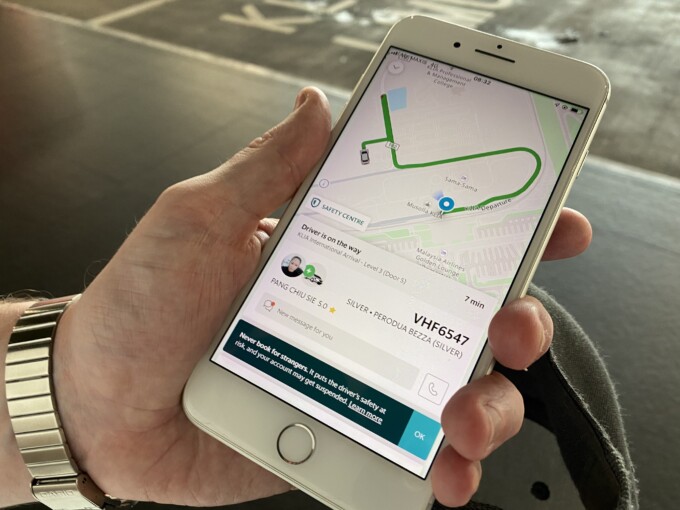 Next, I downloaded Grab, an app that is used almost like Uber in Asia.
I quickly arranged a car! I chose the cheapest guy and he was ready in about 5 minutes.
It takes about 50 minutes to drive from the airport to the city, and the fare is about 2000 yen, which is also cheap!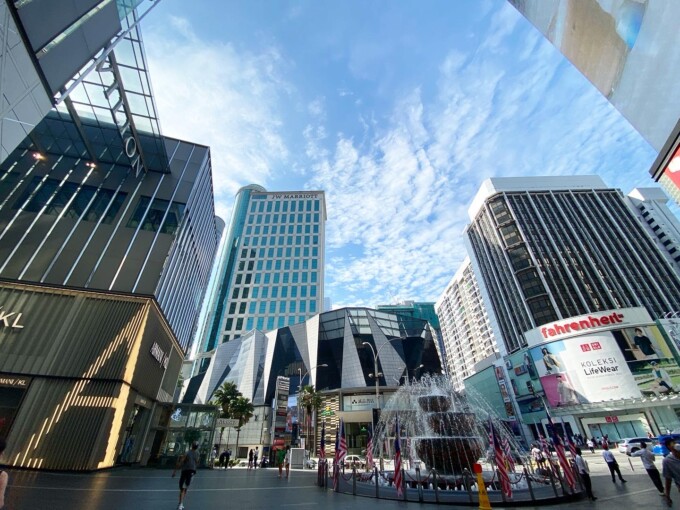 Our first stop was the Pavilion in Bukit Bintang!
I read that this is a very big shopping mall and has everything, so I went there.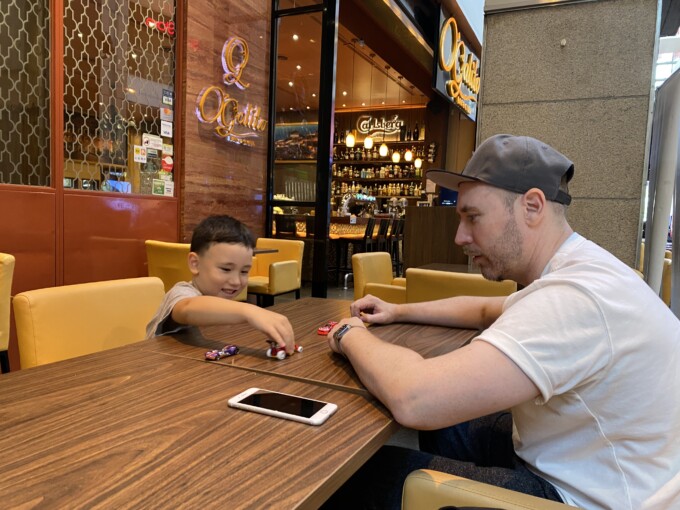 We had just had breakfast on the plane early in the morning (probably around 5:00am), so we had to eat first.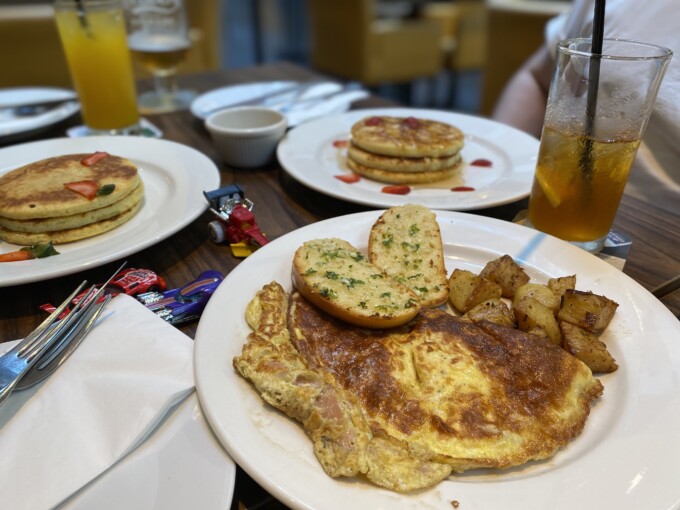 Pancake and juice set was about 500 yen, omelette and iced tea set was about 600 yen.
Barely cheaper than in Japan. But from the point of view of other countries, Japan is a very cheap country!
Considering this, the prices of eating out and other things in Japan are about the same as those in the cheapest Asian countries. I have the impression that Japan has become a very low-cost country.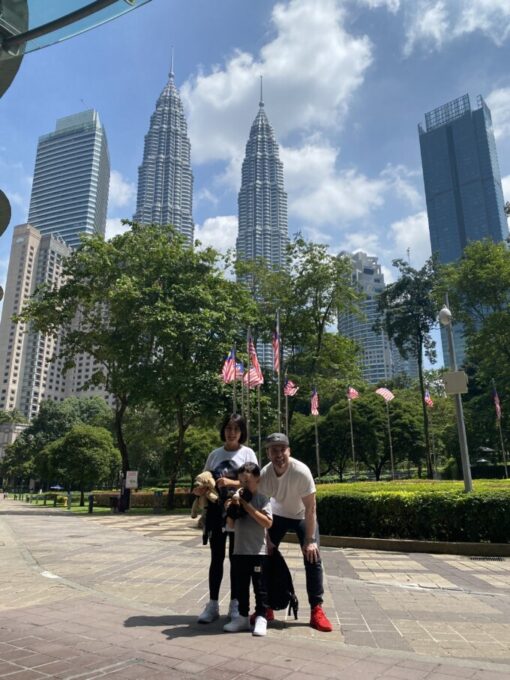 After walking around Bukit Bintang, we went to KLCC Park & Tower by Skywalk, which is a passageway with air-conditioners.
KLCC Park & Tower!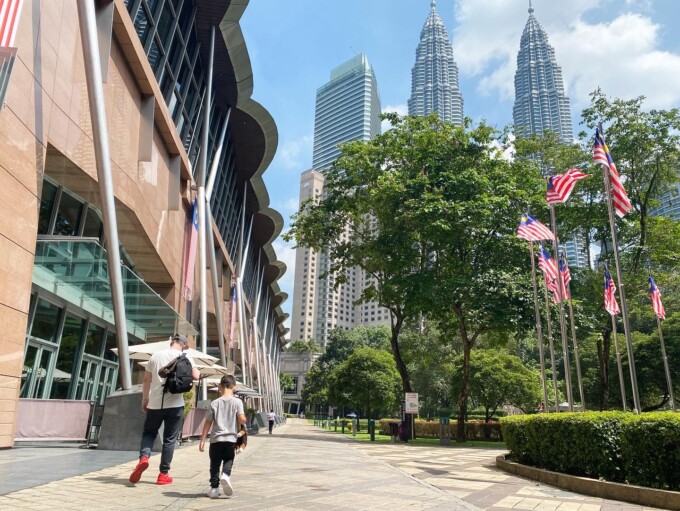 It was so hot and sunny that these two guys only said "It's so hot, I'm going to die! They were so groggy.
Matt, my friend who recommended the tour, told me it was cooler than Japan, but it was just as hot and humid!
The weather forecast was for 27 degrees Celsius, but it was actually over 30 degrees Celsius.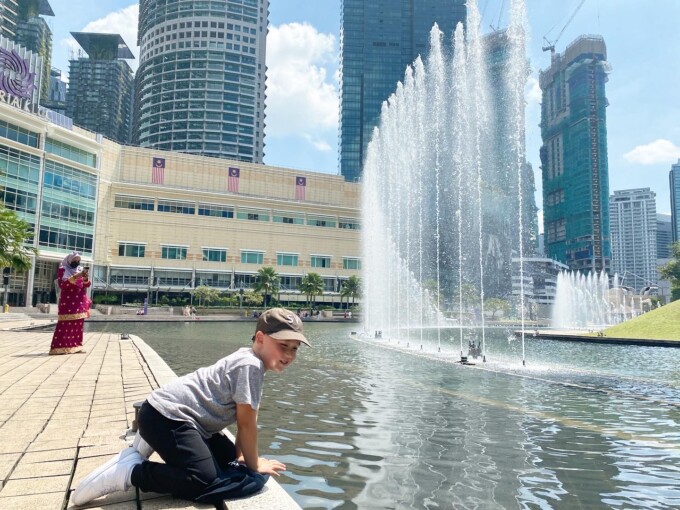 Even so, Fionn got excited when he saw a fountain or something, and seemed to be enjoying himself.
Emmet was seriously exhausted. Hot weather takes away energy, doesn't it?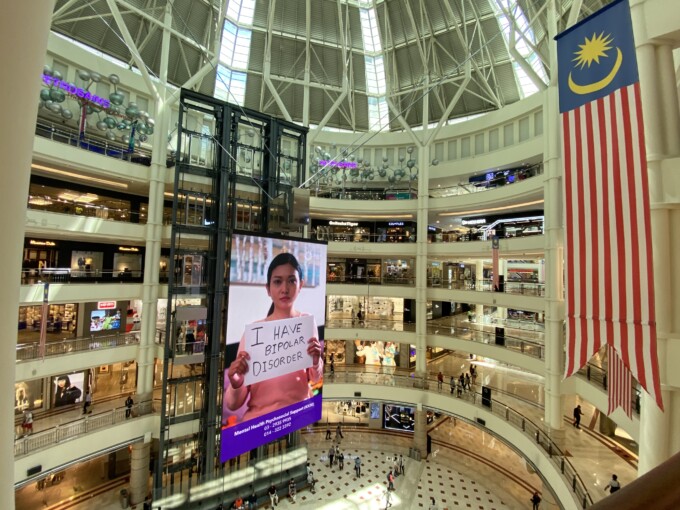 So we moved to KLCC.
This is also a big shopping mall with many stores and a food court.
To be honest, my image of Malaysia was not this urban, so I was surprised!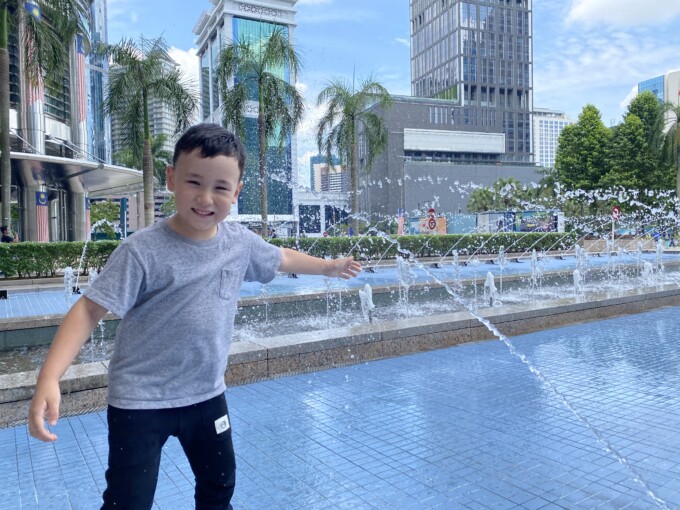 And there are lots of fountains and water features everywhere, as well as a lot of greenery.
It really is a beautiful city! It was a very nice place.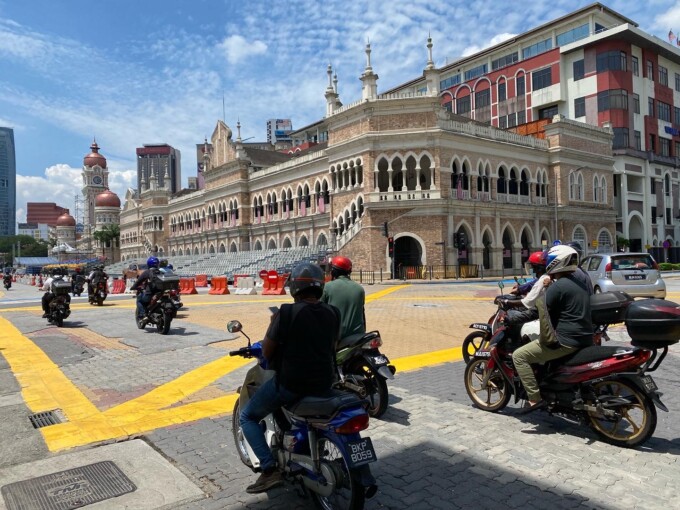 From there, we took a Grab to an area with many old buildings.
The building you see is called the Sultan Abdul Samad Building, and see those chairs in front of it?
That is Merdeka Square, a special place where Malaysia declared its independence on August 31, 1957.
They were preparing for the event since Independence Day is coming soon!
By the way, Merdeka is Malay for "Independence"! All this information from the Grab driver! LOL!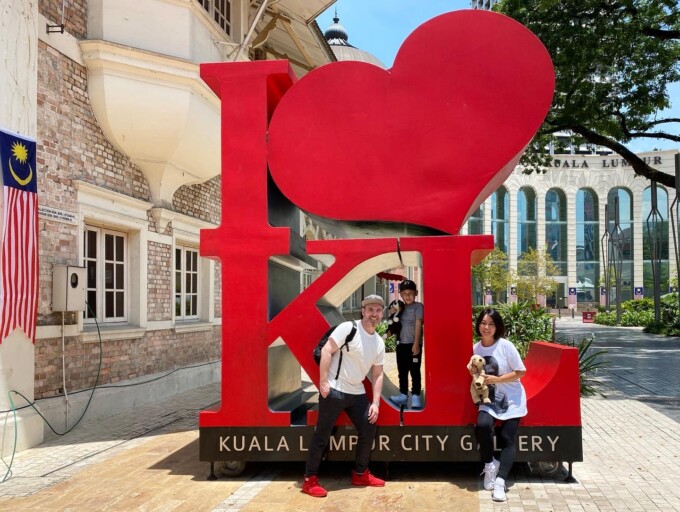 A photo was taken at I♡KL, a tourist spot right next to it.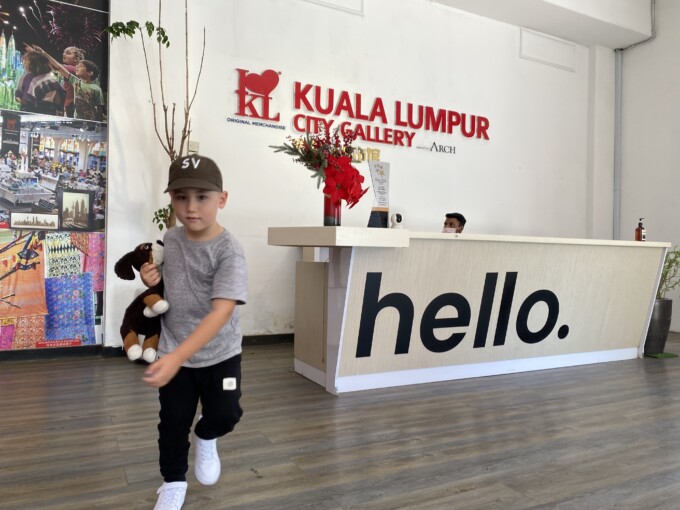 Right next to it was the City Gallery, where you can learn about the history of Malaysia!
We were definitely there to cool off, though.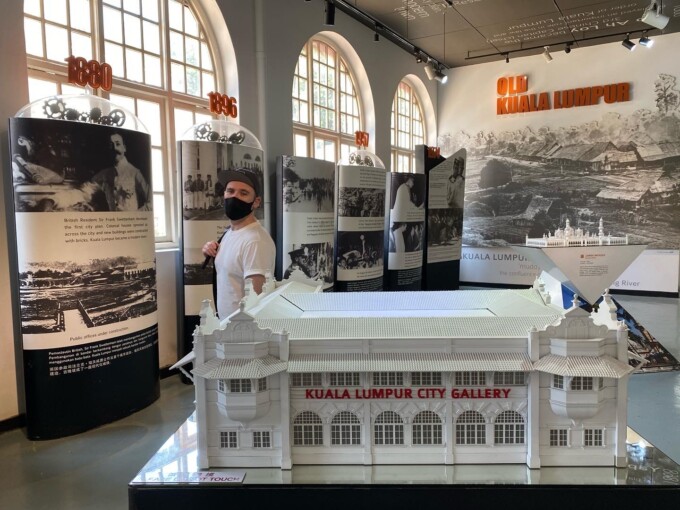 Oh yeah! Almost everyone in Kuala Lumpur wears masks in town.
I got the impression that about 10% of the people didn't wear them. And you don't even need a VISA to enter the country for 90 days.
You don't need a VACPASS or negative proof, so it seems like it's very easy to get in.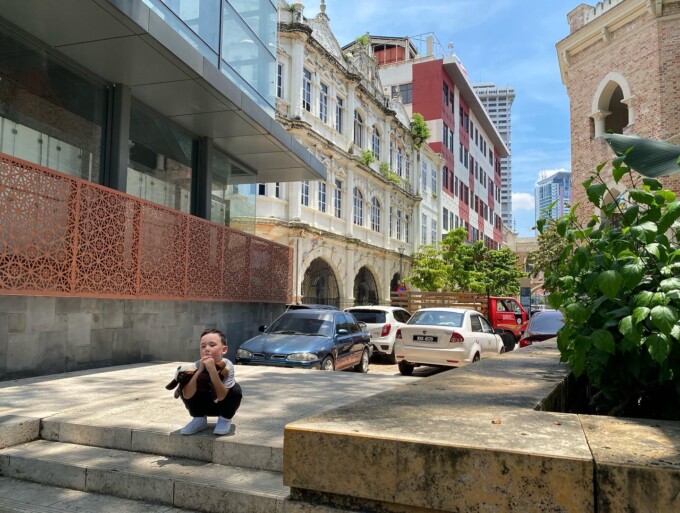 From there, we are moving through the alleys to Masjid Jameh, but Fionn insists that it's too hot and he doesn't want to move.
I'm a person that doesn`t get bothered by the heat, so I was fine, but the boys were really red-faced and looked tired.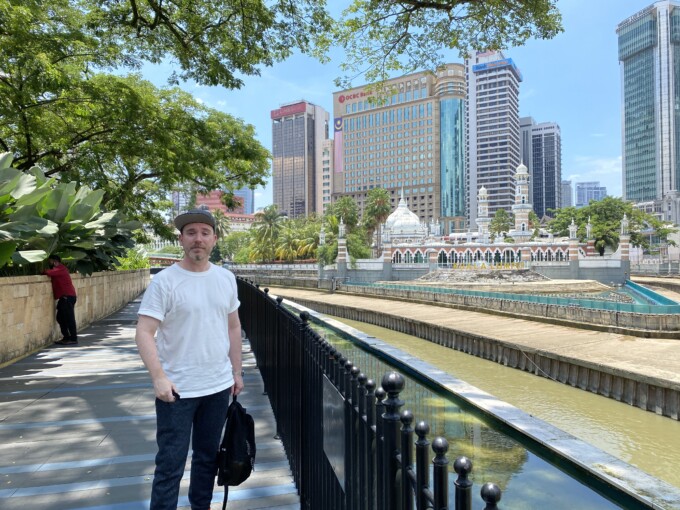 The area along the river was beautiful and a good place for a stroll.
I mean, everything is really clean! It's a very clean city.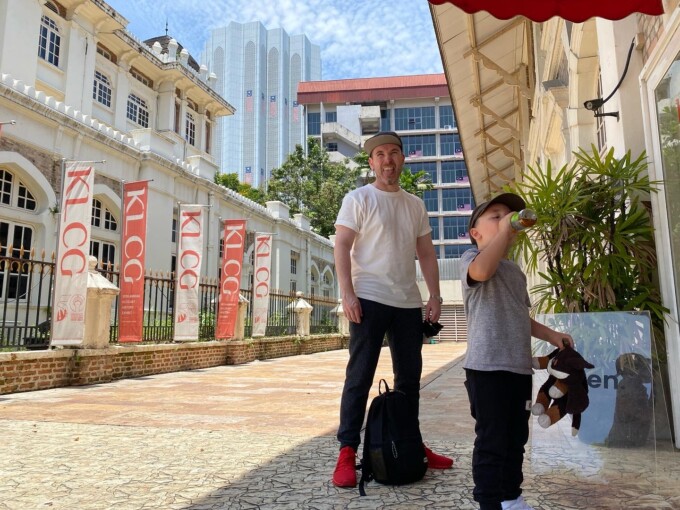 There was also a Chinatown just a few blocks away, but I didn't think I could enjoy it anymore, so I ended our sightseeing here!
We just walked through the Central Market and headed straight to the airport!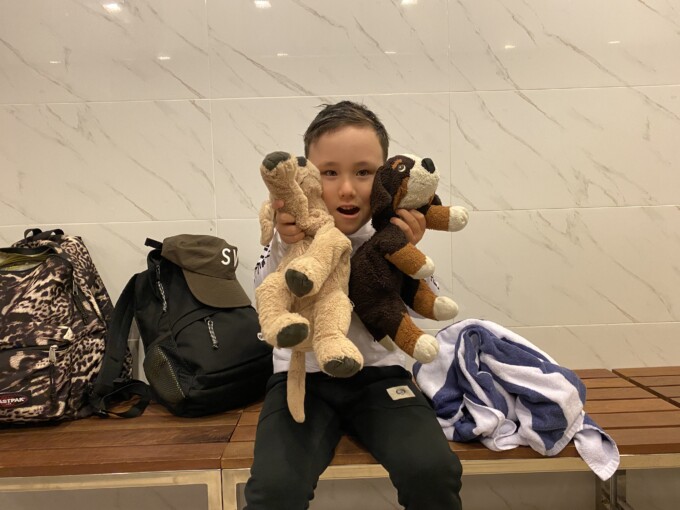 We took a shower as soon as we got to the airport! In my experience, in hub airports like Kuala Lumpur and Changi, there are many places where you can use showers as usual.
Here, it was about 600 yen per person for unlimited use with towels and toothbrushes for the whole family.
If you pay more, you can get an all-you-can-drink, all-you-can-eat lounge!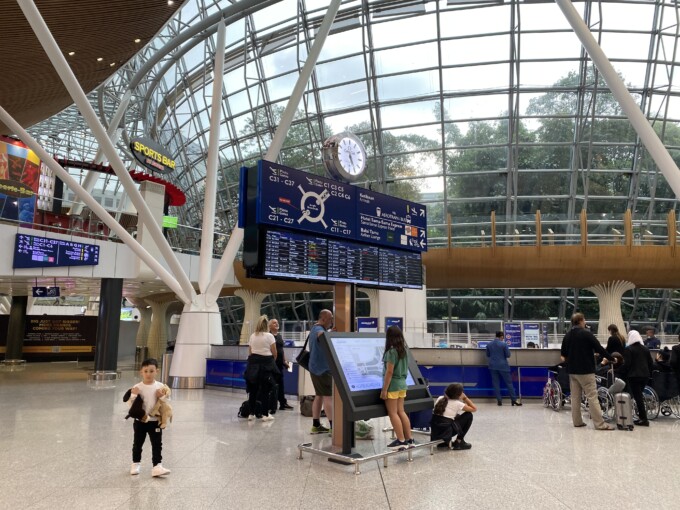 After we were all sweat-soaked and refreshed, we had one more flight to go, just over 5 hours to get to our destination, Perth!
I was a little worried about Fionn since it was his first trip abroad since he started to understand a lot of things.
But as usual, he talked to everyone and was always ready to help me with anything!
He asked the lady at the café in the morning if the pancakes were ready yet, and he said "No, they're not ready yet!
He was very adaptable, thank God!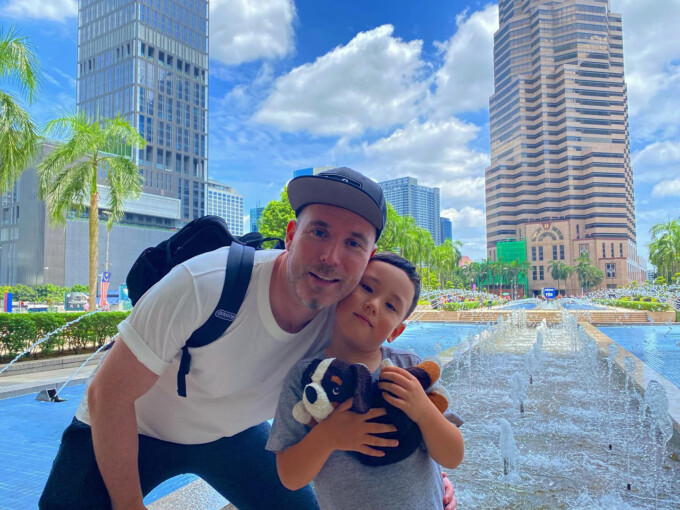 Anyway, the city is so nice and the people are so kind! The prices are reasonable.
It was a lot of fun and a much better country than I expected!
Emmet and I decided to go there as a destination next time!
We were super lucky to have a longer transit time…