On a weekend not too long ago, I received a message from Emmet's English class student's mom, asking if we wanted some bonito fish. Of course, I replied with an enthusiastic "Yes, please!" and immediately went to pick it up. We got one piece for sashimi and one piece for tataki, both from the catch!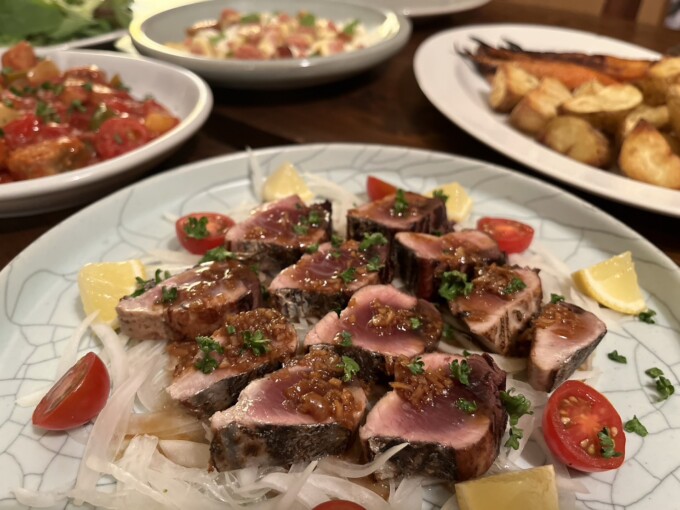 I had already prepared an early dinner that day, but I couldn't resist slicing up some sashimi and making tataki right away. I enjoyed it with some freshly cooked white rice—absolutely delicious! Freshly caught bonito is the best, and it's such a treat to receive it from a local source.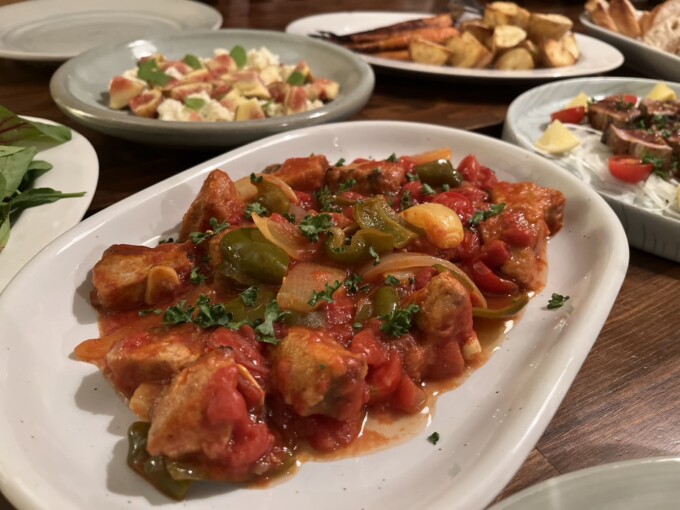 However, Em-chan doesn't eat sashimi or tataki much at home (though he loves it at izakayas), and Fionn isn't quite ready for raw fish yet. So, the next day, I grilled the tataki for a little longer, turning it into a rare sauté with a sauce made from butter, garlic, soy sauce, and mirin. It was amazing!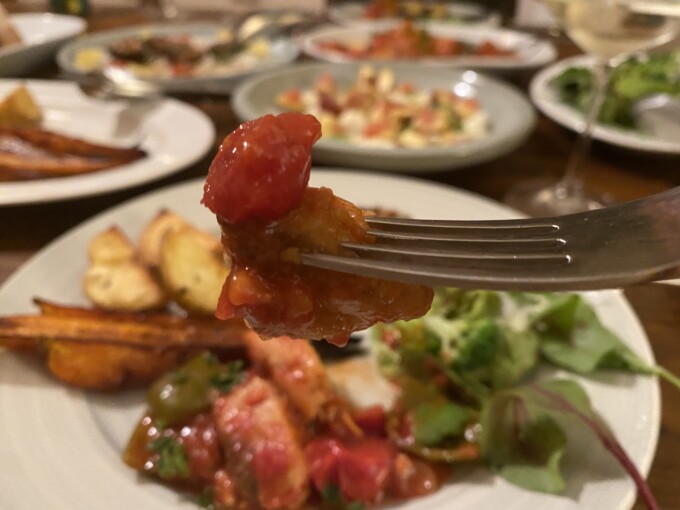 As for the sashimi, I turned it into a garlic tomato stew with green peppers and onions, which paired perfectly with bread and wine. Both Em-chan and Fionn loved it and praised it as incredibly delicious. They said they would eat this type of fish dish anytime, which is a big deal for us since we mainly have meat at home.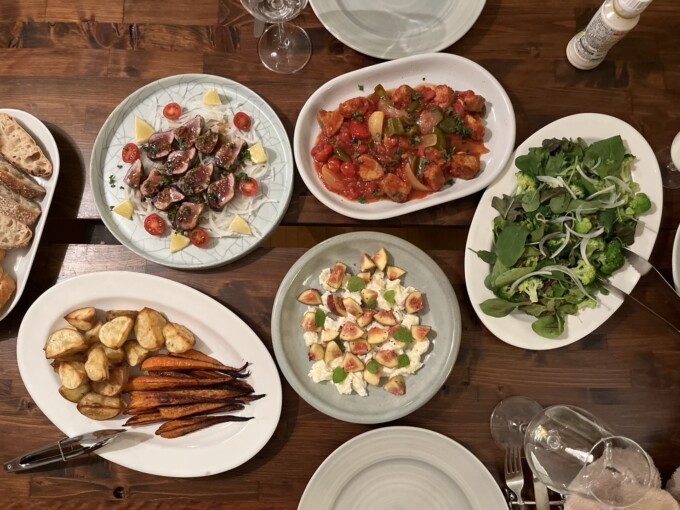 As I mentioned in a previous blog post, thanks to ayu fish, I discovered that Fionn can enjoy grilled fish. So, little by little, I want to incorporate more fish and seafood into our dinner menus, even if they have a Western twist.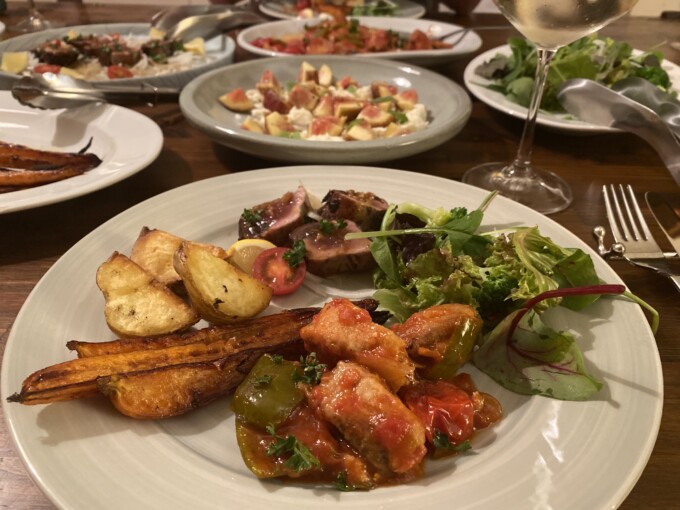 At our house, we primarily stick to lean cuts of meat because we avoid fatty meats like pork belly. Chicken breast is our go-to for poultry, even though chicken thigh is juicier and more flavorful. It can be a bit challenging, but we make it work.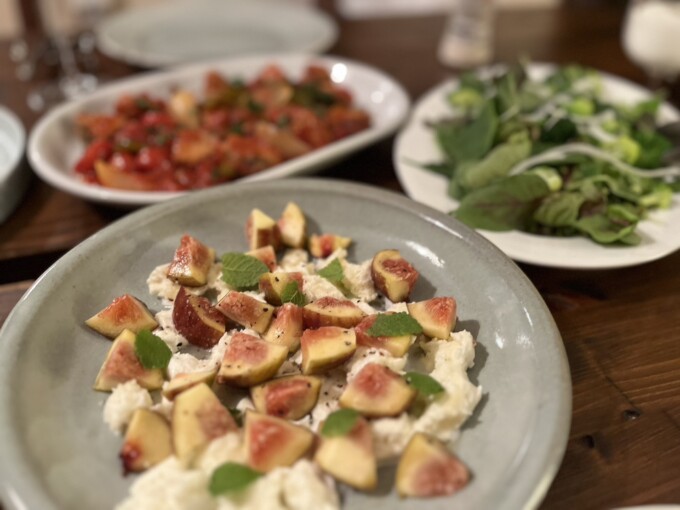 By the way, on that day, I found 4-packs of figs for only 250 yen, so I couldn't resist pairing them with my favorite mozzarella and some seasonal fruits—in this case, figs. I don't know why cheese and fruits go together so well, but they really do! A little lemon juice, salt, pepper, and olive oil is usually enough, but sometimes adding honey makes it even more enjoyable with wine.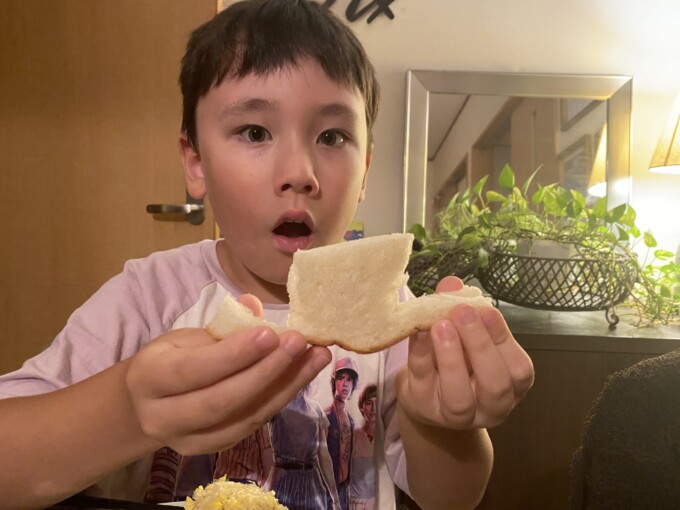 Friends sometimes say they love our meals at home, even though what I'm making isn't anything too special. It's all about the ambiance, right? Just serving it on a big platter, even if it's always the same feel, makes it feel like we're dining out without leaving home.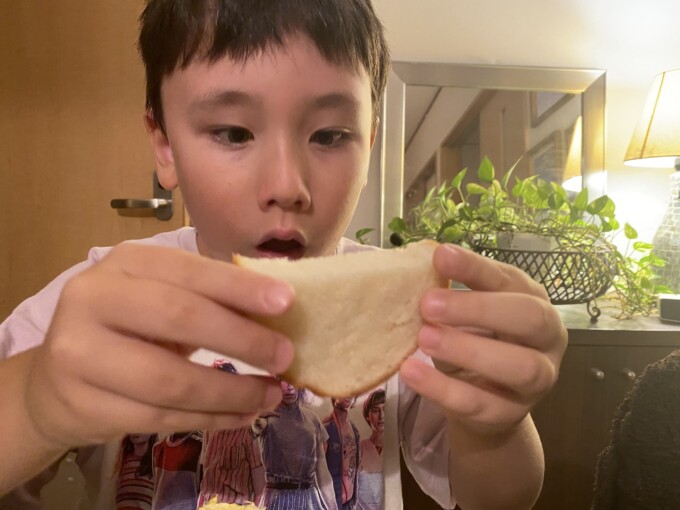 Also, if we ever manage to finish our home construction and have a proper kitchen and dining space, with that amazing view from the windows, I might never want to go out again. Well, the home construction is halted due to financial issues, but other than that, things are steadily progressing.
I work hard in hopes of being able to borrow money someday! When that happens, friends, please come over for a meal! 😉