An old childhood friend from kindergarten, Junko, came to visit with her daughters all the way from Fukuoka!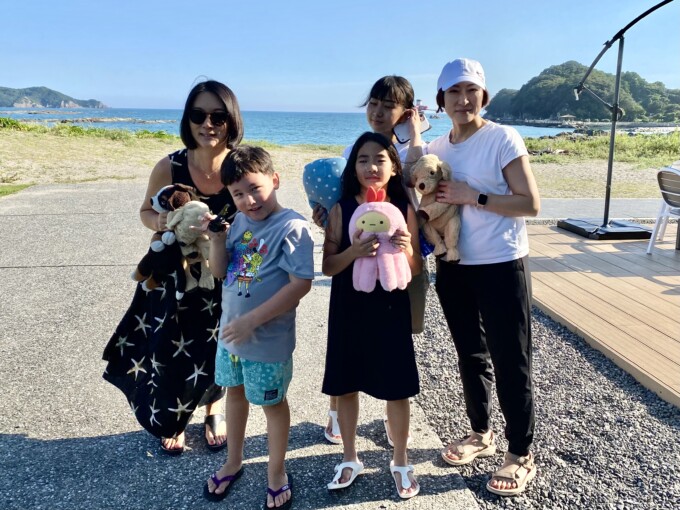 Junko and I have an incredible connection. We went to the same kindergarten, elementary school, and middle school in our hometown. In high school, we went to different schools but ended up working in the same area in Kochi City. We coincidentally met again in front of G Studio, amazed that we were both working at a Nippon TV affiliate company as adults. We used to hang out together even after becoming working adults, which is quite unusual for hometown friends.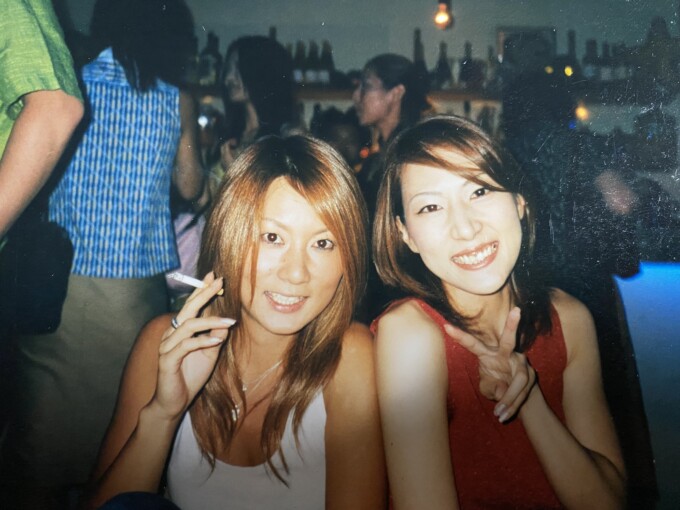 Here's a photo from back then, haha! Oh boy, we both look so young! This was during our TV station days. I used to smoke cigarettes at that time. Looking at these photos, it's embarrassing how often I had a cigarette in hand…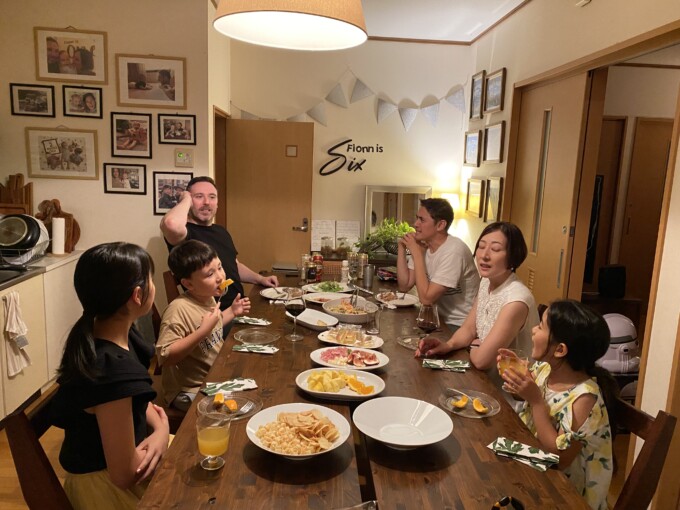 She arrived yesterday evening, and in the evening, she and her daughters came over to my place. Emmet's friends also joined, so we all had a delightful meal, enjoyed some wine, and chatted until late. (Apologies for only having closed-eye photos.)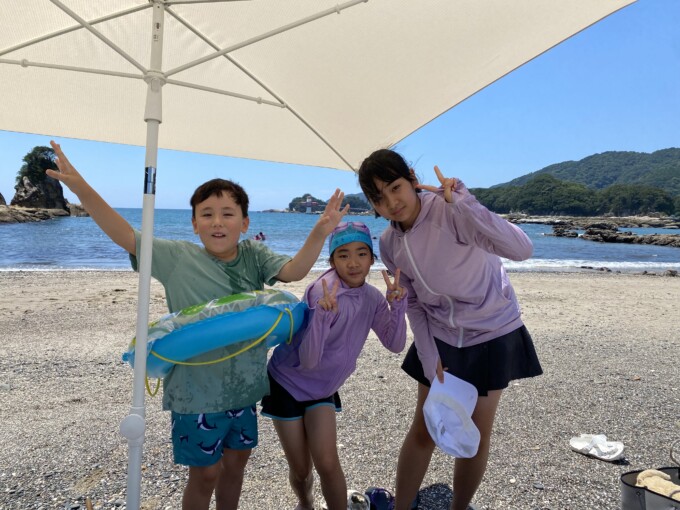 Today, we took the younger girl, Sakochan, to the beach since she had never been to the ocean before. We searched for a beach without the swell of the typhoon and played at the beach! The rivers were swollen, and the ocean was rough due to the influence of Typhoon #7, so I think Sakura Beach on the western side of the Ryugu peninsula, which is sheltered from the storm, was probably the only calm option nearby.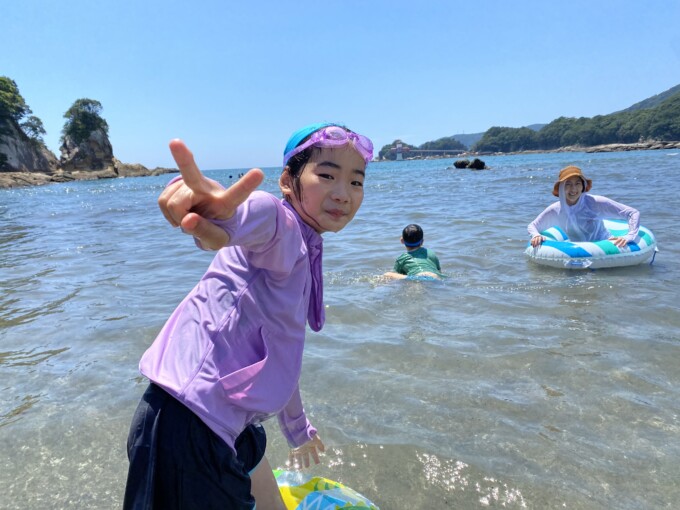 Normally, the ocean is crystal clear and beautiful, but today, probably due to the effects of Typhoon #6 and #7, it was a bit murky. Nevertheless, they had so much fun at the ocean for the first time, so that's a win! And look, even Junko's smile, the complete opposite of my fully protected appearance!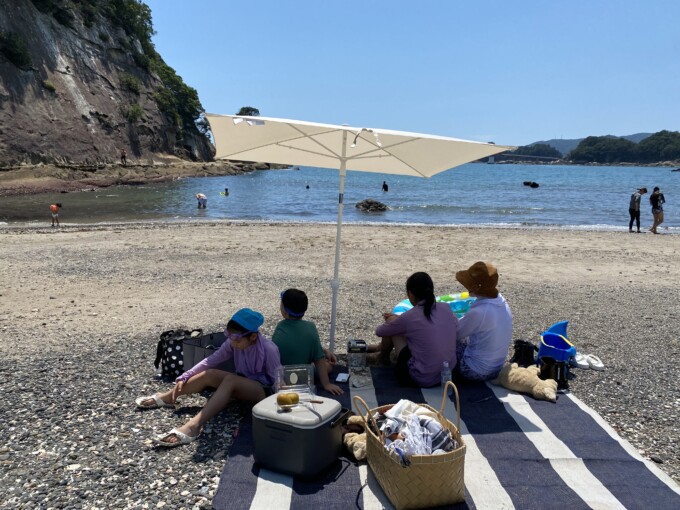 Depending on the location, the weather can be bad due to the typhoon, with heavy rain. But Kochi had clear skies! In fact, I think the temperature was over 35 degrees Celsius. Anyway, it was scorching hot!!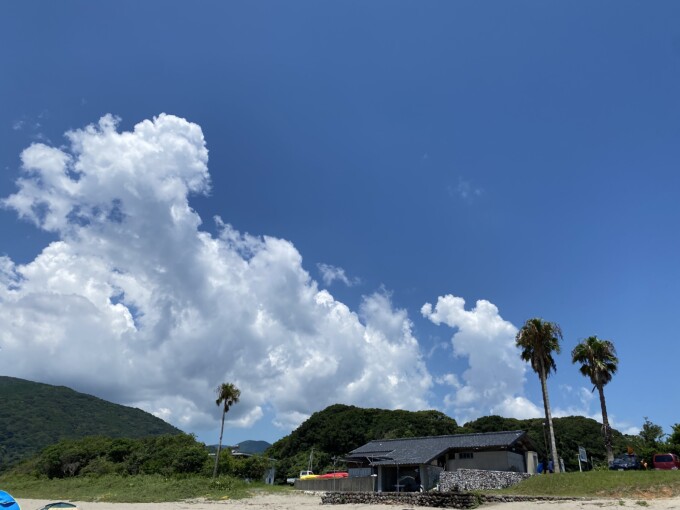 The ocean water wasn't cold at all, in fact, it was almost lukewarm. We played, rested in the shade, and kept rehydrating, or else we'd have dried up from the heat, seriously.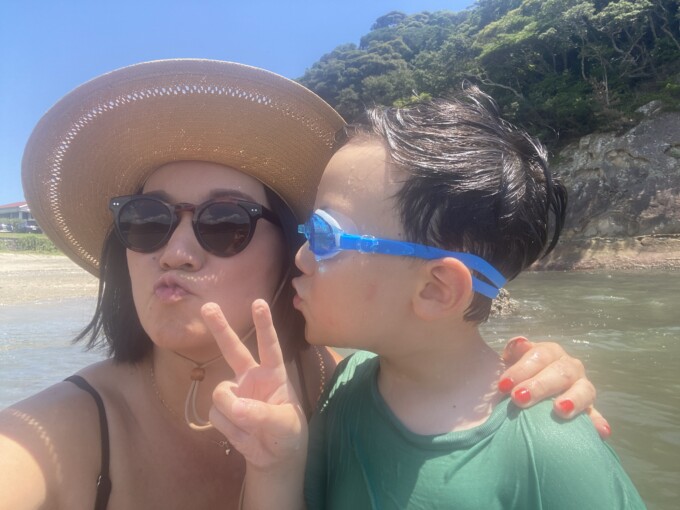 I was still in my swimsuit, and Fionn was playing in his usual style, wearing a T-shirt and swim trunks. However, we had to leave a bit early because our skin was getting seriously sunburned.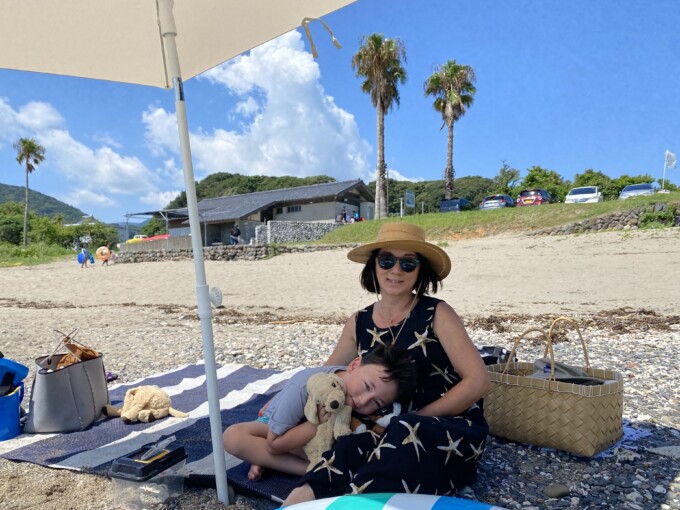 We relaxed, gazing at the three of them having fun in the sea. We usually just play around so much, so it's nice to have these relaxing moments once in a while, haha.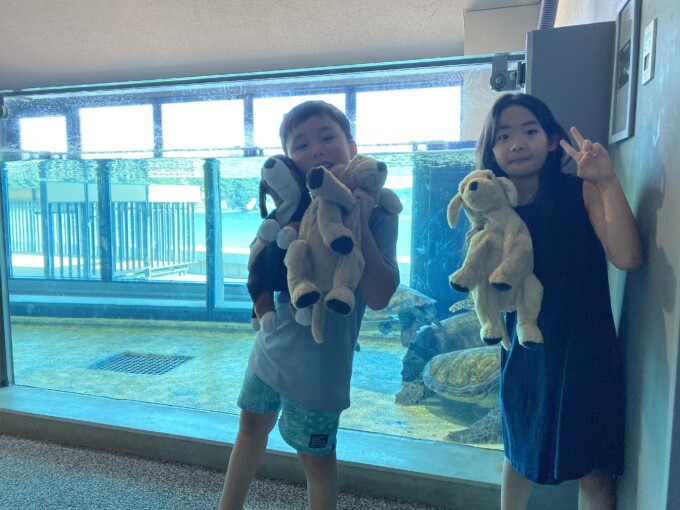 After that, it was aquarium time, which Fionn absolutely loves! Sakochan, who is two years older than Fionn, happened to have the same stuffed animal as Fionn's "Goody" (named Mimichan). She takes it with her whenever she goes out!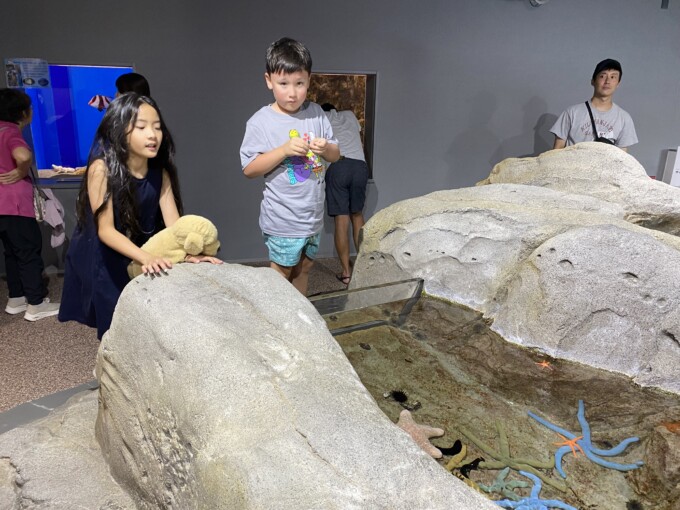 Both of them were really excited about this common point. And in any case, Junko's daughters are incredibly polite, with very courteous manners. They treated Fionn so kindly, and he seemed really happy about it.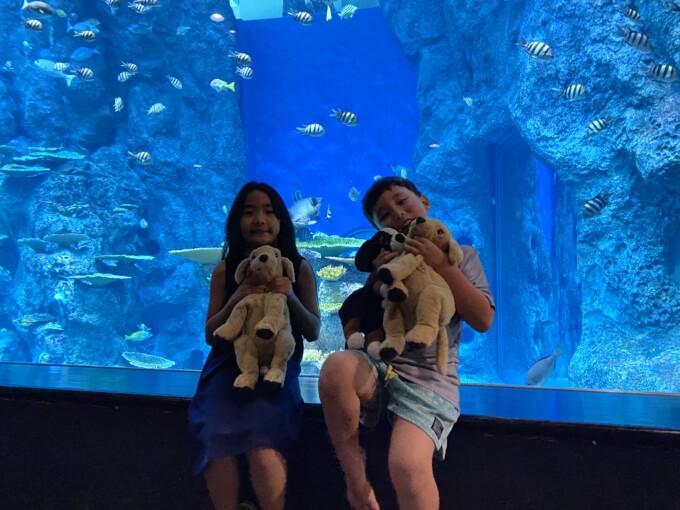 As a parent, it's heartwarming when your kids connect with each other instantly and become friends. This time was exactly like that. Right from the moment they met, none of them were shy, and their calm personalities created a lovely atmosphere throughout. It was so heartwarming to watch.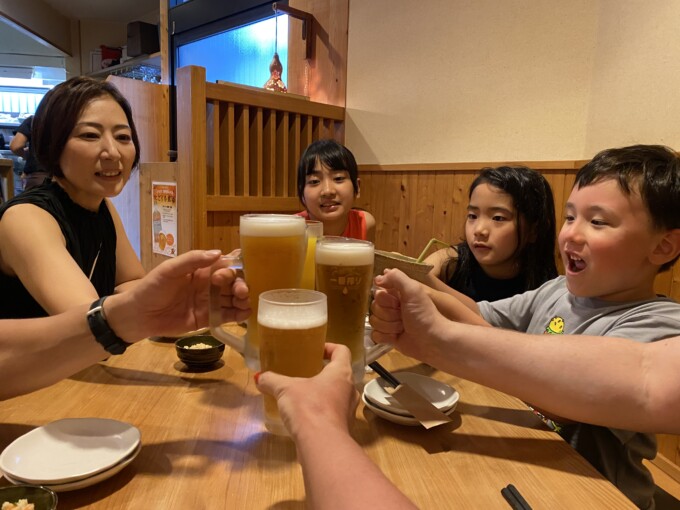 Despite the fact that we're in the midst of the Obon holiday season, we totally forgot about it and hadn't decided on a dinner spot for the night. By the time we realized, around 3 PM, everywhere was fully booked. We ended up wandering around like pub refugees, but luckily, "Masudaya" had one seat available from 6 to 8 PM! So, we had a last-minute miracle and raised our glasses together!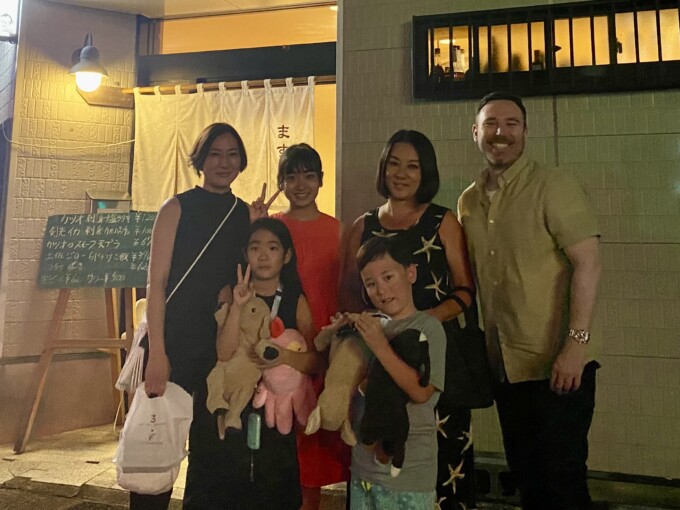 Emmet, who couldn't join us at the beach, came along. And Norio-san, who is a close friend of the Butler family and is practically like an uncle to Fionn, also joined us. This is because Norio-san and Junko were classmates in the same high school and even shared the same club activities!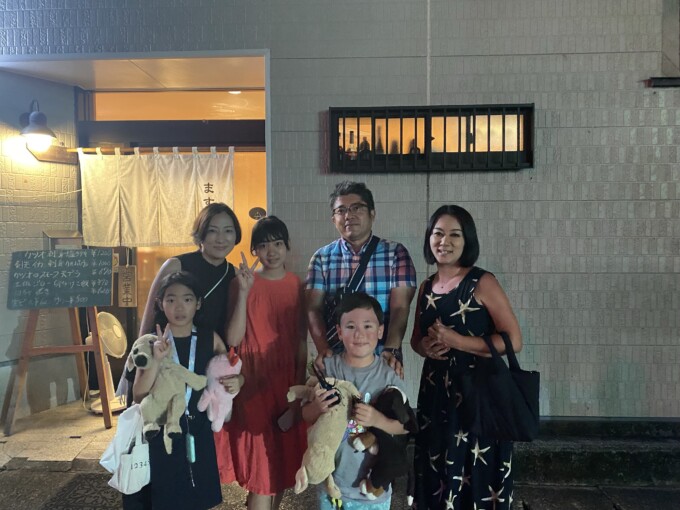 Anyway, we ordered a lot of food, ate, drank, chatted, and had a completely satisfying day!!!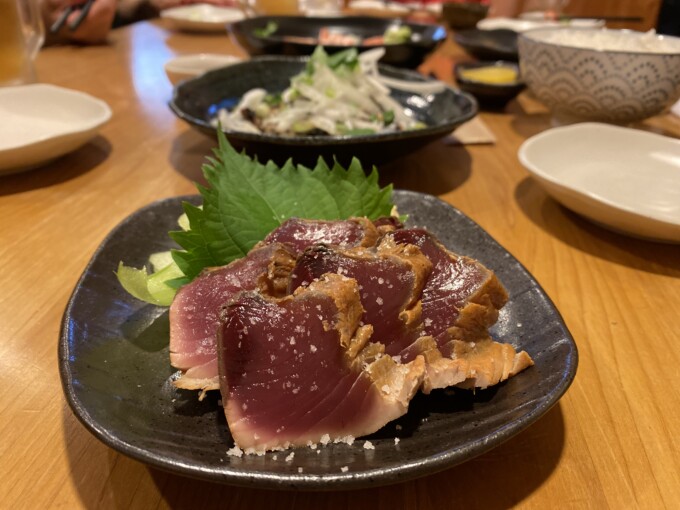 Thanks to social media, we feel connected all the time, and we exchange messages frequently, so we're aware of each other's current situations. However, this was our first meeting since our wedding 9 years ago! But it's wonderful to see our families getting along so well and our kids becoming friends. It was truly a joyous reunion!
Tomorrow, there's one more day, but I really need to focus on work because I won't be able to meet if I don't get my work done. So, I'm going to concentrate on work now!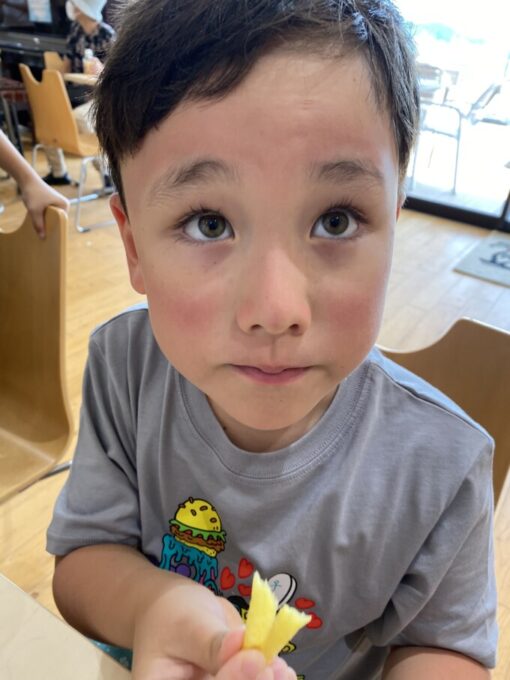 Oh, by the way, I forgot to apply sunscreen to Fionn's face again, and he ended up with goggle tan lines! I'm so sorry!